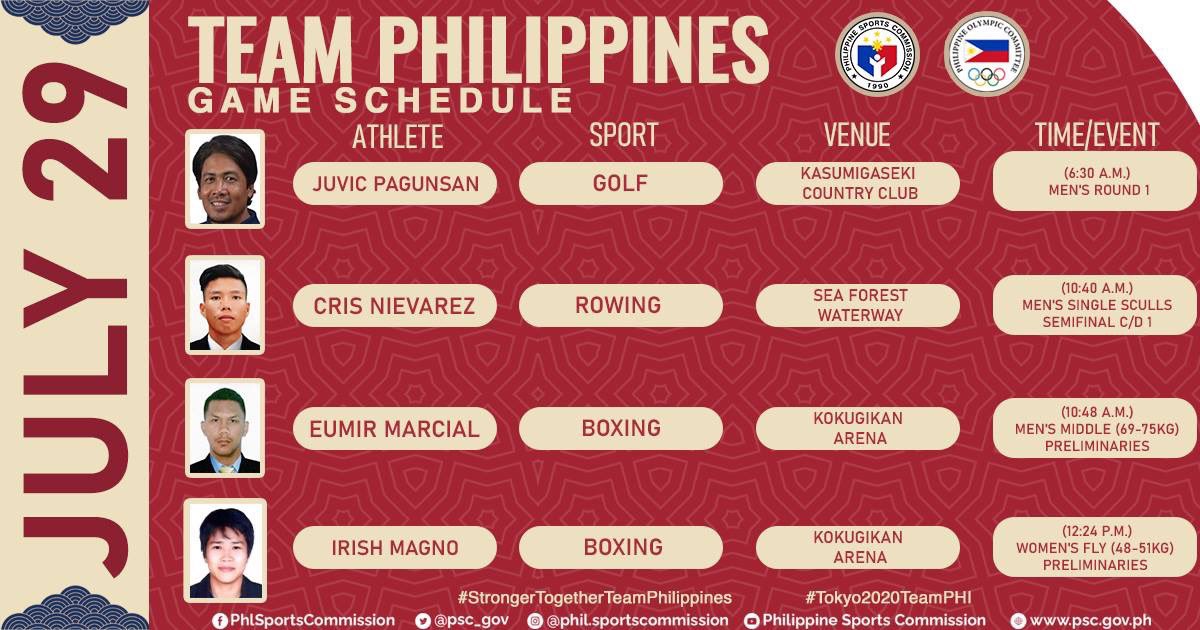 Here is the Olympics Schedule today, July 29, 2021, for Team Philippines: Boxers Irish Magno and Eumir Marcial compete in the Round of 16 while golfer Junvic Pagunsan tees off and rower Cris Nievarez competes for his Olympic Classification in a semifinal match. Schedules are in Philippine Standard Time, one hour ahead of Tokyo, Japan.
IRISH MAGNO (Boxing)
Women's flyweight 48-51kg.
Thursday, July 29, 12:24 p.m.
Round of 16
Irish Magno, the first Filipina boxer to punch a ticket for the Olympics, is scheduled to battle in the ring on Thursday, July 29, at 12:24 pm against Jutamas Jitpong of Thailand.
Magno started her campaign strong with a dominant ruling of the Women's Flyweight 48-51kg division on the morning of Sunday, July 25, to advance to the next round.
The Philippines' boxing bet overwhelmed Christine Ongare of Kenya in their Round of 32 bout via unanimous decision, 5-0.
The Filipina boxer from Iloilo has collected medals for the Philippines in three out of four editions of the Southeast Asian Games, including a bronze medal in bantamweight in 2013, as well as flyweight medals in 2015 and 2019.
EUMIR MARCIAL (Boxing)
Men's Middleweight 69-75 kg.
Thursday, July 29, 10:48 a.m.
Outright to Round of 16
Eumir Felix Marcial bypassed the Round of 32 preliminaries and has been given an outright slot to the Round of 16 in the Men's Middleweight 69-75kg. division as the AIBA top 4.
The AIBA Men's World Boxing Championships silver medalist punched his ticket to the Summer Games in Japan after winning his middleweight bout at the Asia Oceania Olympic Qualifiers in Amman, Jordan last year.
Marcial was the Philippines' male flagbearer in the Tokyo Olympics' opening ceremony.
Eumir Marcial fights in the ring against Algeria's Younes Nemouchi on Thursday at 10:48 a.m.
Filipino boxer Eumir Marcial earns 3rd Philippine ticket to Tokyo Olympics
JUVIC PAGUNSAN (Golf)
Men's Round 1 6:30 a.m.
Juvic Pagunsan tees off on his Olympic campaign today in the Men's Round 1 at 6:30 a.m.
Juvic Pagunsan secured a spot in the quadrennial meet in Japan by finishing 49th in the global ranking for male golfers.
Pagunsan brought home three golds and a bronze medal for the Philippines at the SEA Games in 2001 and 2005. He most recently won his maiden Japan Golf Tour title in the 2021 Mizuno Open after playing for ten years in the league.
The country's lone male representative in golf joins the Tokyo-bound national contingent with the youngest U.S. Women's Open winner Yuka Saso and Bianca Pagdanganan.
CRIS NIEVAREZ (Rowing)
Men's Single Sculls Semifinal C/D
Olympic Classification match
July 29, 10:40 a.m.
The Philippines' rower Cris Nievarez is rowing in the semifinal match for his Olympic Classification in the Men's Single Sculls Group C/D at 10:40 am.
Nievarez kicked off Team Philippines' campaign on a high note on Opening Day, July 23, after placing in the Top 3 of his heat and advanced to the quarterfinals.
The Filipino rower eventually settled for 5th place in the Men's Single Sculls quarterfinals with a time of 7:50.74.
MEET: 19 Filipinos campaigning for Philippines' 1st Olympic Gold in Tokyo
How to Watch 19 Filipino Olympians Compete in Tokyo Olympics
Good News Pilipinas is celebrating its 15th Anniversary in 2021 by giving away prizes! Subscribe to our Good News Pilipinas! TV YouTube channel and enter the raffle by sending us an email to editor@goodnewspilipinas.com saying what you like about our site.
Facebook Comments