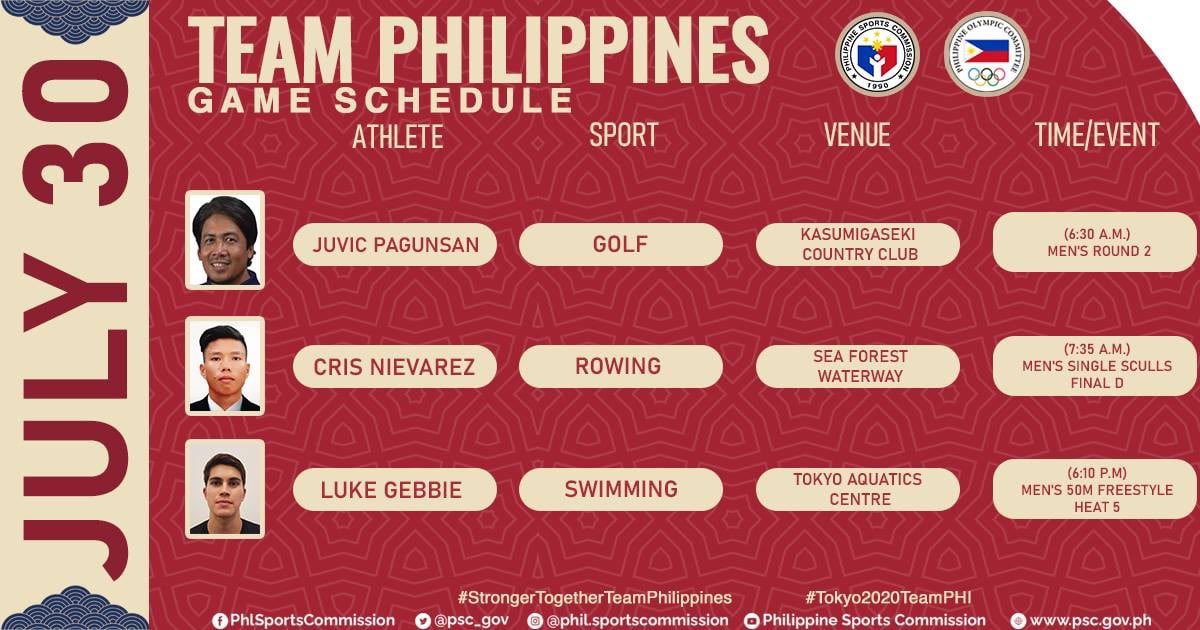 Here is the Olympics Schedule today, July 30, 2021, for Team Philippines: Golfer Juvic Pagunsan continues his campaign while rower Cris Nievarez again competes for his Olympic Classification in a semifinal match and swimmer Luke Gebbie competes in his second event in Tokyo, Japan. Schedules are in Philippine Standard Time.
JUVIC PAGUNSAN (Golf)
Men's Round 2, 6:30 a.m.
Juvic Pagunsan plays the Men's Round 2 at 6:30 a.m. today.
Pagunsan started his campaign strong during yesterday's Round 1 at the Kasumigaseki Country Club, tied at 5th place with 5-under par 66.
Juvic Pagunsan secured a spot in the quadrennial meet in Japan by finishing 49th in the global ranking for male golfers.
Pagunsan brought home three golds and a bronze medal for the Philippines at the SEA Games in 2001 and 2005. He most recently won his maiden Japan Golf Tour title in the 2021 Mizuno Open after playing for ten years in the league.
The country's lone male representative in golf joins the Tokyo-bound national contingent with the youngest U.S. Women's Open winner Yuka Saso and Bianca Pagdanganan.
CRIS NIEVAREZ (Rowing)
Men's Single Sculls Final D
Olympic Classification match
7:35 am
The Philippines' rower Cris Nievarez is rowing in his final match for his Olympic Classification in the Men's Single Sculls Group D at 7:35 am.
Nievarez finished 5th in the semifinal match for his Olympic Classification in the Men's Single Sculls Group C/D and will again take to the waters for the Final D match for places 19 to 24 overall.
Nievarez kicked off Team Philippines' campaign on a high note on Opening Day, July 23, after placing in the Top 3 of his heat and advances to the quarterfinals.
The Filipino rower eventually settled for 5th place in the Men's Single Sculls quarterfinals with a time of 7:50.74, bowing out of the medal race.
LUKE GEBBIE (Swimming)
Men's 50-meter Freestyle
Heat 5, 6:10 p.m.
Swimmer Luke Gebbie competes in his second Olympic event, the Men's 50m Freestyle.
Gebbie last Tuesday set a new Philippine record in the Men's 100-meter Freestyle with a time of 49.64 seconds but dropped out of medal contention in the event as he did not enter the Top 16 to advance in the event's semifinals.
The Filipino swimmer aims to do better in today's event scheduled at 6:10 p.m. at the Tokyo Aquatics Center.
Gebbie punched his ticket to Japan via universality places and emerging the highest-ranked male athlete among Filipinos in the Olympic qualifying events for swimming. The Filipino swimmer accumulated 828 FINA (International swimming federation) points and will see action in the men's 50m and 100m freestyle events of the Summer Games.
Gebbie captured silver in the 4x100m freestyle relay and a bronze medal in the 50m freestyle events of the 30th Southeast Asian Games in 2019.
MEET: 19 Filipinos campaigning for Philippines' 1st Olympic Gold in Tokyo
How to Watch 19 Filipino Olympians Compete in Tokyo Olympics
Good News Pilipinas is celebrating its 15th Anniversary in 2021 by giving away prizes! Subscribe to our Good News Pilipinas! TV YouTube channel and enter the raffle by sending us an email to editor@goodnewspilipinas.com saying what you like about our site.
Facebook Comments