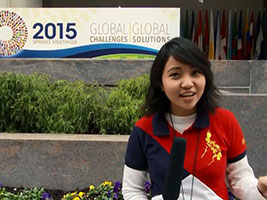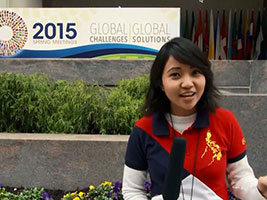 A Filipina reporter at the World Bank is helping end extreme poverty with her unique video reports.
As world hunger, extreme poverty and environmental issues are tackled by the World Bank and the International Monetary Fund during the annual spring meetings, Pabsylive, a video report series by Pabsy Pabalan, features the programs and the people behind the annual event.
With her witty, energetic and unique style of reporting, Pabsy Pabalan gives a fresh perspective on an event usually handled by men in suits that are tackling serious global issues.
Pabsy is a Communications Officer of the web and social media team at the World Bank headquarters in Washington D.C. She hosts a video reporting program called Pabsylive that sheds light on the World Bank and other organizations and what they're doing to make the world a better place. A job apparently perfect for a person such as Pabsy given her work experience in the Philippines.
Before Pabsy came to Washington, she was a producer for GMA Network for 5 years while volunteering as a youth facilitator for Gawad Kalinga (GK)'s house-building projects for people in rural areas.
Gawad Kalinga is where she says she fell in love with developmental work. Pabsy told GoodNewsPilipinas in an online interview, "During the time that I was with GMA, I wanted to do something more meaningful. Masaya sa showbiz, ang dami ko rin natutunan, but I guess after a while I realized during missions with GK that kind of work was what I really wanted to do."
Aside from working for GMA 7 and doing volunteer work for GK, Pabsy was also a member of a band. During a concert, Bam Aquino heard a song she wrote, and wanted to use it as the theme song for Hapinoy, a social enterprise founded by Bam Aquino and Mark Ruiz that supports micro entrepreneurs and businesses such as sari-sari stores. That's when she decided to quit her job in GMA and work for Hapinoy as a Communications Officer.
Pabsy stayed with Hapinoy for almost 4 years while simultaneously taking up her Master's degree in Developmental Communication at the University of the Philippines. A friend from the International Monetary Fund (IMF) in D.C. emailed her about a job opening in a World Bank trust fund called InfoDev. Though she was doubtful at first, she still applied and got the job.
Pabsy Pabalan has a heart for helping people. She is also no stranger to hardship. "Before WB, there was a point I felt lost in my purpose," Pabsy said. She was going through personal problems and her family was in a financial crisis. Taking the job in D.C. and leaving her family and friends proved to be a daunting task. But with the help of the people around her, she managed to pull through, "It was a big change from our simple life back home. But thanks to my friends here na mga Pilipino rin, I felt assured na things are going to be fine."
When GNP asked about her ultimate goal in her career in WB Pabsy said, "I want to take the knowledge and experience I gain here, and bring it back home. If you ask me who the poor are, I can immediately name 10 people I know personally." She says her definition of success is when her friends and the people she knows have roofs over their heads, secure jobs, and are self-sufficient.
Pabsy Pabalan is perfect for her job as a reporter for World Bank because she carries with her a loving heart needed in the pursuit of social change. She is living proof that Filipinos aren't only fighters in terms of sports, but are also fighting for a better world.
Facebook Comments