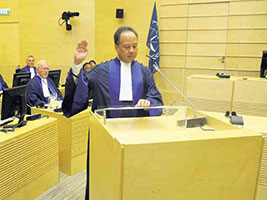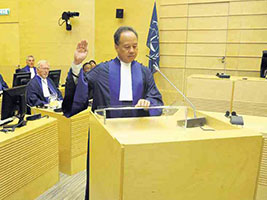 Philippine Daily Inquirer publisher and former University of the Philippines College of Law dean Raul Pangalangan is now a judge in the International Criminal Court (ICC).
Pangalangan was sworn in as judge in ceremonies held at the ICC headquarters in The Hague, Netherlands.
The ICC website reported Pangalangan swore before Senegal Minister of Justice Sidiki Kaba, president of the Assembly of States Parties to the Rome Statute.
"I solemnly undertake that I will perform my duties and exercise my powers as a judge of the International Criminal Court honorably, faithfully, impartially and conscientiously, and that I will respect the confidentiality of investigations and prosecutions and the secrecy of deliberations," Pangalangan recited in his oath.
Kaba welcomed Pangalangan to the court saying, "[You are] joining the small and prestigious group of eminent judges who have the formidable honor and difficult responsibility of putting into practice the spirit and the letter of the Rome Statute."
The ICC is an intergovernmental organization and international tribunal in The Hague. The ICC has jurisdiction in the prosecution of individuals for war crimes, crimes against humanity and of genocide. The Rome Statute is the international treaty acceded to by 123 states.
ICC President Judge Silvia Fernandez de Gurmendi issued a statement saying Pangalangan will make important contributions to the international court.
"I hope this will encourage more Southeast Asian states to join the ICC, and to become members of a global system to punish and help prevent the most serious crimes of concern to the international community as whole," the ICC head added.
Pangalangan fills the seat vacated by Sen. Miriam Defensor-Santiago, the first Filipino and Asian to be elected a judge of the ICC. His term of office will end on March 10, 2021.
Facebook Comments