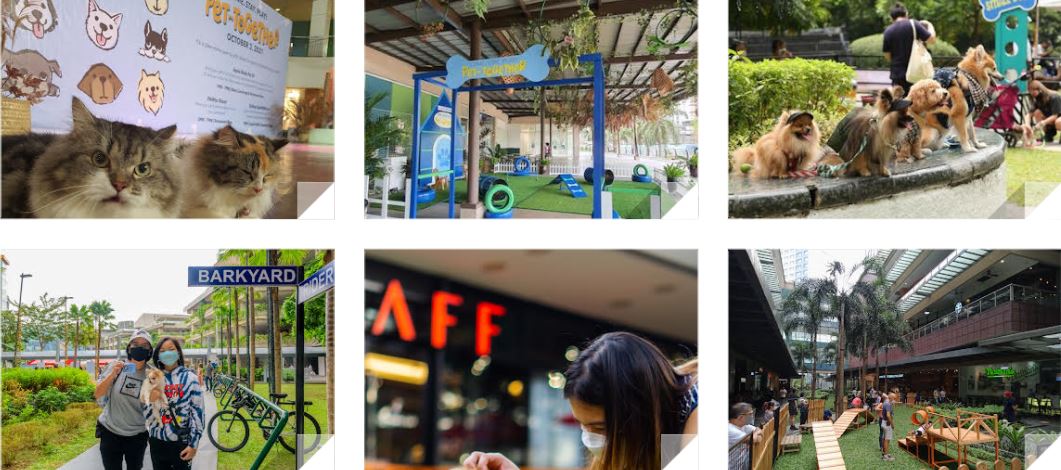 Ayala Malls are keeping doors open to household cats and dogs of any breed accompanying its customers.
The Ayala Malls "Pawlicies" pet policies for nurturing a healthy pet community in the malls have been put in place to identify the dos and don'ts of every responsible pet parent and the regulations per mall.
The spacious al fresco areas and pet-friendly culture allows paw-parents the freedom to shop, dine, play, and stroll with their furbabies, anytime at Ayala Malls.
Pet-friendly Pawlicies
Pets are important members of the Ayala Malls community. With almost 6,000 registered Petizens and counting, patrons can always expect furry companions adventuring the mall's wide-open spaces, common areas, and even restaurants.
Here's how to join Ayala Malls' pet community:
First, all pets should sign up for a Pet ID at the concierge to present vaccination records.
Second, paw-rents with complete documents should present the Pet ID to the patrolling security guard upon entering Ayala Malls.
Finally, once inside, paw-rents should clip the Pet ID on their furbaby's collar or leash so they can access the pet-friendly facilities including Ayala Mall's official dog park, Barkyard.
Thoughtfully designed to brighten up the day of every mallgoer and furbaby, Barkyard features separate play-pods for small, medium, and big breeds so each kind can run around off-leash with their own furry kind. Aside from spacious grassy lawns, the pods also include obstacles for pure active adventures during every visit.
Furthermore, the Pet Pawlicies follow a three-tier system to guarantee a healthy pet community in all Ayala Malls, depending on its features. Malls with greater outdoor areas fall under the Lax Tier wherein pets of any size may enter both indoor and outdoor facilities.
Meanwhile, those with less outdoor space follow the Limited Tier Pawlicies, which allow small pets both inside and outside the mall provided they are on carry-on bags or strollers. Lastly, the terms of the Hybrid tier vary per mall however it is geared more towards the enjoyment of pets within the mall's outdoor premises.
Common to all tiers, pet collars must always be worn, as well as a leash not longer than 5ft. when inside or within mall premises. To ensure cleanliness, paw-rents should always look after their cats or dogs by disposing of waste properly using wet wipes and disposable bags, to be thrown in designated waste bins. To help minimize necessary cleanup, diapers are also either required or highly encouraged depending on the regulations of the mall to be visited.
Among the events at the Ayala Malls are the upcoming 203rd and 204th Philippine Canine Club Inc. (PCCI) and Fédération Cynologique Internationale (FCI) Championship Dog Shows to be held at Greenbelt 5 from February 26 to 27. Greenbelt 5 will hold the anticipated event on the 4th floor from 9 AM onwards on both days. Falling under the Lax Tier, Greenbelt is recognized for its spacious landscape and architecture, making it an ideal fit for dog lovers to converge and enjoy the one-of-a-kind show.
As the event celebrates all purebred dogs and their respective strengths, the PCCI-FCI dog shows allow pet owners greater access to champion breeds. The two-day event will challenge all nine groups categorized accordingly:
Sheepdog and Cattle Dogs for Group 1; Pinscher and Schnauzer for Group 2; Terriers for Group 3; Dachshunds for Group 4; Spitz and Primitive Types for Group 5; Scent Hounds and Related Breeds for Group 6; Pointing Dogs for Group 7; Retrievers-Flushing Dogs-Water Dogs for Group 8; Companion and Toy Dogs for Group 9; and Sighthounds for Group 10.
The show will be judged by PCCI Board of Directors member Simon L. Sim and former PCCI Director Dr. Raymundo W. Lo. Five coveted awards will be presented to each deserving show dog on February 27: Best Baby Puppy in Show, Best Puppy in Show, Best Junior in Show, Best in Show, and Best Phil-Born in Show.
The Ayala Malls community welcomes pets as family. Visit the nearest mall to enjoy pet-friendly facilities and activities. To learn more about the Pet Pawlicies, head to https://tinyurl.com/AyalaMallsPetPAWlicies
Ayala Malls have also welcomed the pediatric COVID-19 vaccination program and extended help to Typhoon Odette victims.
TELL US your good news story tips by messaging GoodNewsPilipinas.com on Facebook, Twitter, Instagram, or e-mail editor@goodnewspilipinas.com and WATCH Good News Pilipinas TV YouTube for more Filipino Pride stories!
Facebook Comments