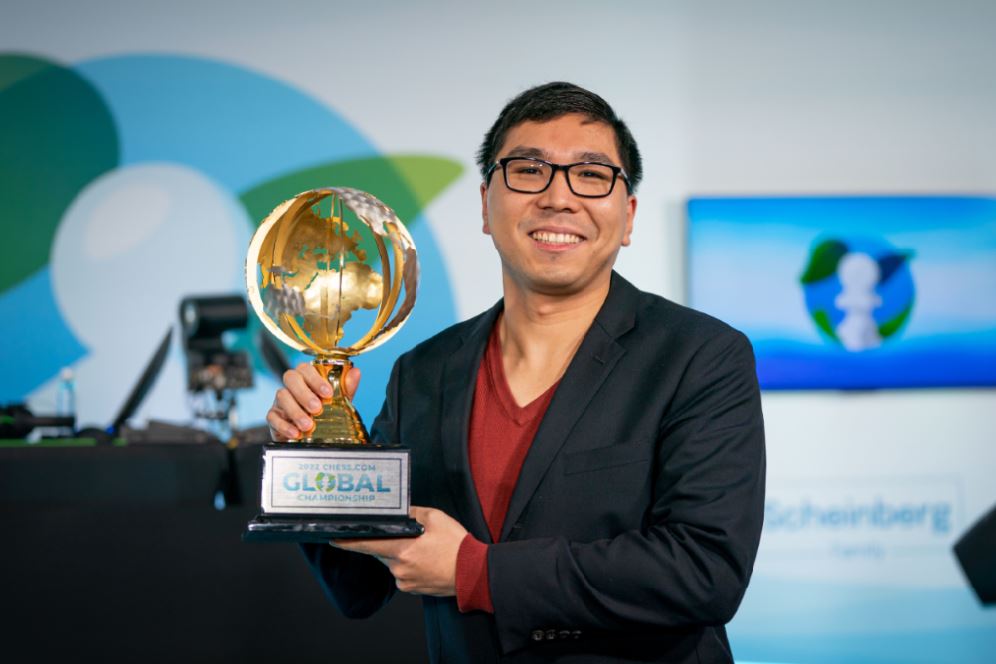 Philippines-born Wesley So has won the first-ever Chess.com Global Championship (CGC), adding another world title to his trophy collection after a heavyweight run in the online tournament.
The Filipino American grandmaster defeated GM Nihal Sarin of India in the Chess.com Global Championship Rapid Blitz final series with two games to spare, 4.5-1.5, in the title match staged in Toronto, Ontario, Canada, on November 7, 2022 (November 8 Philippine Time).
The United States chess champion played the Indian chess prodigy in 4 games on Sunday, November 6, ending the day with an advantage, 3-1, and dominating the first half of the CGC final series with two solid wins and a couple of draws.
The 29-year-old Fil-Am GM then went on to draw Game 5 before a brilliant win in Game 6 playing black pieces to clinch the 4.5 points needed to win the CGC series final on Monday, rendering moot the last two games of the series and ending the tournament with a score of 4.5-1.5.
Philippines-born American chess champion Wesley So @GMWesleySo123 has added the inaugural @chesscom Global Championship title to his string of world titles FULL STORY on @GoodNewsPinas_ https://t.co/cTOflCLnAp

— Angie Quadra-Balibay (@AngieQBalibay) November 8, 2022
Wesley So pocketed the $200,000 grand prize and the championship trophy as the first-ever Chess.com Global Champion – a win that the inaugural Fischer Random Champion, 2021 Grand Chess Tour Champion, and three-time United States Chess Champion said made him happy after recently losing the three titles.
In his post-match interview, Wesley So shared his favorite moment in the tournament. "Winning this one certainly. Just keep trying. I just finished a tournament. Reykjavik (Fischer Random event) didn't go well. I finished in sixth place. So it's nice to win from time to time."
Wesley So @GMWesleySo123 became the first-ever @chesscom Global Champion after displaying his dominance in rapid blitz online against India's Nihal Sarin #ChesscomGlobal STORY on @GoodNewsPinas_ pic.twitter.com/B18c4tRyu0

— Angie Quadra-Balibay (@AngieQBalibay) November 8, 2022
Wesley So bounced back from that most recent loss and became the heavy favorite to win the CGC title after displaying his sharp form in the tournament, especially in Game 6.
"Game six was a spectacular expression of So's precise and resourceful defensive abilities, often using the king itself to fend off Nihal's attack," wrote NV Vanessa in the Chess.com report about the championship series won by Wesley So.
"So showed us what it means to be a grandmaster of his caliber, coming back to reach one of the top achievements of his career. Amazingly, So seemed to get stronger with each of his matches―despite the top-notch competition―clinching the championship with one of his best games of the event," said Chess.com of its inaugural global champion.
Wesley So @gmwesleyso123 was heavily favored to win @chesscom Global Championship tournament after an adventurous run going beyond his usual precision draw games and clinching win after win against the world's top chess players at #ChesscomGlobal STORY on @GoodNewsPinas_ pic.twitter.com/gbyipnQF2W

— Angie Quadra-Balibay (@AngieQBalibay) November 8, 2022
On his way to clinching his seat in the finals, Wesley So bested the following top Chess.com verified players:
Semifinals win over fellow American player Hikaru Nakamura, 5-3
Quarterfinals win against Russia's Dmitry Andreikin, 4.5-1.5
Round of 16 win vs. American GM Jeffery Xiong
Round of 32 win vs. Ukraine's Vasyl Ivanchuk
Round of 64 win vs. Belarus' Dennis Lazavik
The 2022 Chess.com Global Championship featured an Open Qualifier phase that started on May 1, the Play-in phase that began on July 11, and the CGC Knockout which started on September 14, before culminating in the CGC Finals which ended on November 7.
Wesley So will next play in the final event of the 2022 Meltwater Champions Chess Tour on November 14 in San Francisco, California.
Cavite-born Wesley So started his career in the Philippines before moving to the United States to continue competing internationally. He continues to support Philippine chess by giving scholarships to Filipino youth and has been honored by the first professional chess league in the country and the world with a conference titled the Wesley So Cup.
SEND CONGRATULATIONS in the comments below to Wesley So, the Philippines-born American Grandmaster who had just become the first-ever Chess.com Global Champion!
Good News Pilipinas is a Lasallian Scholarum Awardee. TELL US your good news story tips by messaging GoodNewsPilipinas.com on Facebook, Twitter, Instagram, or e-mail editor@goodnewspilipinas.com and WATCH Good News Pilipinas TV YouTube & Good News Pilipinas TikTok for more Filipino Pride stories!
Facebook Comments