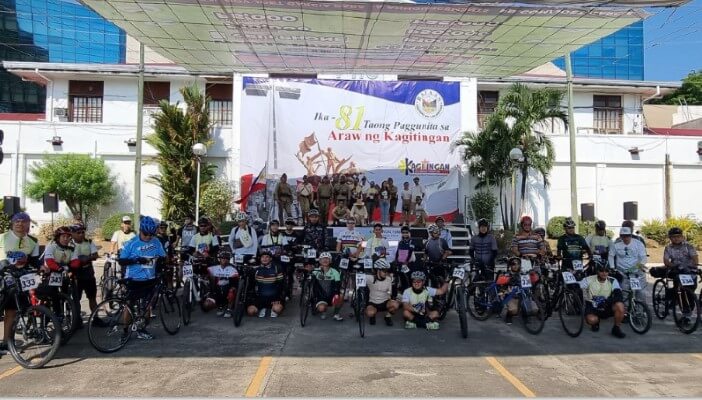 The Philippines' Day of Valor (Araw ng Kagitingan) was observed with a community bike tribute ride and fundraiser for the maintenance of Bataan Death March markers and other World War 2 historic sites that commemorate the heroism of Filipino and American soldiers who persisted in defending the country against Japan until they were forced to surrender on April 9, 1942.
The cyclists followed the path of the markers where around 80,000 soldiers, mostly Filipinos, were made to trek through more than 100 kilometers from Bataan through Pampanga and Tarlac provinces, and where over 10,000 died and were lost due to starvation, dehydration, diseases, and the brutality of the captors.
Riders from various parts of the nation joined the 'Ride for Valor' bike-for-a-cause event on April 9, 2023, starting from the Kilometer Zero marker on Mariveles, Bataan, with pitstops at Mount Samat, Balanga Provincial Capitol's The Bunker, San Fernando Train Station and Angeles Museum in Pampanga, before finishing at the Capas National Shrine in Tarlac.
The markers along the path of the Bataan Death March were first placed by families of the soldiers who hope that today's generation may find good examples of heroism and courage from the World War 2 veterans. The markers bear the names of some of those who were lost, never seen again, with no graves bearing their names.
The funds raised in this year's event which marks the 81st anniversary of the Death March will go to help maintain the markers, many of which were restored after near ruin with the help of the August 2022 Ride for Valor.
The Ride for Valor is organized by the Philippine Veterans Bank (PVB), in partnership with the Department of National Defense (DND), the Philippine Veterans Affairs Office, the Provincial Government of Bataan, and the Wartime Heritage Guild-Philippines.
"The Bataan Death March is a somber reminder of the bravery and selflessness of Filipino veterans during the Second World War. It is an essential part of Philippine history and culture, and the Ride for Valor is an important way of honoring the veterans and preserving their legacy," said Mike Villa-Real, first vice president for marketing and communications of the Philippine Veterans Bank, a private, commercial bank owned by World War 2 veterans and their families, and with its new Charter signed into law, now includes post-war veterans and Armed Forces of the Philippines retirees.
Amid the COVID-19 pandemic, the Day of Valor was observed with calls to uphold the nation's sovereignty and tributes to frontliners, and the streaming of World War stories of heroism.
Good News Pilipinas is a Lasallian Scholarum Awardee. TELL US your good news story tips by messaging GoodNewsPilipinas.com on Facebook, Twitter, Instagram, or e-mail editor@goodnewspilipinas.com and WATCH Good News Pilipinas TV YouTube & Good News Pilipinas TikTok for more Filipino Pride stories!
Facebook Comments