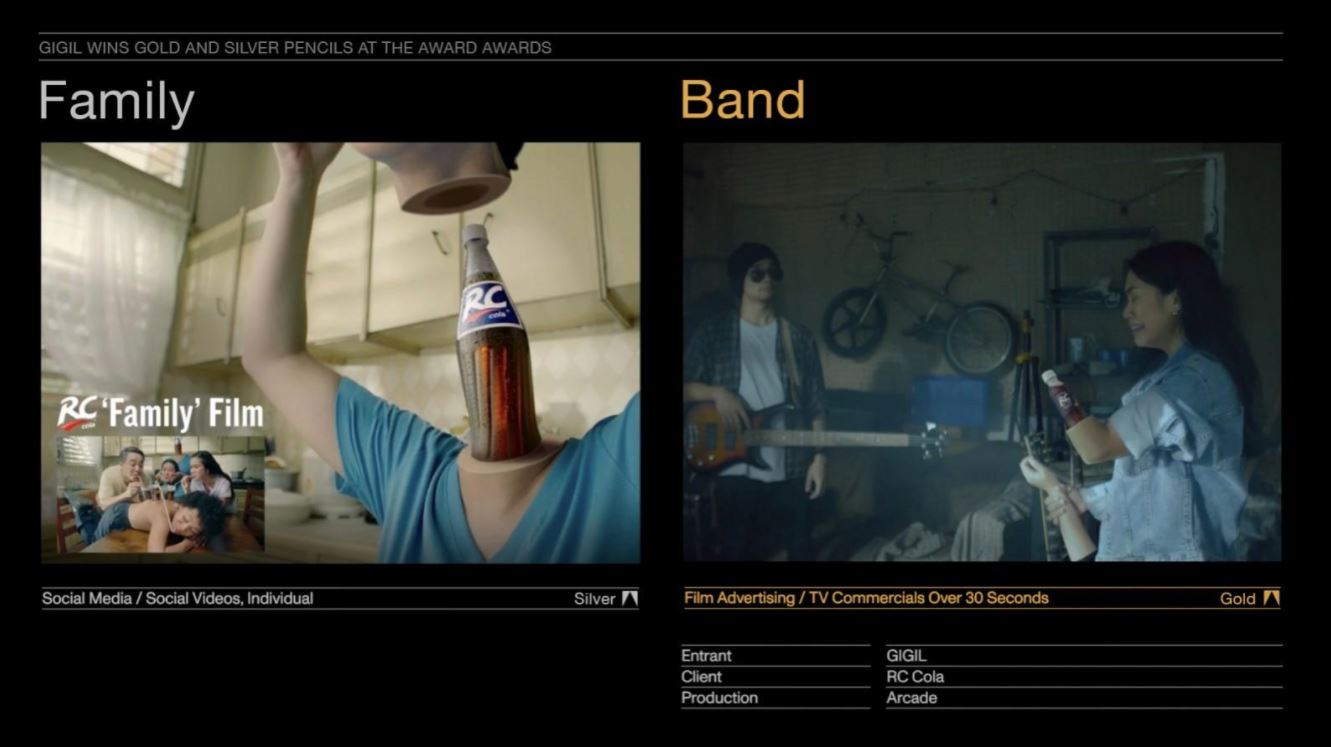 The Philippines' RC Cola soft drink ads which went viral last year owing to their bizarre twists have won in the 42nd Australasian Writers and Art Directors (AWARD) Awards, considered the most important regional recognition for creative work in New Zealand, Southeast Asia, and Australia.
Filipino independent ideas agency GIGIL's video advertisements made for RC Cola in 2020 earned gold and silver AWARD citations on May 25, 2021.
"Band", a video ad about three blind male musicians whose eyes turn out to be ice dispensers and a sighted female vocalist whose arm turns out to be a bottle of soft drink, won the gold AWARD in Film Advertising.
"Family", the first RC Cola ad released by GIGIL which turned viral and was featured by American host Ellen DeGeneres on The Ellen Show, is a seemingly normal Filipino commercial that follows a boy who struggles with his identity and thoughts that he is actually adopted. The video then reveals the boy was born with four drinking glasses on his back while his mother's head turns out to be a bottle of RC Cola. The ad won the silver AWARD in Social Media.
GIGIL reports that the video ads raked in 47 million views and 395 thousand shares, making RC Cola the most talked about soft drinks brand of the year. A community quickly formed around the campaign, with Filipino fans creating memes, fan art, and theories. Top Philippine business schools like the Asian Institute of Management and De La Salle University studied the campaign in their MBA classes.
"We think this is a tremendous win, not only for GIGIL but for the country as well. This is one of the toughest shows around and we're glad to have demonstrated that a Filipino agency like ours has what it takes to step on the same global stage with the best of them," says GIGIL Managing Partner, Jake Yrastorza.
"We owe it to our clients [to create more ads like this]. They deserve the best possible campaigns that we can possibly think of. It's really brave, unconventional ideas that get people to sit up, notice your brand, and ultimately buy it. After all, this campaign increased sales of RC Cola Mega by 67%. And so, when we pick up an award like this, the whole experience just becomes even sweeter and more satisfying," Yrastorza added.
A Star Wars-themed campaign won the Asia Pacific Tangrams gold for the Philippines' Globe Telecom earlier this year.
SEND CONGRATULATIONS in the comments below to GIGIL for winning gold and silver for the viral RC Cola Philippines video ads at the 42nd Australasian Writers and Art Directors (AWARD) Awards!
Good News Pilipinas is celebrating its 15th Anniversary in 2021 by giving away prizes! Subscribe to our Good News Pilipinas! TV YouTube channel and enter the raffle by sending us an email to editor@goodnewspilipinas.com
Facebook Comments