Filipino animator Ronnie Del Carmen's work on the Pixar movie hit Inside Out won for him the 73rd Golden Globe Award for Best Animated Film.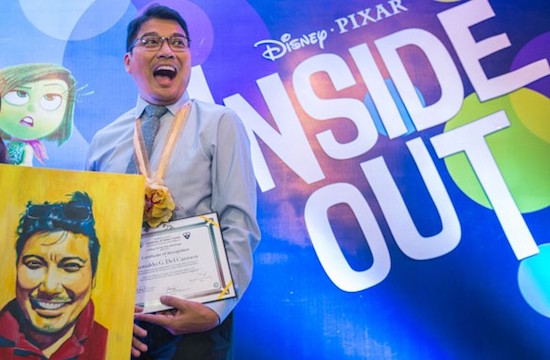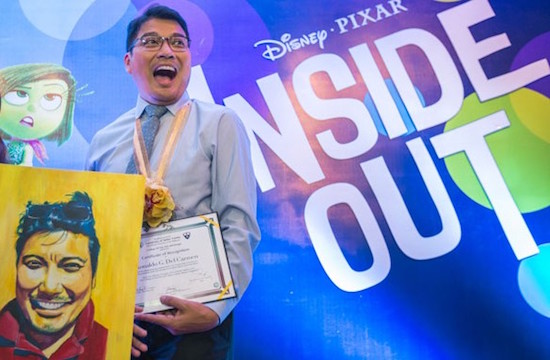 Del Carmen's film also earned the 88th Academy Award nominations for Best Original Screenplay and Best Animated Feature.
Del Carmen, one of the Pinoys at Pixar (Pixnoy), co-directed with Pete Docter the Golden Globe winning film about a young girl's inner emotions. The animator describes the film as a "unique and courageous" movie.
The migrant Filipino who grew up in Cavite also wrote the screenplay that earned the Oscar nomination.
Del Carmen, described by Docter as a "great storyteller," told media how he hoped the recognitions would serve to inspire his countrymen to be great story teller as well.
"I had dreams and aspirations just like anybody," the University of Santo Tomas alumnus said.
"I concentrated on what I loved to do."
The former advertising executive advices Filipinos wanting success to "seek mentors who can show you the way."
"You also have to take risks … and start telling your story," said Del Carmen.
He expressed appreciation to Docter and Pixar Animation Studios' chief creative officer, John Lasseter, for supporting projects like "Inside Out."
He also thanked the group behind the Golden Globes, the Hollywood Foreign Press Association (HFPA) and its Filipino members Ruben and Janet Nepales, for their support.
Docter talked to media about working Del Carmen. "We're excited we got to work with Ronnie," he said. "He is an integral part of our team and the whole team of Pixar."
"To the Philippines, thank you for making Ronnie del Carmen," Docter added.
Del Carmen's Inside Out will compete for the Oscars at the 88th Academy Awards to be held on February 28.
Facebook Comments