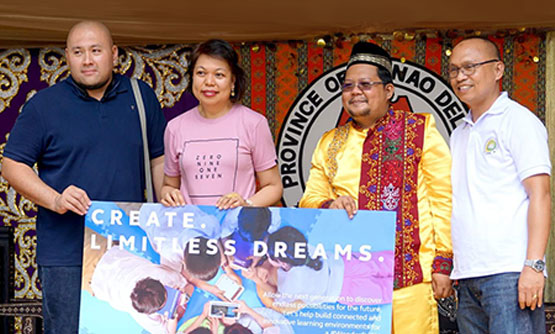 The Global Filipino Schools (GFS) program initiated by Globe Telecom and DepEd has reached all regions of the Philippines, setting up systems in public schools to get them ready for the integration of Information and Communications Technology (ICT) in the classrooms.
Globe Telecom reported that the recent inclusion of the Autonomous Region in Muslim Mindanao (ARMM) in the GFS program brings its reach to about 214 schools across all 17 regions – ahead of their 2020 target date.
Each of the nine school divisions in ARMM was represented in a teacher-training workshop held in July for program officers from DepEd divisions and teaching representatives from select public elementary and high schools. The teachers were instructed in the ICT tools and methodologies on 21st-century education to be used by the GFS program in their schools.
"Many young Filipinos are unable to make the most of advancement in digital technology when compared with other countries. Through innovative teaching methods and integration of ICT in classrooms, teachers and school leaders can significantly increase the quality of learning in the public sector. This is the main goal of GFS," said Yoly Crisanto, Chief Sustainability Officer and Senior Vice President for Corporate Communications at Globe.
Through the GFS program, schools received free internet connectivity; as well as ICT tools like tablets, projectors, virtual reality (VR) goggles, casting dongles, pocket wifi devices, and a mobile cart.
Partner schools also receive intensive teacher training program on 21st-century learning approach, ICT integration in classrooms, as well as content responsible digital citizenship. Under the GFS program, every school beneficiary will serve as a training hub for teachers in the DepEd division the school belongs to.
For ARMM, Globe envisions the participating schools to set as an example on how technology can transform education to the 622 public elementary and secondary schools in nine schools divisions in the region, benefitting over 26,000 teachers and over 800,000 students.
To assess its success upon its implementation, a study released by Taylor Nelson Sofres in 2015 showed the GFS program helped improve digital skills among teachers and students, specifically on usage of mobile technology and computer software.
The study also showed that the GFS program enabled 21st-century learning outcomes that involve creativity, communication, collaboration, and critical thinking; increased student engagement in classroom activities; as well as helped enhance school culture through readiness in ICT integration.
Facebook Comments