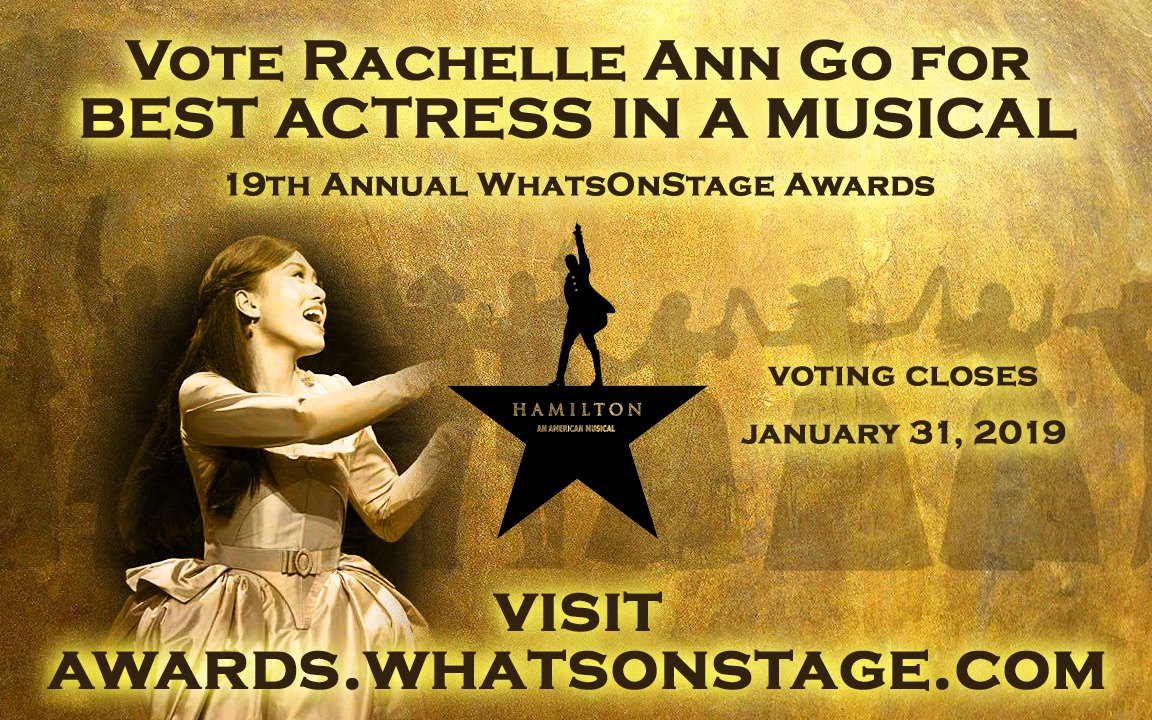 International musical theater actress Rachelle Ann Go has picked up the Whats On Stage acting nomination for her performance in Hamilton, leading the musical's haul of 12 nominations.
Go is nominated as Best Actress in a Musical for essaying the role of Eliza Schuyler Hamilton in the Tony Awards and Pulitzer-prize winning hip-hop sung-thru musical created by Lin-Manuel Miranda.
Go leads the Hamilton cast's nominations which were released in early December, including Best New Musical, Best Director, Best Actor, and Go's Best Actress in a Musical. Another Filipina cast member, Christine Allado is also nominated as Best Supporting Actress in a Musical.
Earlier in November, Go was voted by the theater-going public as the Best Actress in the BroadwayWorld UK Awards which celebrated the best West End productions.
In Whats On Stage Awards Hamilton leads the nominees with 12 nods, including Best New Musical, Best Director, Best Actor – for both Jamael Westman and Giles Terera – and Best Actress in a Musical for Rachelle Ann Go.
Sita McIntosh, WhatsOnStage's Chief Operating Officer said: "2018 has proved a incredible year for new writing – for both musicals and plays, providing some of the strongest competition we have seen in recent years across the nominations."
The 19th WhatsOnStage Awards will again be voted by the theatregoers until January 31, 2019. The Awards concert will be held on March 3, 2019 at the Prince of Wales Theatre.
Rachelle Ann Go is set to compete for the Whats On Stage Awards against the lead actresses from The Tina Turner Musical, Heathers the Musical, Eugenius!, and Company.
Facebook Comments