Filipino engineer Aisa Mijeno of the Sustainable Alternative Lighting (SALt) startup company shared the stage with United States President Barack Obama and Alibaba founder Jack Ma at the Asia-Pacific Economic Cooperation (APEC) SME Summit stage in Manila.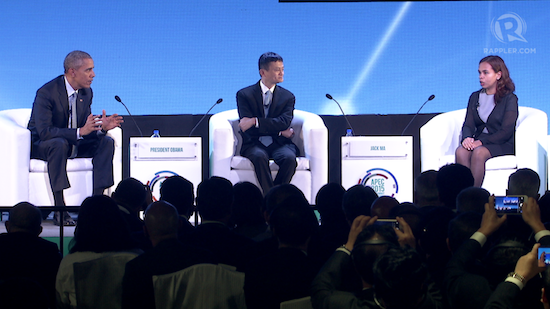 Obama referred to Mijeno's efforts in the context of climate change efforts. Mijeno, together with her brother Raphael, built the startup company around the idea of a lamp that runs on salted tap water or sea water. The company vision is to light up areas around the country that are still without access to electricity.
In the forum after his speech, Obama highlighted the award-winning SALt lamp saying that government should consider funding such alternative innovations.
When Mijeno shared her company only needed support to mass produce the lamps, Obama hinted to eCommerce magnate Ma of Alibaba about a possible start of a business relationship.
Mijeno admitted to media that she and the Alibaba chief talked backstage about the mentoring of SALt into a mass-produced business.
The White House invited Mijeno to join the panel after a last minute decision by Obama to talk about climate change.
Facebook Comments