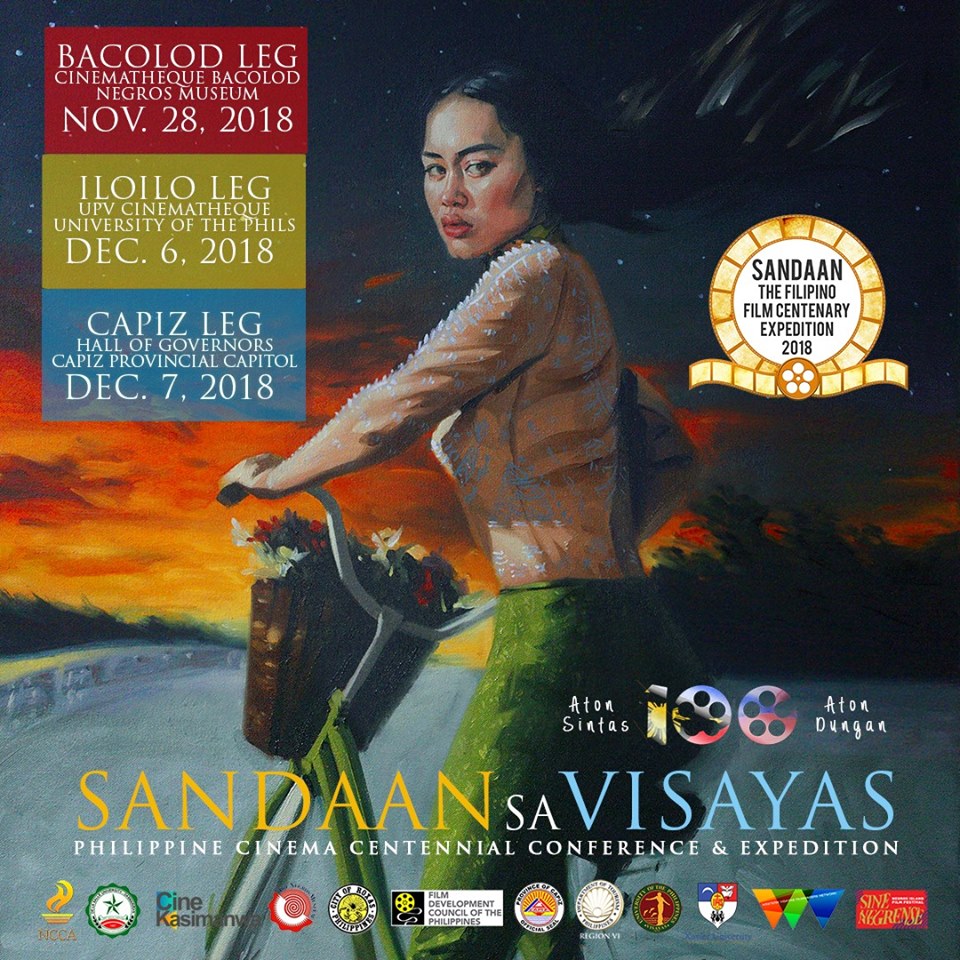 Sandaan sa Visayas of the Sandaan The Filipino Film Centenary Expedition (TFFCE) aims to initiate a discourse on pertinent issues challenging the filmmaking industry today. This will be the focus of the 3-day celebration of Sandaan TFFCE in the Visayas region starting November 28 at The Negros Museum in Bacolod, December 6 at the University of the Philippines Visayas in Iloilo and December 7 at the Hall of Governors, Capiz Provincial Capitol.
Sandaan sa Visayas is the last leg of the Sandaan TFFCE which first held the Sandaan sa Mindanao at Xavier University Ateneo de Cagayan on November 16 and 17, and Sandaan sa Luzon at the De La Salle University – Dasmarinas in Cavite on November 22 and 23.
The Visayas celebration which revolves around the theme, "Our Films, Our Soul," (Aton Sintas, Aton Dungan) is is in collaboration with the National Commission for Culture and the Arts, CineKasimanwa: Western Visayas Film Festival, The Federation of Film Festivals in Western Visayas, University of the Philippines in the Visayas, The Negros Museum, Western Visayas Filmmakers Network, Department of Tourism – Region VI, Roxas City LGU, West Visayas State University in association with De La Salle University – Dasmarinas and the Film Development Foundation of the Philippines.
To start off the discourse, Dr. Adrian Torres, Production Designer, Programmer Sine Negrense and Bakunawa Film Festival, PDGP, will talk about Production Design in Film through the Years: What are the Current Practices?
Eva Mari Salvador, Arts Education Department Manager of the Cultural Center of the Philippines, meanwhile, will tackle "Understanding Film Education, Its History and How to Teach It."
Dr. Bryan Mari Argos, a writer and poet will focus on "Cultural Appropriation in Films All These Years: What Should be Corrected?"
Those interested in film criticism and appreciation will opt for the topic of Prof. Tito Valiente, a known film educator, critic, and anthropology expert, which is "Film Criticism Then and Now: Why We Need Intelligent Discussions in Cinema."
This big event will also feature Director Baby Ruth Villarama's talk on Film Marketing and Distribution Through the Years: Why Filmmakers and Teachers Should Care. Villarama is the Filmmaker & Producer of the film, Sunday Beauty Queen.
Sandaan sa Visayas head, Director Elvert Bañares who is a Filmmaker / Founder & Adviser of CineKasimanwa will lead the topic on "A Discussion of Regional Cinema and How We Use Local Films in Classroom Discussions" as well as the talk on "Appropriating Locales & Understanding Spaces in Regional Cinema."
Even the famed Director Jeffrey Jeturian will enlighten Sandaan sa Visayas delegates about "Television Soaps Through the Years and Why are Film Directors in the Medium."
Nick Deocampo, Network for the Promotion of Asia Pacific Cinema president, multi-awarded filmmaker, film literacy advocate, author, film historian and U.P. Film Institute professor will delight everyone with his discussion on "Philippine Cinema Centennial: Why We Should Celebrate and What Should Be Done Next?"
Prof. Alfredo Diaz, Director, UPV Cinematheque, Faculty of UP Visayas and a Theater Actor will expound on "Understanding Acting Nuances in Films: Then and Now."
Dr. Bañares posed the following issues and concerns:
film education and film archiving to be reinforced in the country amidst commercialism
where Philippine Cinema is headed
is there a need to look back to where we started
film outputs of our cinema history
books written and used for film education
forgotten and neglected films
films from the regions that continue to struggle and make its way to be seen by a national audience
distribution processes that have been exclusive to a select few
film competencies in our courses and its educators
questions that need further discussion in a digital age populated by audiences left with infinite choices
He said, "Our cinema reflects on who we are, what we dream of, how we see our problems solved, how we want to be entertained, how our locales have greatly changed us . Our cinema is our sense of being. It is being fearless. It is us being spirited. It is us being honorable. Our cinemas… is our soul."
So, come celebrate Sandaan TFFCE in Sandaan sa Visayas! Be part of history. Be a big part of the centennial story.
GoodNewsPilipinas.com is a media partner of Sandaan TFFCE.
Facebook Comments