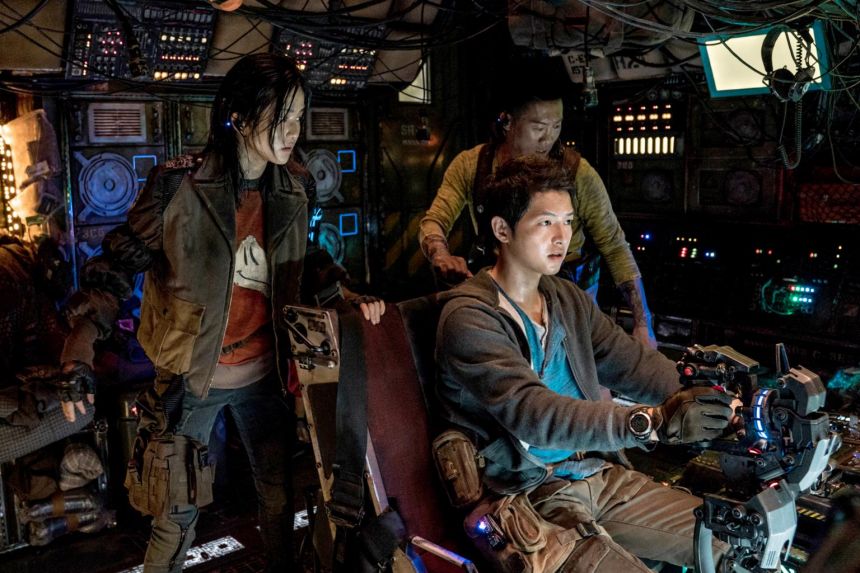 South Korean superstar Song Joong Ki's new blockbuster film, Space Sweepers, features scenes that use the Filipino language in the dialogue.
Song's newest collaboration with director Jo Sung Hee, with whom he worked on the award-winning "A Werewolf Boy", is South Korea's first science-fiction live-action adventure film set in outer space.
Space Sweepers has been in development for over 10 years and started streaming on Netflix on February 5, 2021.
The story is set in 2092 when the Earth is dying and humankind seeks to live on other planets. Song is part of the space debris salvagers crew of Victory which finds a 7-year-old girl stowaway who is being hunted down by troops for being an android robot explosive.
Pilot Tae Ho played by Song Joong Ki (Descendants of the Sun) together with Captain Jang played by Kim Tae Ri (The Handmaiden), Engineer Tiger Park played by Jin Seon Kyu (Kingdom), and robot Bubs voiced by Yoo Hae Jin (Luck Key) embark on a journey that leads them to the discovery of the value of human relationships in the face of poverty, and corporate greed.
The subtitled film features not only Korean and English dialogue. The key characters use a universal translator in interacting with various nationalities speaking their own languages, including Filipino.
In a scene where the crew of seeming misfits gather in a restaurant onboard the MR09 9th Residential District for Non-Citizens to decide to exchange the child robot for ransom money, a worker comes into the room speaking in Filipino.
"Oorder ba kayo? Kung hindi na naman, umalis na kayo."
(Aren't you going to order? If not, get out.)
At the scene of the ransom exchange where the child Dorothy is lost amidst a crowd, one can also hear someone saying "Sinong bata ito? (Who is this child)", before a troop of guards targeting the child robot descends on the scene.
What follows is an epic galactic adventure likened to Star Wars and Guardians of the Galaxy
Song Joong Ki's television series, Arthdal Chronicles, also featured Philippine language dialogue by the show's Filipino actor, Nash Ang.
TELL US in the comments below, did you catch the Filipino dialogue on Song Joong Ki's Space Sweepers?
Are you a Proud Filipino? Get more good news stories on Filipino Pride! Subscribe to GoodNewsPilipinas.com and our YouTube channel: Good News Pilipinas! TV
Facebook Comments