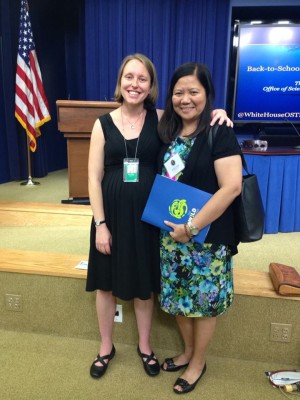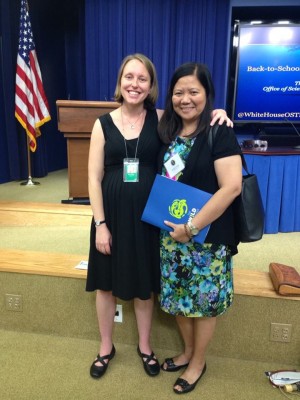 Fil-Am science teacher Jennifer Suzara-Cheng has been invited by the Obama Administration at the White House to participate in its Back-to-School Climate Education event.
Suzara-Cheng, recipient of the Green-o-vation Educator award, joined the White House event with 200 other students, teachers, and several Green schools member as well as key leaders in the education community from private and non-private sectors.
"I felt honored and privileged to be part of this consortium at the White House, it was a great group of like-minded people with a common goal to make sure that we disseminate information about the state of our planet," said Suzara-Cheng, a graduate of Ateneo de Naga who immigrated to the United States 12 years ago and now teaches at the second largest public school system in the U.S., the Los Angeles Unified School District (LAUSD).
The climate change event addressed the danger of carbon consumption and its effect to the Earth's temperature, causing sea levels to rise followed by the continued warming of oceans.
It also guaranteed that educators will promote and support climate education and literacy initiatives that empower the youth as decision-makers and leaders.
Suzara-Cheng is also looking forward to a global networking with regards to spreading climate change education.
"We've seen the effects of global warming in our own home country, such as in typhoons Yolanda and Haiyan as well as those experienced in New York City in 2012 in Hurricane Sandy," Suzara-Cheng said to the Inquirer when asked about the Philippine situation.
"I want to take this opportunity to reach out to our motherland, to those who may be interested to collaborate and do our respective personal commitment to help the environment. It does not matter where we are; we should all be stepping up for our common good," She stated.
Facebook Comments