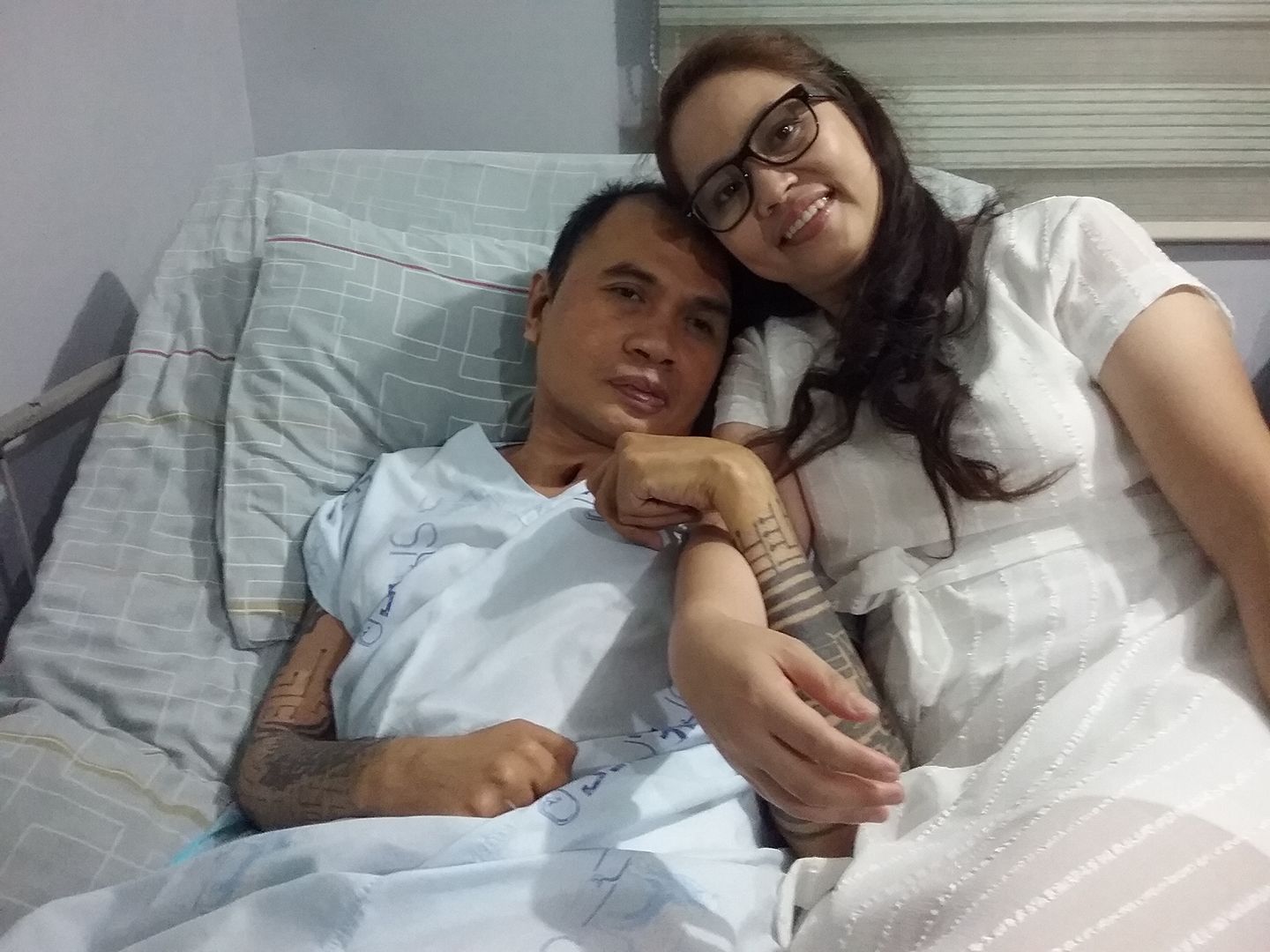 Nothing inspires like a story of enduring love against all odds, and the story of creative artists Mary Ann and Lirio Salvador is definitely one for the books – and the Good News Pilipinas! Radio Live Exclusives.
Mary Ann Jimenez-Salvador went on air with JC Santos and Krizzia Nieva of the Good News Pilipinas! Radio Live show which aired February 18 on De La Salle University – Dasmariñas (DLSU-D) 95.9 Green FM, to talk about her love story with husband Lirio who has been bedridden since a vehicular accident in 2011.
A Green FM Airwaves Research's producer and host and the new director of the DLSU-D Aklatang Emilio Aguinaldo, Mary Anne, first met Lirio in 1998 when he was admiring her artwork on exhibition at the library section of the National Commission for Culture and the Arts. The two became fast friends and eventually married in a unique celebration of their love and passion for the arts.
But in 2011, Lirio's accident caused internal hemorrhage in his brains. Mary Ann's husband had to endure a major brain operation which had them staying in the hospital for over 3 months.
Lirio has not yet fully recovered from the accident and to date is bedridden and unable to speak.
Mary Ann Salvador continues to care for Lirio as she manages the DLSU-D library to serve the academic community, and remains active in the promotion of the arts. She exhibits Lirio's art pieces he made before the accident and is involved in the annual "Paghilom" festival of arts in Cavite.
Mary Ann Salvador candidly answered our questions about her love for Lirio:
GNPRL: Miss Mary Ann can you share to our listeners and viewers how it all began?
MS: Actually, it all started with art… Because we are both into visual arts. Yes, I'm a librarian but I'm also into art education so I do artwork sometimes. But my hubby is a sculptor. We had an exhibition in the gallery where I was working before. So doon. And a common friend introduced us to each other. Yon it all started there. I admired his work and he also saw my work prior to their exhibit.
GNPRL: So, dun pa lang may spark na…
MS: Actually ang may spark sakin ay yung artwork. (Laughs) I'm amazed dun sa kanyang ginagawa. And prior to that kase I was able to see him sa isang gig sa Australian center as a front act of the band Faust. Gala kasi ako noon. So doon nakita ko yung parang "kakaiba to ah, kakaiba yung ginagawa niya" something like that.
GNPRL: How do you define love?
MS: For me it's "love is patience." With our situation now because Lirio, as you all know, he had an accident. Hit and run by a motorcycle sometime in 2011 and since then he's still recuperating. And for me, love is really patience because Lirio is totally depending on us – from his eating, bathing, walking. And aside from that, you really have to be patient in terms of communicating with him because he cannot talk. So all you need is to understand his language. Yung silence, read between the lines. Yung silence yun yung communication namin. So you really need a lot of patience, so for me love is patience. It is beyond words.
"Yung silence, read between the lines. Yung silence yun yung communication namin."
GNPRL: Aside from the love, syempre we have to consider, what is marriage for you?
MS: During our wedding, 'no? There's my team, Bigkis Sining… we were tied because of our love for arts and for not only romantic ones, but it's about our passion for creativity and passion for sharing that creativity to others.
MS: Ours (wedding) is a very unique one. We had it in Penguin Café in Malate. Prior to that, we just go to the city hall and dun para sa mga nag kakasal diba. We were introduced to a solemnizing officer, NSO accredited. Dapat pala NSO certified. So willing naman si Mr. Dizon to go to the place where we had our ceremony. So ayun sa Penguin Café, it's a totally… a very unique wedding experience sa Bigkis Sining with all our friends there, come as you are, parang ganon. It's a vegetarian, a very unique wedding. So it's totally Filipino… We are the ones who did the ceremony script.
Talagang kami lang yung gumawa nung flow. And also kung makikita niyo wala rin kaming ginamit na mga singsing or what… We just exchanged (art) works.
Because for us it's not about material thing, it's about yung love, yung passion for what you are doing.
So that's marriage. And it's about giving up yourselves for others, especially now. So ngayon kase I cannot just go everywhere, anywhere. I have to consider my husband also. And I make sure that the people are not forgetting his works. So, from time to time, I'm also proposing for exhibitions about his works and promoting his works.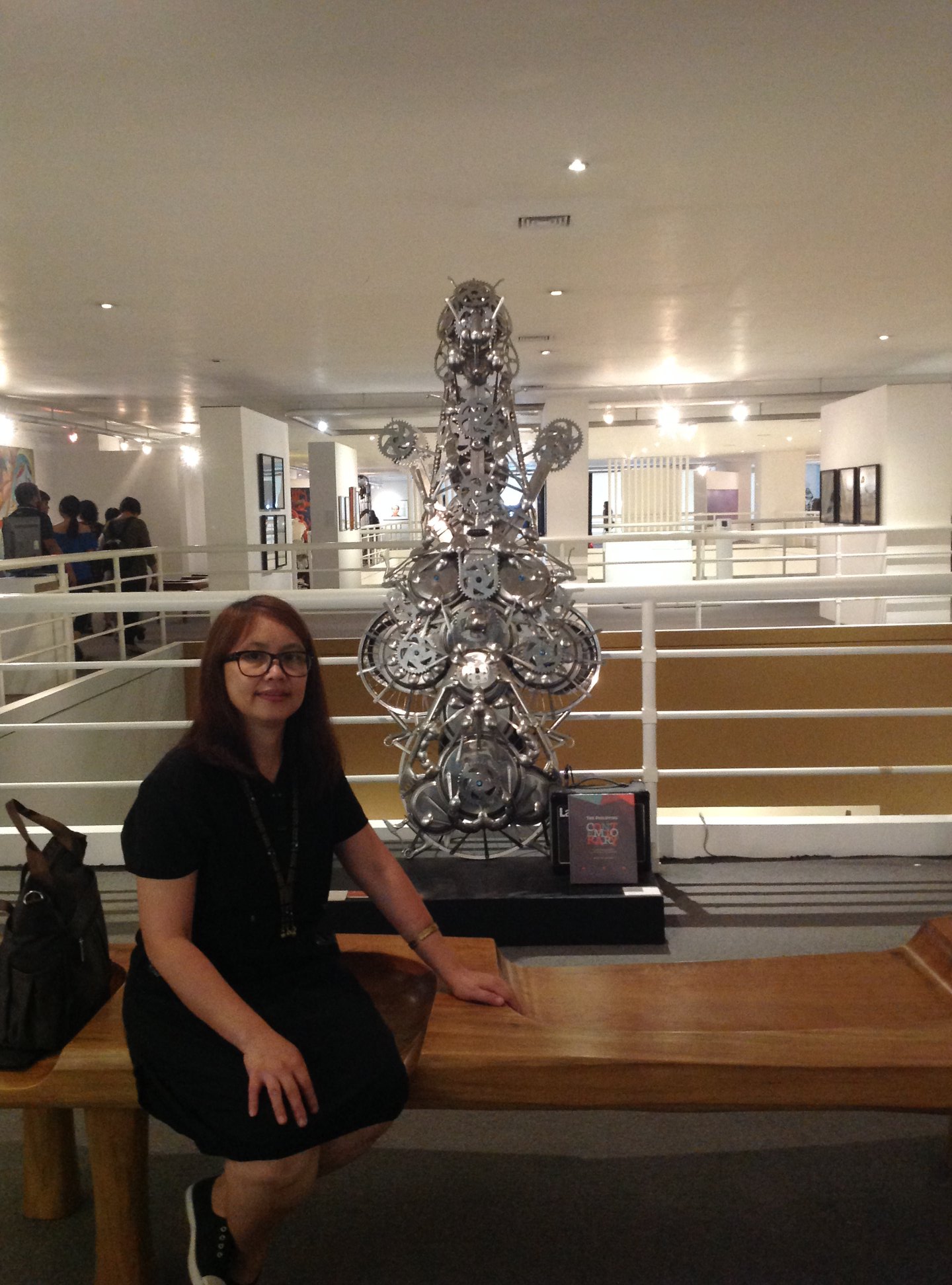 GNPRL: That's very inspiring. And indeed, your love is selfless. Your love toward him. Her love is really unique. Imagine – an exchange of artworks!
MS: And of course during the wedding? We spent less money because all of our friends volunteered. We didn't ask them to do this and to do that, but they just volunteered. Someone do the flower arrangement, so sya na rin nagdala nung flowers. Someone do the physical arrangement and exhibitions. So meron ding poetry reading in that evening.
GNPRL: Pasok talaga sa theme. Sining talaga.
MS: Lahat ay nag volunteer. Everybody are photographers, so they just gave us CDs of photos. It's all about volunteerism also.
GNPRL: So if you want a very tipid budget for wedding just do this. Volunteer!
GNPRL: This is a most challenging time for you and your family, where do you get your strength to work on these trials?
MS: Of course strength from God. Lirio is not Catholic but he is a Hare Krishna. He is also a parang spiritual person so that's also one thing I like about him. So walang bisyo, walang kahit ano. It's healthy living. Of course from God, that's really our… the source of strength. And of course our friends. 'Cause we were both ano na, wala na kaming mga parents. So we get our strength from our friends, our artist community. The Espasyo Siningdikato people. Because we used to have art space in front of La Salle… where we had our exhibitions there and supporting artists. And they are the ones who helped us, especially during the trials.
"Because for us it's not about material thing, it's about yung love, yung passion for what you are doing."
The first 3 years, when we were still in the hospital and up to now they are still helping us. So they are my strengths, all my Facebook friends. They give me strength and inspirations because they are all there. Keeping my post, reading my post and giving some inspirational words.
GNPRL: I'm just really inspired that their friends are also committed to helping out as much as they can. Not just from marriage ceremony but also the rough times.
MS: Yeah they are the ones who helped me when we were in the hospital and after the hospital. So talagang they really looked for a house near the school and they lent to us medical bed and among others.
GNPRL: Talagang maaasahan mo yung friends mo.
MS: Yes they are my family.
GNPRL: …God and friends. What kept you or what keeps you going and what makes you hold on to your relationship?
MS: I think it's the faith in our love. And of course yung, the passion that we have. And because of that passion, passion to share whatever we had, because I believe Lirio inspired a lot of people. And I want to continue that inspiration. That's why we are, together with our friends, we will be reviving the Espasyo Siningdikato we have started. We both have space in the Alitaptap Artist Community. So from there, we'll be able to relive or revive the community of artists that we have. So we will continue that.
GNPRL: That's true. Sir Lirio inspired many other artist even the young people and…
MS: Passion for the arts!
GNPRL: Thank you for continuing to inspire others by your commitment to the arts.
We know that these are the hard times ma'am. Was there a time that you wanted to give up, and how did you rise from that?
"I never questioned God why we experienced this, why we experienced that. Actually I look at it as a challenge."
MS: Actually it never entertains my mind, giving up. I never questioned since that day 1 until now. I never questioned God why we experienced this, why we experienced that. Actually I look at it as a challenge. They are all challenges to me. And actually the more I…. Mas lalo akong nag sisipag because now that I'm alone in – but not totally alone, but I have to do my best para I could give him what he needs and the needs of my family because I'm also helping my niece and nephews to pursue their studies.
GNPRL: Wow fantastic ma'am… For you, what do you think is the greatest foundation to keep a relationship strong?
MS: Dapat yung greatest foundation… Sana you started with friendship, companionship yung ganon. Dapat you have advocacy to do things na meron kayong passion.
GNPRL: Common ground…
MS: Oo. Kase that would make your relationship strong. Kase mahirap yung you have to look… Mayroon kayong nilu-look up diba? Na hindi lang yung about yourselves or selos diyan, selos don. But it's about what do you want to share for the ano… The Philippines, for other people.
GNPRL: So yun talaga yung mag ba-bond sa inyo.
GNPRL: If your love story will be written into a novel or a movie, what would be its title?
MS: Pang Miss Universe… Ano bang magandang title ba? Bigkis Sining? So parang ganun lang.
GNPRL: Sa arts pa rin. It makes sense.
GNPRL: What will be your best and ultimate advice for anyone na nasa relationship? Yung may mga relationships and yung mga wala pa na magkakaroon pa lang?
MS: Lawakan na lang yung pang unawa 'no? Be patient in your relationship. Yun lang. Dapat mas maunawaan mo rin sila. Alamin mo yung mga dahilan. Wag agad agad na nagagalit. So yan. Dapat ganun lang. Yung lawakan lang ang pang unawa.
GNPRL: Any announcements that you want to share with us? Since we're live on Facebook, both from the Aklatan and also to your… arts and passion.
MS: Dun muna tayo sa isa, sa arts. We will be having a Paghilom Arts and Camp Festival this coming February 28, March 1 and 2 at Alitaptap Artist Village in Amadeo Cavite. This is free! So pwede silang mag camping there and also join the workshops of different… And darating si, I hope, darating si Kidlat Tahimik. And meron ding workshop na contemporary dance, mga visual arts and poetry reading. So maraming – pwede kayong mag participate, hindi lang maging audience. So meron po kaming Paghilom -just look for the Paghilom on Facebook and register there. So it's free and meron ding concert on the third day with Joey Ayala, ano paba? Sino pa ba? Chickoy Pura and other independent artists. So mag register na sila don, free lang.
MS: Yeah. It's a camp. Pwede ka lang -kayong mag camping, bringing tent. And for the library naman, just continue using the library. Maximize the use of the library. And you're paying for it. Request for open natin sa account to access our online resources. And of course, return the books on time, para walang overdue fines.
WATCH the FB Live Video of Mary Ann Salvador's exclusive interview with Good News Pilipinas! Radio Live on DLSU-D 95.9 Green FM:
With reports from Aleeyah Peñafiel.
Like, Follow, Subscribe to GoodNewsPilipinas.com Facebook, Twitter, Instagram, Good News Pilipinas! TV on YouTube, new story notifications and e-mail newsletters for updates on more Filipino Pride stories.
Facebook Comments