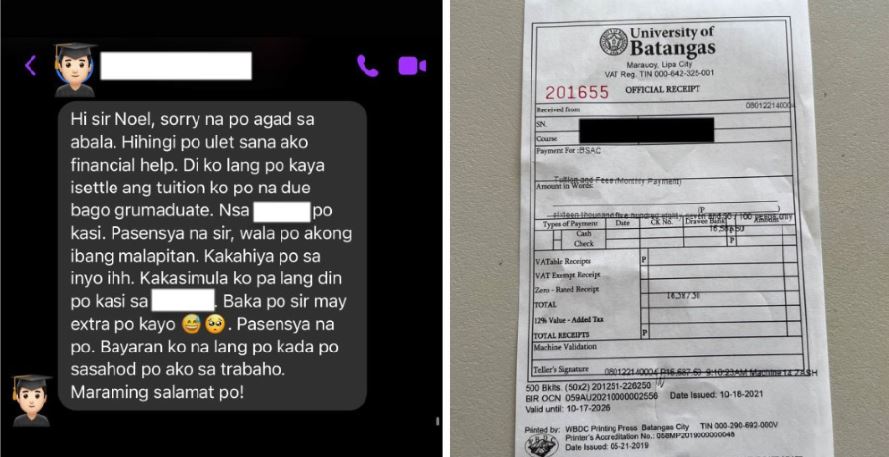 A teacher and certified public accountant from Lipa City, Batangas, went above and beyond the call of his profession to raise funds for needy students' school fees and expenses.
Noel Sales, an assistant professor at the University of Batangas, went the extra mile for his students by initiating projects that helped pay for tuition fees and provided prepaid load to those who lacked the resources needed for online learning.
The professor launched fundraising initiatives for his students who faced financial struggles and challenges due to the ongoing Covid-19 pandemic.
Prepaid Load Drive
Sales first launched a donation drive to aid students who relied on prepaid load to access the internet and attend online classes.
The educator raised funds to buy prepaid load for students at the University of Batangas through his Loading Allowance project which he began at the height of the coronavirus pandemic in 2020.
"During the lockdown in 2020, one of my students messaged me that she couldn't take the Midterm exam since her parents lost their jobs and would rather spend their remaining savings on food instead of load for my online school requirements," Noel Sales told Good News Pilipinas in an interview on August 17, 2022.
"I messaged her that I'll sponsor her load until the end of the second semester so she can comply with all the online requirements. I also reached out to my other students through our group chat (to see) if there were more students experiencing the same dilemma. On that semester, I sponsored around 12-15 students for their weekly load allowance out of my own pocket," Sales explained.
Sales wanted to help more students in need so he began to reach out to his friends on social media for donations.
The drive expanded to students outside of the University of Batangas and reached schools in Batangas, Quezon, Pampanga, and Bulacan. Around 150 students received help from Sales' prepaid load drive during the academic year.
The donations reached over PHP 220,000 and covered the load allowance of students who lacked the resources to attend online classes.
Financial Assistance Project
The kind-hearted professor continued to raise funds for underprivileged but deserving students by launching his Financial Assistance project in August 2021. The program used donations from Sales' friends and generous donors to partially cover students' tuition fees and other expenses.
Sales' initiative raised PHP 60,000 for accounting students at the University of Batangas.
The teacher's assistance program has helped various beneficiaries, including a graduating student who was working at a fast food restaurant and could not afford to pay for his school fees.
According to Sales, one of his students borrowed money from him because he needed to settle his remaining school balance before graduation.
Sales donated PHP 4,000 to help the student. One of Sales' friends also stepped in to settle the remaining school fees.
"Then before graduation of batch 2022, one of my students who is working in a fast food restaurant reached me out if he can borrow money so he can pay his remaining school balance so he can graduate. I told him that I only have few remaining funds on my previous project, so I decided to pay P4,000 of his fees," Sales said.
"But then, I realized I can reach out to my friend again to help this student to pay all of his remaining school's fees. Then one of my friends from the UK, started a small donation drive to complete the PHP16,500 remaining balance of my students," Sales continued.
Sales, who has been teaching for almost five years, said that he plans to continue the financial assistance initiative to help more students in the upcoming school year.
"As of now though, I only have PHP12,000 remaining funds from my previous project. I'm planning to reach out again to my friends through social media so I can get more donations for this project," Sales shared.
Donors can extend their help by reaching out to Noel Sales on Facebook.
Kind-hearted Filipinos who supported needy students include overseas nurse Aldrin Licayan who sponsored tablet computers for Pinoy kids and Heart Evangelista who provided tools for distance learning through her project, Big Heart PH.
These student-led campaigns made sure no learner is left behind amid the new normal of schooling.
SEND CHEERS in the comments below to teacher and certified public accountant Noel Sales for initiating projects that helped pay for students' tuition fees and provided prepaid load to those who lacked the resources needed for online learning! You can also SEND HELP to support Noel Sales' initiative.
Good News Pilipinas is a Lasallian Scholarum Awardee. TELL US your good news story tips by messaging GoodNewsPilipinas.com on Facebook, Twitter, Instagram, or e-mail editor@goodnewspilipinas.com and WATCH Good News Pilipinas TV YouTube & Good News Pilipinas TikTok for more Filipino Pride stories!
Facebook Comments