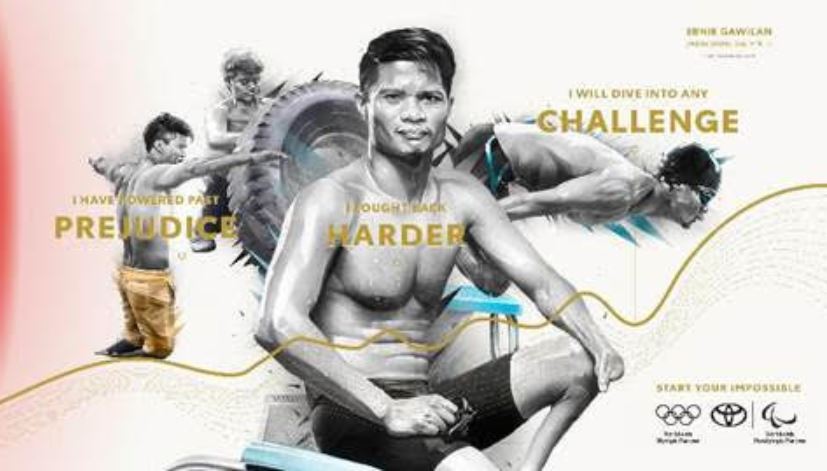 Toyota Motor Asia Pacific is giving its support to the Philippines' champion para swimmer Ernie Gawilan in his bid for medals at the Tokyo Paralympics.
Gawilan is one of the 11 Global Team Toyota Athletes from Asia competing in the Olympic Games Tokyo 2020 (23 July to 8 August 2021), and the Paralympic Games Tokyo 2020 (24 August to 5 September 2021).
The Filipino swimmer formalized his entry to the Tokyo Summer Paralympic Games after bagging the bronze medal in the Internationale Deutsche Meisterschaften Berlin Para Swimming World Series in Berlin, Germany, the first from the Philippines to qualify for the games.
Ernie Gawilan is one of the 5 Filipino Para Athletes who have qualified for the Tokyo Paralympics.
He is one of the most decorated para-athletes in the Philippines, is a 2016 Rio Paralympian, a triple Gold medalist at the 2018 Asian Para Games in Indonesia, and the 2019 World Para Swimming Silver medalist in London.
COO of Toyota Motor Asia Pacific, Hao Tien said: "We are thrilled and overjoyed that top athletes from across Asia as well as from around the globe will be going to the Olympic and Paralympic Games Tokyo 2020 under Team Toyota. We wish them all the very best as they compete safely on the world stage. Thank you for inspiring all of us with your unwavering commitment to your sport, and to "Starting Your Impossible" in your communities in Asia through your hero projects."
"Even as they strive to go higher, faster and further at the Games, many of the Team Toyota athletes from Asia are already addressing and tackling social challenges to create more inclusive, sustainable and mobile societies within each of their communities. This is in the spirit of Start Your Impossible and is in line with Toyota's core belief that it is when you are free to move, then anything is possible. It is when communities are inspired to come together to overcome social, economic and physical hurdles, that there can be transformation.
"This philosophy lies at the core of Toyota's corporate mission to ensure Mobility for All and to support the creation of a more inclusive, sustainable and mobile society in which everyone can challenge their impossible and make their dreams come true.
"TMAP is proud to have partnered with these athletes who are also Dual Heroes, as they have embarked on their own Hero Projects with local partners and organisations in their own communities. These partnerships have enabled each athlete to pursue different initiatives for social transformation. These initiatives include literary to road safety programmes, providing training facilities for sports, supporting children and youth, empowering women, arts and culture, and advocating a more sustainable environment.
SEND WELL WISHES in the comments below to the Philippines' para swimmer Ernie Gawilan as he competes at the Tokyo Paralympics with Toyota's support!
Good News Pilipinas is celebrating its 15th Anniversary in 2021 by giving away prizes! Subscribe to our Good News Pilipinas! TV YouTube channel and enter the raffle by sending us an email to editor@goodnewspilipinas.com
Facebook Comments