Tryk ni Juan, an innovation on the Philippine tricycle, has roofing made with abaca fibers.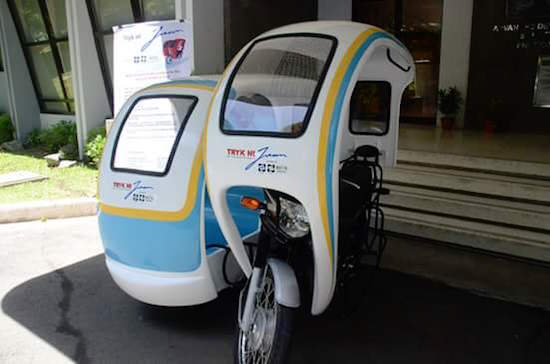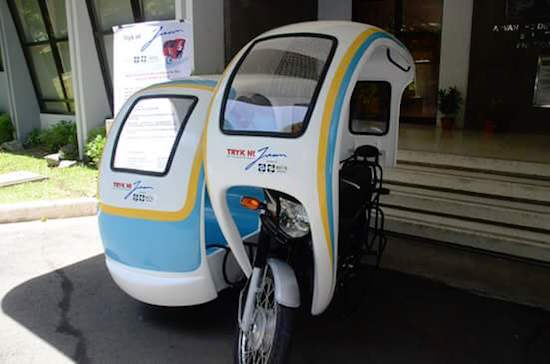 The new line of transport vehicles was launched by the Department of Science and Technology (DOST)-Industrial Technology Development Institute (ITDI) in collaboration with the Korean Institute of Materials Science – Association of Southeast Asian Nation (KIMS-ASEAN).
The DOST-ITDI developed 15 "Tryk ni Juan" prototypes, and distributed these to General Santos Street Lower/Upper Bicutan Taguig Tricycle Operators – Drivers Association, Inc. (GSS-LUBTTODAI) — the project's beneficiaries.
ITDI said the 15 prototypes were intended for actual road tests.
For the project, abaca fibers and resin were combined to form the composites for the "Tryk ni Juan."
"Abaca is one of the strongest natural fibers that can be found in the Philippines. The country is the number one producer of abaca in the world," explained Dr. Blessie Basilla, chief of ITDI Materials Science Division.
Basilla added, the use of abaca-fiber- reinforced composite as roofing material improves fuel efficiency because it makes tricycles lighter. The insulating properties of the roofing also better protects riders from the sun.
Basilla then cited the advantages of natural fiber composites – low production cost, resistance to corrosion, low density, and biodegradability.
ITDI officials said they originally wanted to create abaca-reinforced roof for jeepneys but opted to start the experiment on the smaller tricycle.
The tricycle is one of the most popular forms of transport in the country and has produced innovations such as the trike-boat, the e-trikes, and the kotse-kel.
Facebook Comments