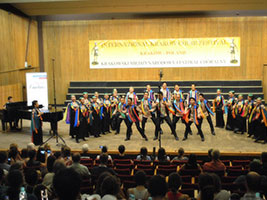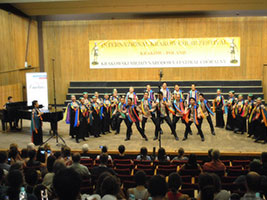 The University of the Philippines Concert Chorus (UPCC) is the 2015 Grand Prix winner at the 6th International Krakow Choir Festival in Poland.
The Philippine state university official choir group received the Golden Polyhymnia (Muse of Choral Art) statuette and the cash prize after receiving the highest overall score in the music competition.
The UP Concert Chorus was the lone Asian representative among 34 entries from 10.
The UPCC earned first place in Category A for Mixed Choirs Adults, and second in Category F for Folk, Popular, and Gospel Music.
The UPCC joined the Poland festival as part of its 3-month long tour of performances in Europe and the USA. The chorus is led by director/conductor Prof. Janet Sabas-Aracama.
Facebook Comments