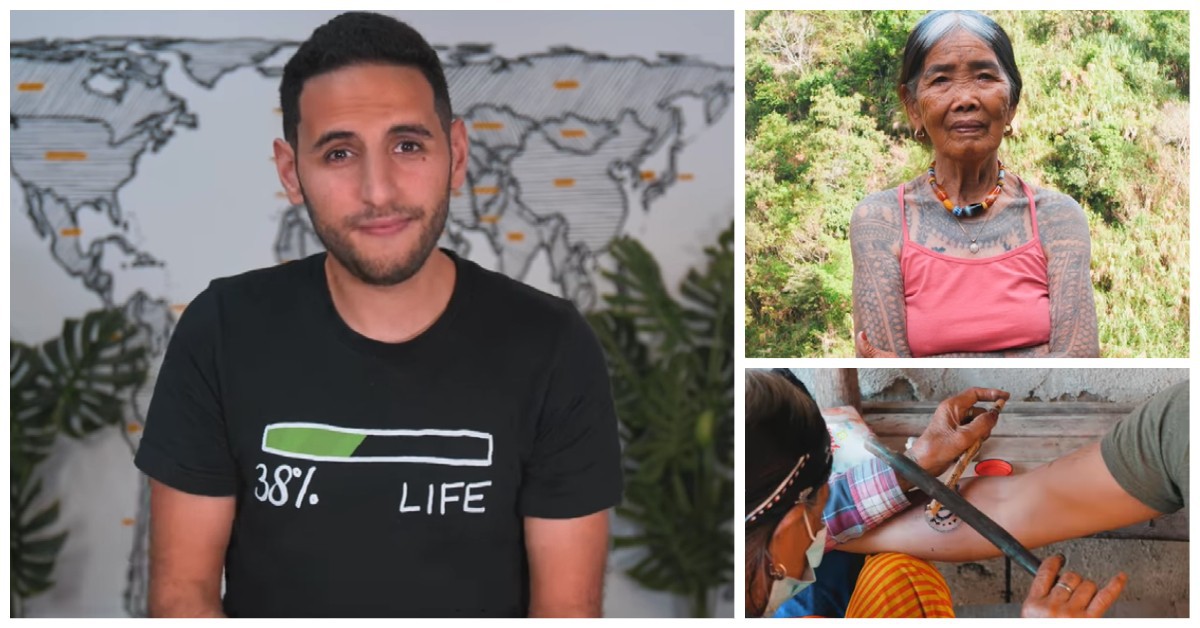 Legendary Filipina tattoo artist Maria "Whang-Od" Oggay has been featured in the latest video by viral Facebook vlogger Nas Daily.
Apo Whang-Od, the last surviving "mambabatok," or traditional Kalinga tattooist, was hailed as one of the world's oldest tattoo artists by Palestinian-Israeli Facebook star Nuseir Yassin (Nas Daily) in a new video posted on April 20, 2021.
According to the popular vlogger, it took two days for his crew to meet up with the traditional tattoo artist from Buscalan village in the municipality of Tinglayan.
Tourists from all over the world come to Buscalan, Kalinga, to get a tattoo done by Apo Whang-Od, who has been credited with boosting the Kalinga province's tourism industry.
"When I was in the Philippines, I met a lot of tourists who came to the country, not to see the beaches but to get a tattoo from the 103-year-old lady," Nuseir "Nas" Yassin narrates.
Whang-Od is best known for keeping an ancient tradition alive in the Kalinga province of the Philippines.
The 103-year-old has been practicing "batok" (hand-tapping), a tattooing technique passed down from generation to generation by the Butbut tribe of Buscalan, Kalinga, since the start of her long career.
The tribal tattoo ink used by Whang-Od is made up of charcoal and water. When mixed, it is tapped directly into the skin with a thorn from a pomelo or calamansi tree.
"There's a proper way of tattooing. You must put the right pressure so that the blood won't burst. It's really painful getting a tattoo!" says Apo Whang-Od in the local language of Kalinga.
Apo Whang-Od has been tattooing for the past 80 years, including her indigenous tribe's head hunters and village people. She is now tattooing tourists in Buscalan with her tribal designs.
"It's not just unique or beautiful. It's also a link to a lost history. 1,000 years ago, there used to be more tattoo makers like Whang-Od. But they didn't give tattoos to tourists," Nas explains. "They gave tattoos to village men and women to wish them good luck in battle and good luck in marriage!"
Whang-Od provides to tourists the same traditional designs that have adorned her tribe for centuries. She is also the first woman in her tribe to become a tattoo maker.
"I learnt how to do tattoo by watching others do it. Then until now, nobody taught me. I learnt everything by myself," Whang-Od shared.
The last remaining original Kalinga warrior tattooist said that she is teaching tattooing to two of her grandchildren to preserve the craft and their tribe's culture.
"So even when she dies, she can keep the tradition alive on the skin of many people for another 1,000 years. Until then you'll find this 103-year-old woman sitting here in her room tapping her way to the history books," said Nas.
In 2018, the famous centenarian received the 2018 Dangal ng Haraya for Intangible Cultural Heritage from the National Commission for Culture and the Arts (NCCA).
Some of the most popular celebrity endorsers like Maine Mendoza and social media influencers in the country and from around the world have paid tribute to Apo Whang-Od, the 103-year-old tattoo legend from Kalinga.
The video featuring Whang-Od is part of Nas Daily's "Stories of Ramadan" series and has garnered over 375,000 reactions and more than 8,000 comments on Facebook as of writing.
Daily video creator, traveler, and Facebook celebrity Nas Daily has affirmed his love for the Philippines. He earlier gave back to the country's warm welcome of him by offering his first-ever 1-Day Charity Class proceeds for donation to Filipino flood victims.
SEND CHEERS in the comments below to Facebook star Nas Daily for helping keep the Philippines' rich cultural heritage alive by sharing the story of legendary tattoo maker Apo Whang-Od with the world and WATCH the video here!
Good News Pilipinas is celebrating its 15th Anniversary in 2021 by giving away prizes! Subscribe to our Good News Pilipinas! TV YouTube channel and enter the raffle by sending us an email to editor@goodnewspilipinas.com
Facebook Comments