Kalinga's famous resident, Maria "Whang od" Oggay, has received the 2018 Dangal ng Haraya for Intangible Cultural Heritage from the National Commission for Culture and the Arts (NCCA).
The Tabuk City-based tattoo artist was given a tribute in ceremonies held at the Kalinga Capitol Plaza on June 25 attended by NCCA and other government officials, and the local residents of Kalinga.
"In her we see the richness of our country's intangible cultural heritage rooted in our environment and in our history and thus in turn we must recognize in her an indispensable, irreplaceable treasure we must preserve."
NCCA Chairman and National Artist Virgilio Almario conferred the award to Apo Whang od declaring the manwhatok (tattooist) a bearer of her people's indigenous and rich heritage, standing witness to the changing Kalinga and remaining dedicated to preserving what was taught to her when she was young.
"We give her honor and recognition to what she represents first and foremost to her community as a vessel of age old wisdom and artistic creation and to the country and the world as a bearer of Filipino indigenous identities, world views and expressions," added Almario.
The Dangal ng Haraya, the highest honor of the NCCA, was conferred to Apo Whang od "for her lifetime of achievements and noteworthy contribution in the preservation and promotion of the Kalinga traditional art of tattoing, intensifying pride not only in the local community but in the nation as well and fostering greater recognition and reverence for indigenous knowledge and practices and for Filipino culture in general by forging new ways in the appreciation and understanding of traditional tattoos."
The NCCA chairman then exhorted everyone to recognize in Whang od a treasure to be preserved, secure from the risks of being forgotten.
Whang od responded to the conferment by chanting her gratitude in the local language of Kalinga.
Whang od, from Buscalan village in the municipality of Tinglayan, is believed to be the oldest mambabatok (traditional Kalinga tattooist). Her practice started in her early adolescence and has long been recognized and respected in her community as a master tattooist in the traditional Kalinga way.
Practising the ancient art of hand tapped tattooing using charcoal as ink and calamansi thorns to puncture the skin, Whang od has tattooed not only elders, women, and warriors from her community, but many people including celebrities and foreigners.
Her art has gone far and wide that local and foreign tourists visit her in her home in Buscalan to get inked with the traditional designs, her signature linear three-dot design, and witness the outstanding whatok techniques which she is actively passing on to the younger Kalinga women. She, in fact, has boost the tourism industry of the province.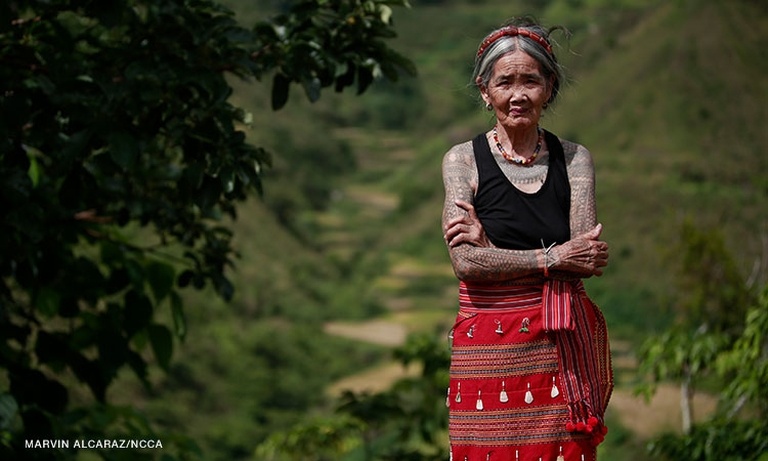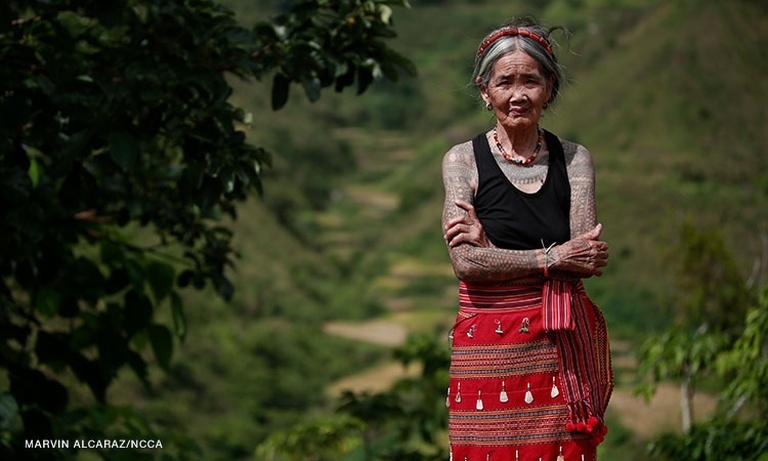 Whang od remains single and childless but has passed on the art of tattooing onto her bloodline, training nieces the art of traditional tattoo.
With the Dangal ng Haraya conferment, Apo Whang-Od joins the esteemed roster of awardees including past cultural advocates like Senator Edgardo Angara, Architect Augusto Villalon, and Susan Calo Medina; and current cultural champions Senator Loren Legarda, Dr. Jesus Peralta.
Facebook Comments