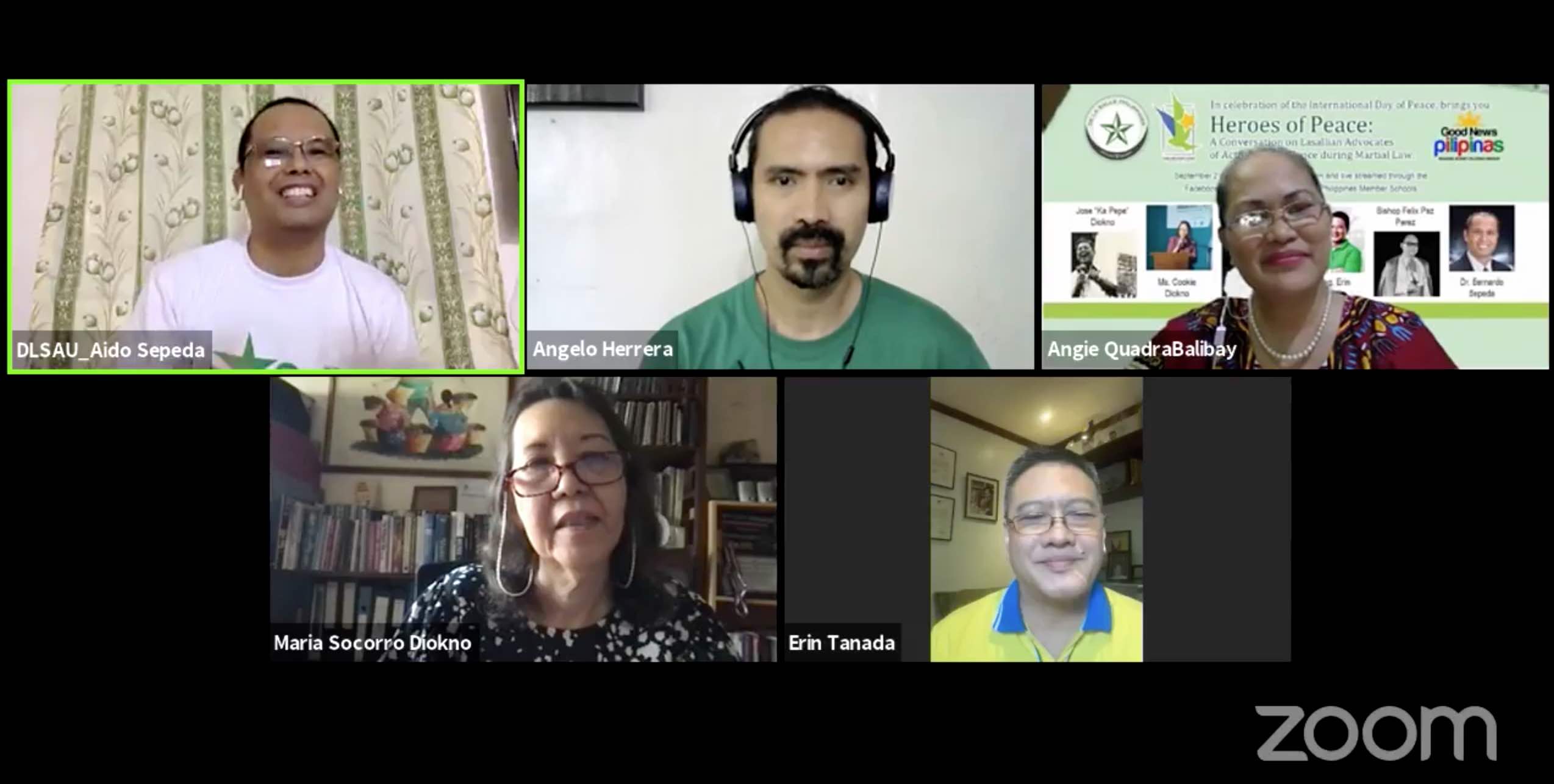 Stories of the Martial Law years from Lasallian-educated Filipino leaders Jose "Ka Pepe" Diokno, Lorenzo "Ka Tanny" Tañada, and Bishop Felix Paz Perez were live-streamed by the De La Salle Philippines (DLSP) community during the United Nations International Day of Peace and the 49th Anniversary of Martial Law in the Philippines.
The life stories of the three icons of Philippine history who fought against military rule in the country were told during the webinar "Heroes of Peace: A Conversation on Lasallian Advocates of Active Non-Violence during Martial Law" organized by De La Salle Philippines through the Lasallian Justice and Peace Commission on September 21, 2021.
The webinar live stream marked 40 years since the United Nations declaration of the International Day of Peace and the 49th ​year since Martial Law was signed and declared under the rule of dictator former President Ferdinand E. Marcos. On September 21, 1972, then-President Marcos signed Proclamation No. 1081, placing the Philippines under Martial Law, recorded as one of the darkest chapters in Philippine history which saw innumerable human rights violations and extreme military rule, media suppression, and reports of widespread corruption in the Philippine national government, among others.
The online event featured three speakers who personally witnessed how the notable Lasallians worked for justice and peace: Dr. Bernardo "Aido" Sepeda, a former seminarian of Cavite Bishop Felix Paz Perez; Maria Socorro "Cookie" Diokno, daughter of Jose "Ka Pepe" Diokno, and Atty. Lorenzo "Erin" Tañada III, grandson of Lorenzo "Ka Tanny" Tañada.
Angie Quadra-Balibay, Managing Editor and writer of GoodNewsPilipinas.com together with DLSU's Angelo Herrera hosted the session, the first in a series of webinars offered by DLSP to its 15 schools in the country in celebration of Democracy, Human Rights, and Peace Month from September 20 to October 20.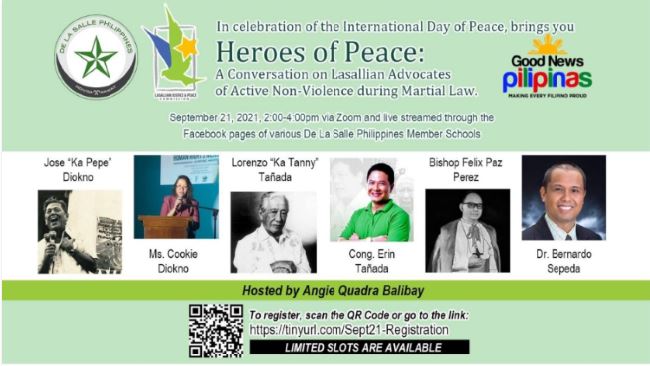 Bishop Felix Paz Perez
Dr. Bernardo "Aido" Sepeda shared his fondest memories of Bishop Felix Paz Perez, a Lasallite who reached one of the highest positions in the Catholic hierarchy of the Philippines as the second Bishop of the Diocese of Imus, Cavite.
Dr. Sepeda was a former seminarian in the Diocese of Imus. Bishop Perez was his bishop during Martial Law until the Cory Aquino administration. He conducted research on the bishop for his professorial lecture on his life and spirituality which was eventually published as a biographical book, The Spirituality of Discipleship of Bishop Felix Paz Perez. He also authored Jose "Ka Pepe" Wright Diokno: Makatao, Makabayan.
During the martial law period, Bishop Perez was considered as a member of the so-called "Magnificent Seven", a group of Catholic bishops who issued a statement condemning Martial Law which was contrary to the official statement of "critical collaboration" by the Catholic Bishops Conference of the Philippines.
Jose "Ka Pepe" Diokno
Maria Socorro "Cookie" Diokno spoke at length about her late father and her family's experiences during a dark period of the country's history.
For the younger Diokno, her late father, Jose "Ka Pepe" Diokno, was an ordinary man who led an extraordinary life lobbying for the rights of survivors and victims of martial law under the rule of dictator former President Marcos.
Ka Pepe served in government in various capacities, including winning a Senate post during Ferdinand Marcos' administration. He was a brilliant student and graduated Summa Cum Laude from then-De La Salle College now-DLSU Manila with a degree in BS Commerce, Class of 1940. At 18 years old he topped the board tests for certified public accountants.
When World War II halted his law studies at the University of Santo Tomas, Ka Pepe was still allowed by the Supreme Court to take the bar exam which he topped, along with Senator Jovito Salonga, in 1944.
Ka Pepe was never charged with a single crime, yet he spent two years at the Maximum Security Compound of Fort Bonifacio, and a month in solitary confinement at Fort Magsaysay in Laur, Nueva Ecija.
"Dad was arrested. He was detained 11 years short of 2 years before he was finally released…He was never charged," Ms. Diokno stated.
After his release from prison, Ka Pepe would go on to establish the Free Legal Assistance Group (FLAG), the oldest association of human rights lawyers in the Philippines.
Cookie Diokno worked with her father for more than 11 years and learned about the law, human rights, and development. She is the Secretary-General of FLAG, the Regional Council on Human Rights in Asia (RCHRA), and the Anti-Bases Coalition (ABC).
Lorenzo "Ka Tanny" Tañada
Ka Tanny, the "grand old man of Philippine politics", is fondly remembered in the people's movement against martial law rule as a grandfather who took his advocacy to the streets alongside younger protesters, braving tear gas and water cannons.
Atty. Lorenzo "Erin" Tañada III, the grandson of Senator Lorenzo Tañada and the son of Senator Wigberto Tañada, recalled that his grandfather was vacationing abroad but returned home to the Philippines shortly after Martial Law was declared in the country.
"He was outside of the country. He was attending the international Parliamentary union," Atty. Erin Tañada said.
As a younger man, Ka Tanny fought against corruption in government and defied big-money politics while serving as an independent senator for 24 years. He represented political prisoners, including Benigno Aquino Jr., and defended the cause of human rights.
Lorenzo "Ka Tanny" Tañada was a member of De La Salle High School Class of 1918. He studied law at the University of the Philippines and in 1924 topped the government's examination for Pensionados, the scholarship program for Filipinos to study in the United States. In 1928, Tañada obtained his Master of Laws from Harvard University in Cambridge, Massachusetts. He also acquired a Doctor in Civil Law meritissimus from the University of Santo Tomas.
Message for the youth
The webinar also included questions from the youth and the students of Lasallian schools, with the three speakers expressing their views and opinions on timely and relevant social issues in the country, as well as what the current generation must learn about the events that transpired during the martial law era.
"Bilang kabataan, kailangan malaman talaga nila kung ano ba talaga ang nangyari, ano yung history ng Martial Law, bakit kailangang kumilos ng iba't ibang mga sektor," Atty. Erin Tañada emphasized.
"Sa mga kabataang studyante, dahil alam naman natin na sinara ang mga student councils and student publications, dapat tanungin natin ang ating sarili, bakit sinara? Kung naniniwala tayo sa demokrasya, dapat pinabayaan ang campus publication, student councils, student organizations,"
"Importanteng balikan ng ating mga kabataan ang kasaysayan ng bawat sektor dahil ito ang magpapakita na ang Martial Law ay hindi naging maganda sa mga sektor at 'yung mga nararanasan natin ngayon na konting democratic space, iyan ay pinaglaban ng bawat sektor, mula sa sektor ng kabataan hanggang sektor ng mga manggagawa at magsasaka, kaya importante 'yan."
Online activism
When asked about what Sen. Jose Diokno would have thought about non-violent activism online, Ms. Cookie Diokno noted that her late father loved technology and would have supported using the internet to help fellow Filipinos.
"He would be very at home giving webinars…He would have loved the internet, I think, because of the access to information and access to all kinds of books," Ms. Cookie Diokno said about her late father.
"But at the same time, he would have been very careful about the information that was coming out. I think, sometimes, one of the things we need to do is to look at the source, sino ang naglalabas nito. Kapag madali tayong maniwala, doon tayo madaling mahulog sa fake news," Ms. Diokno adds.
Reflecting on the use of social media activism to fight for social and political change in the country, Atty. Erin Tañada remarked that there is still no better substitute than reaching out to communities firsthand.
"It is good up to a certain point pero again kung gusto talaga nating matuto at malaman ang nangyayari dito sa ating bansa, we have to wear the shoes of the people who are suffering," Atty. Erin Tañada opined.
"We have to go out and not just be online. It is important to go to the communities, it is important to engage and interact with people," Atty. Tañada pointed out.
Historical revisionism
The discussion also tackled falsehoods and misinformation spread through the ongoing attempts at historical revisionism of the Martial Law during the Marcos regime in the country.
"First of all be very courteous…kailangan talagang very respectful, it will try your patience, but we have to engage 'yung historical revisionism nila with facts. Kailangan we are ready with our facts, we are ready with data, and ask them," Atty. Tañada said.
The youth were encouraged to learn from the dark days of martial law and fight against historical revisionism perpetuated on social media through the pursuit of the truth with the help of credible resources and historians.
"May choice kayo kung ano 'yung babasahin niyo. Nasa desisyon mo kung ano ang papakinggan mo," Dr. Bernardo Sepeda stated.
"You are inspired by the people you talk to and you read about. I am inspired by Ka Tanny and Ka Pepe, in the same way that I am inspired by Bishop Perez."
"I invite all of you to join us in upholding the rights, the fundamental rights and freedoms of all Filipinos. Join us in showing respect, especially for our elders, our women, children, and ourselves. Join us in showing how much we love our country by doing everything we can and to the best of our ability by serving our country and our people," Ms. Cookie Diokno said.
You can watch the full webinar here.
SEND CHEERS in the comments below to Lasallian heroes Jose "Ka Pepe" Diokno, Lorenzo "Ka Tanny" Tañada, and Bishop Felix Paz Perez and SHARE this article to relive the memories and stories of the three Filipino Heroes of Peace who fought against military rule.
Good News Pilipinas is celebrating its 15th Anniversary in 2021 by giving away prizes! Subscribe to this website and  Good News Pilipinas! TV YouTube channel and enter the raffle by telling us what you like about our stories in an email to editor@goodnewspilipinas.com
Facebook Comments