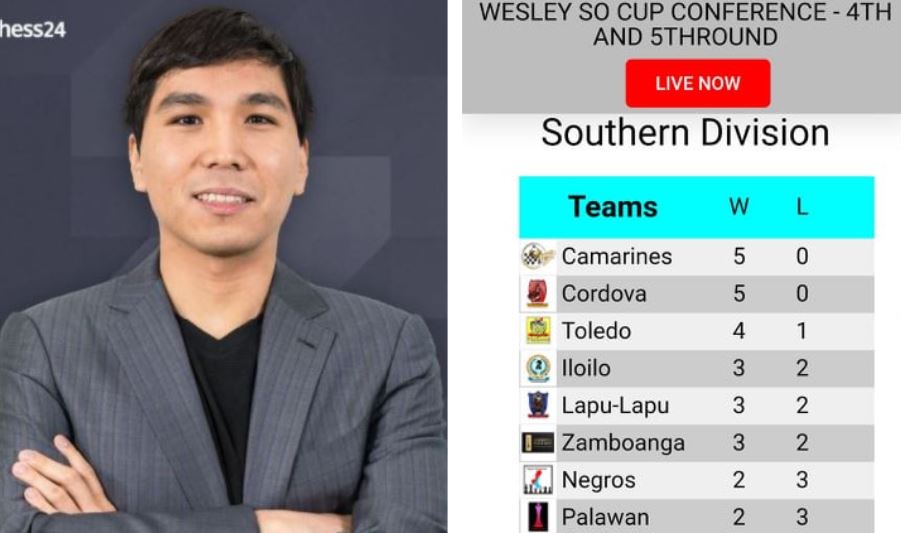 The Wesley So Cup goes live once this Wednesday with the chess teams of San Juan, Camarines, and Cordova aiming to extend their winning streaks as leaders of the professional tournament in the Philippines.
The San Juan Predators, Camarines Soaring Eagles- the All Filipino Conference runner-up, and the Cordova Dutchess Dagami Warriors have all scored 5-0 after five matches in the Professional Chess Association of the Philippines (PCAP) Reinforced Conference which kicked off on May 15.
On their way to their immaculate scorecards, San Juan toppled Antipolo, Quezon City, Olongapo, Laguna, and Cavite; Camarines dominated Zamboanga, Surigao, Toledo, Negros, and Palawan; Cordova executed wins over Surigao, Lapu-Lapu, Negros, Cebu, and Iloilo.
The Reinforced Conference named after Super Grandmaster Wesley So who is also currently in the Top 2 of the Champions Chess Tour goes live on the evening of May 26, 2021, with San Juan going up against Caloocan and Rizal, Camarines pitted against Mindoro and Lapu-Lapu, and Cordova going against Toledo and Palawan.
WATCH the online games hosted on chess24 and streamed live on the PCAP Facebook page at 7 pm on Wednesday and SEND WELL WISHES to the Wesley So Cup leaders and participants!
Good News Pilipinas is celebrating its 15th Anniversary in 2021 by giving away prizes! Subscribe to our Good News Pilipinas! TV YouTube channel and enter the raffle by sending us an email to editor@goodnewspilipinas.com
Facebook Comments