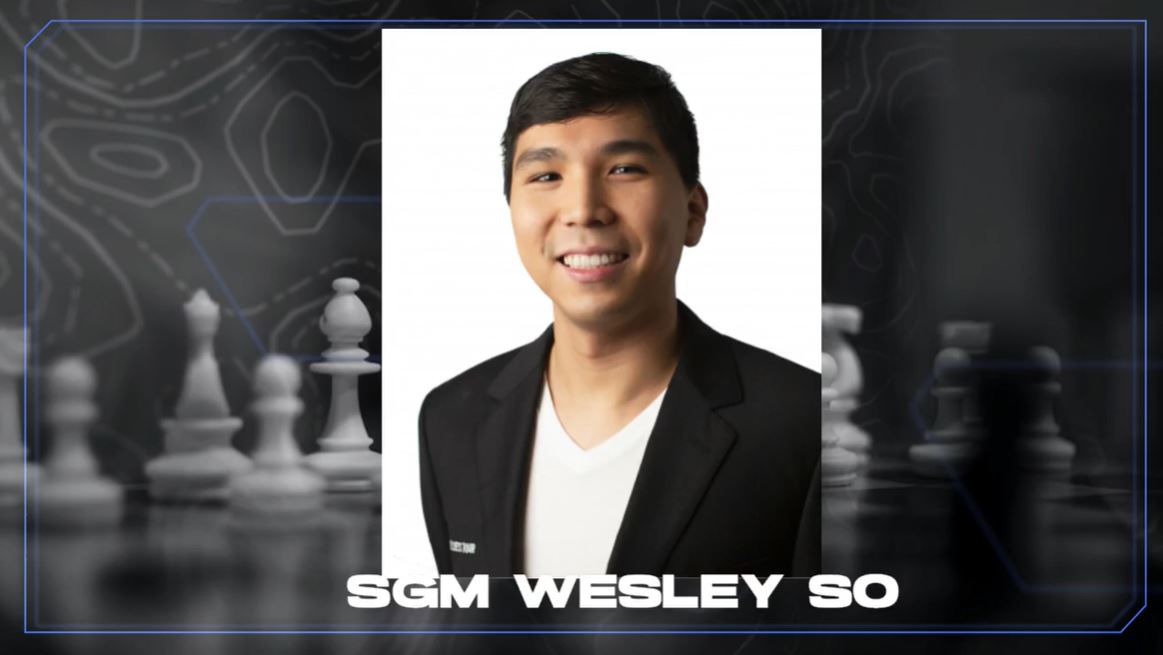 Super grandmaster Wesley So has reaffirmed his continuing support for Philippine chess through the Wesley So Cup being staged anew by the Professional Chess Association of the Philippines (PCAP), the world's first government-licensed pro chess league.
The PCAP second conference named in honor of the Filipino American super grandmaster was first introduced in 2021 with the support of Wesley So, the three-time and reigning United States Chess Champion who started his career in the Philippines before continuing to hone his skills in America.
The Wesley So Cup reinforced conference featuring foreign chess players as part of the 24 Filipino teams kicked off on May 21, 2022, and is played every Wednesday and Saturday at 7 PM with livestreaming on the PCAP Facebook page.
In his inspirational message read during the launch, Wesley So who is currently playing at the Norway Chess over-the-board competition with 9 other super grandmasters of the world, said he hoped the foreign chess masters would have a memorable experience playing with Filipino chess players.
"I thank all of you for helping Philippine chess which will always have a special place in my heart," the former Philippine champion and currently ranked FIDE World No. 6 said.
"Your hard work serves as an inspiration to everyone but most especially to our youth. With the proper opportunities and programs I am hopeful that Filipino players will once again occupy the upper echelons of international chess where they rightfully belong," added So.
Twenty-four teams divided between the north and south divisions are vying for the Wesley So Cup trophy and cash prize donated by the Filipino American Super Grandmaster.
The Wesley So Cup teams compete in the double round-robin with inter-division play in the middle of the tournament:
Elimination round is played up to July 22
Inter division play begins on July 23
Play-offs scheduled for July 27
Grand Finals pitting the best teams from the north and the south on August 6
After five game days, Wesley So Cup defending champion Iloilo Kisela Knights with GM Hovhannes Gabuzyan of Armenia leads the southern division with a 9-0 win-loss scorecard.
The northern division is led by the Pasig City King Pirates with GM Goh Kevin Wei Ming of Singapore, with an 8-1 scorecard.
PCAP Commissioner-President Atty. Paul Elauria shared with Good News Pilipinas the league's appreciation for SGM Wesley So's recognition of the conference honoring him as well as the cash donation to cover team and individual prizes and part of the arbiters' and technical personnel's allowances.
"But what's more important to us is his allowing us to use his name for this conference. That meant more than the monetary assistance," Atty. Elauria said.
The Wesley So Cup 2.0 is also sponsored by San Miguel Corporation, Ayala Land, and PCWorx.
Following is the list of imports for the Wesley So Cup (Some teams are still finalizing their imports) :
NORTH
Caloocan – Lady – WIM Luong Phuong Hanh (Vietnam)
Cagayan – Top Board – GM Alexei Barsov (Uzbekistan)
Cavite – Top Board – NM Darian Nguyen(USA) and NM Dave Mohan (USA)
Isabela – Senior – NM Amor Simplina (Nicaragua)
Laguna – NONE
Manila – Top Board – IM Yoseph Taher (Indonesia)
Mindoro – Top Board – IM Nhat Minh To (Hungary)
Olongapo – Top Board – Nugraha Yoga (Indonesia)
Pasig – Top Board – GM Goh Kevin Wei Ming (Singapore)
Quezon – Top Board – AIM Wagish Kumar Rai (Singapore)
Rizal – Lady – Kali Navea-Huff (NO FIDE INFO)
San Juan – Senior – GM Victor Moskalenko (Spain)
SOUTH
Cagayan De Oro – Top Board – GM Novendra Priasmoro (Indonesia)
Camarines-Iriga – NONE
Cebu – NONE
Davao – Senior – IM Jimmy Liew (Malaysia)
Iloilo – Top Board – GM Hovhannes Gabuzyan (Armenia)
Negros – Top Board – GM Tran Tuan Minh (Vietnam) and IM Tran Minh Thang (Vietnam)
Palawan – Senior – Peter Spork Darby (Thailand)
Surigao – Top Board – GM Enrico Sevillano (USA) and IM Tin Jingyao (Singapore)
Tacloban – NONE
Toledo – Top Board – GM Xu Yi (China)
Zamboanga – NONE
Pagadian PCL – Lady – Maryna Petrenko (Ukraine) and Senior – Gilbert Perez (Canada)
SEND WELL WISHES to Wesley So and the PCAP Teams for supporting Philippine professional chess!
Good News Pilipinas is a Lasallian Scholarum Awardee. TELL US your good news story tips by messaging GoodNewsPilipinas.com on Facebook, Twitter, Instagram, or e-mail editor@goodnewspilipinas.com and WATCH Good News Pilipinas TV YouTube & Good News Pilipinas TikTok for more Filipino Pride stories!
Facebook Comments