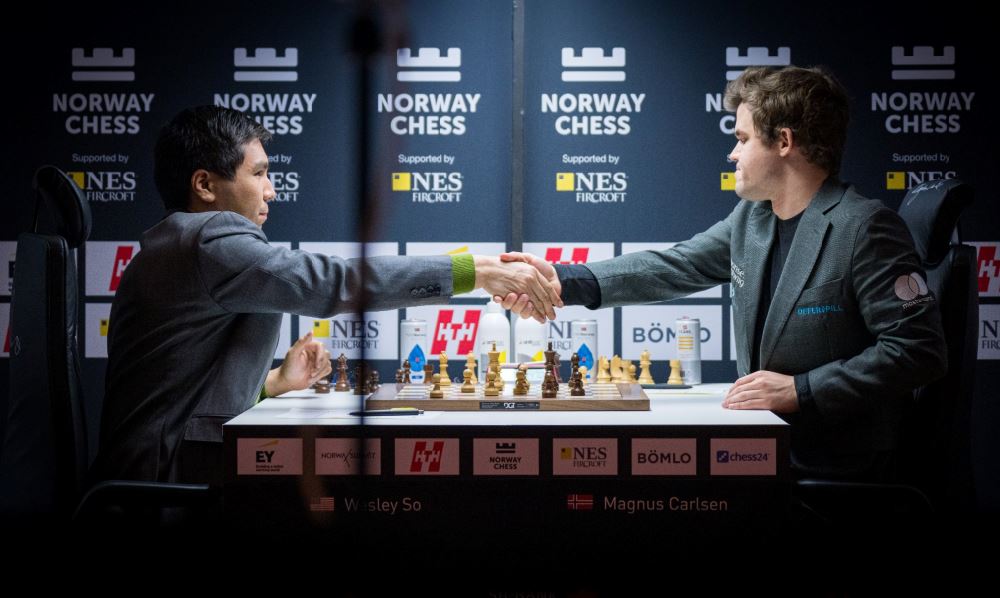 Filipino American Grandmaster Wesley So has won the Norway Chess Blitz and is maintaining his winning streak as he continues to outrank World No. 1 Magnus Carlsen in the Classical Chess main tournament of the world's best-ranked players.
So has twice defeated Norwegian Carlsen on his home turf in the ongoing 2022 Norway Chess tournament – first during the single-round Blitz where he eventually finished in 1st place and next during their match-up in Round 2 of the Classical tournament.
Both wins helped propel Wesley So up on the leaderboard of the main tournament after three rounds, placing the FilAm in the 2nd spot with 6 points, ahead of Carlsen's 5.5 points, and next to leader Viswanathan Anand of India's 7.5 points.
So wins Blitz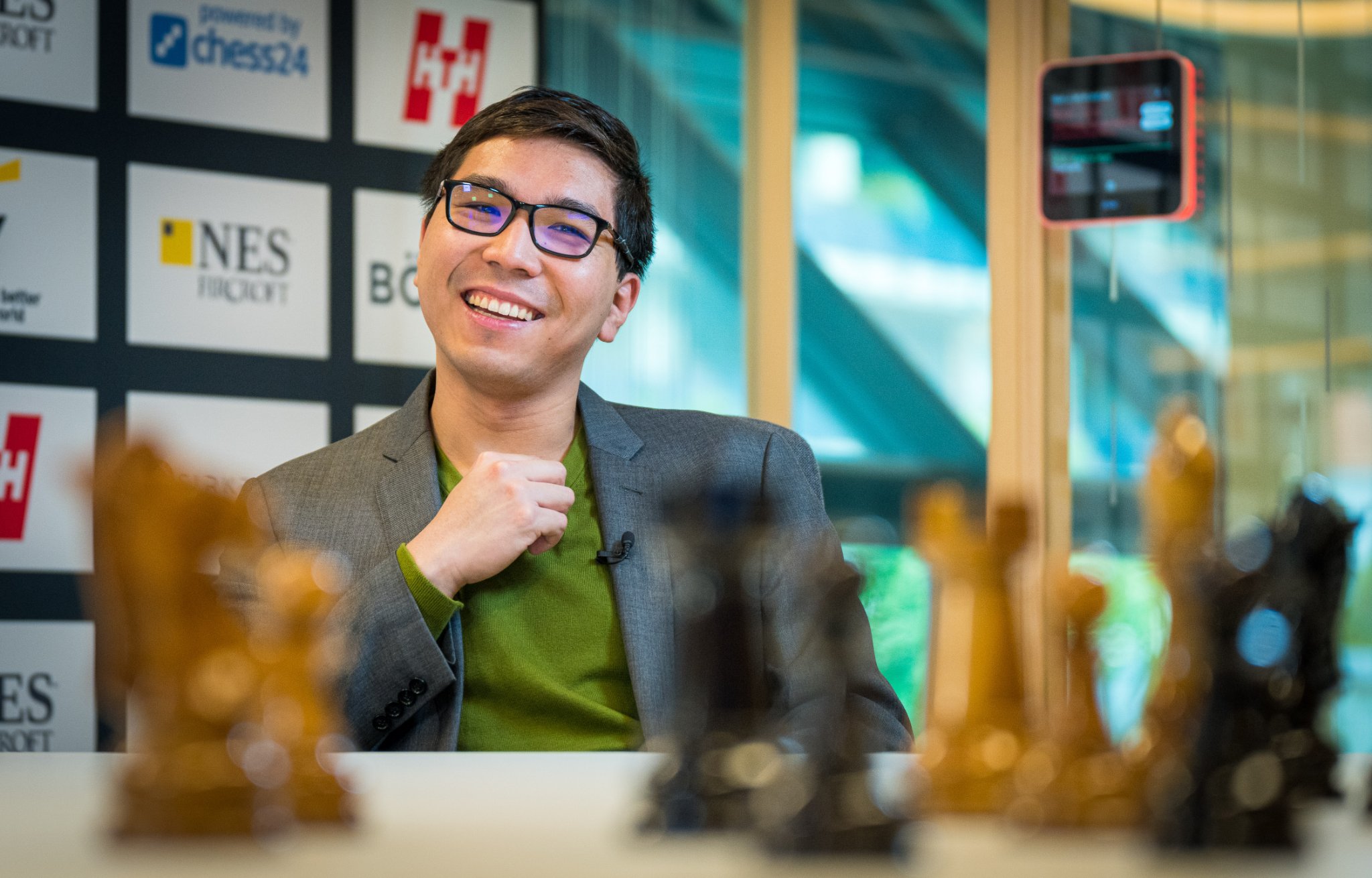 So won against the Norwegian world champion in the Norway Chess Blitz competition on May 30 which kicked off the 10th edition of the over-the-board tournament being played in Finansparken, Stavanger, Norway.
The American champion secured first place in the Blitz Tournament, racking up 6.5 points to lead the 10-member pack going into the Classical Tournament which will run until June 10.
The three-time reigning U.S. chess champion had a slow start in Blitz but eventually wrested the lead from the Norwegian after subduing competitors one after another: Maxime Vachier-Lagrave of France, Aryan Tari of Norway, before facing Carlsen, and afterward Veselin Topalov of Bulgaria, and Teimour Radjabov of Azerbaijan. So drew with Anish Giri of The Netherlands to finish on top while Carlsen finished second.
Wesley So's victory in the Blitz gives him more opportunities to play white for the advantage in the main tournament that started on May 31.
So ranks 2nd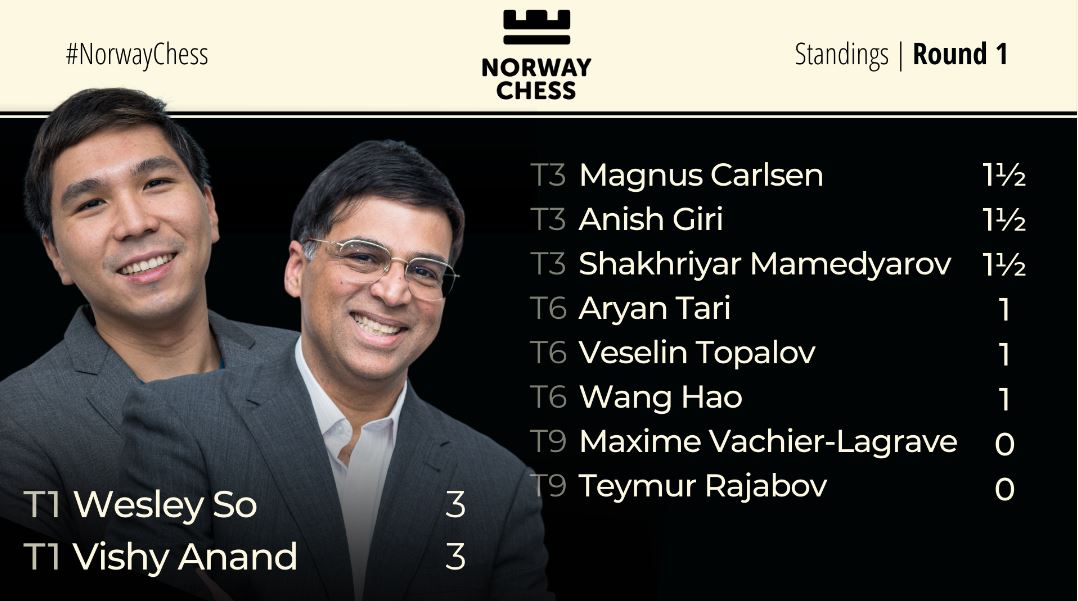 So started strong in the Classical event, wrapping up Round 1 with 3 full points at the expense of Radjavob to gain co-leader status with India's Anand by the end of game day on May 31.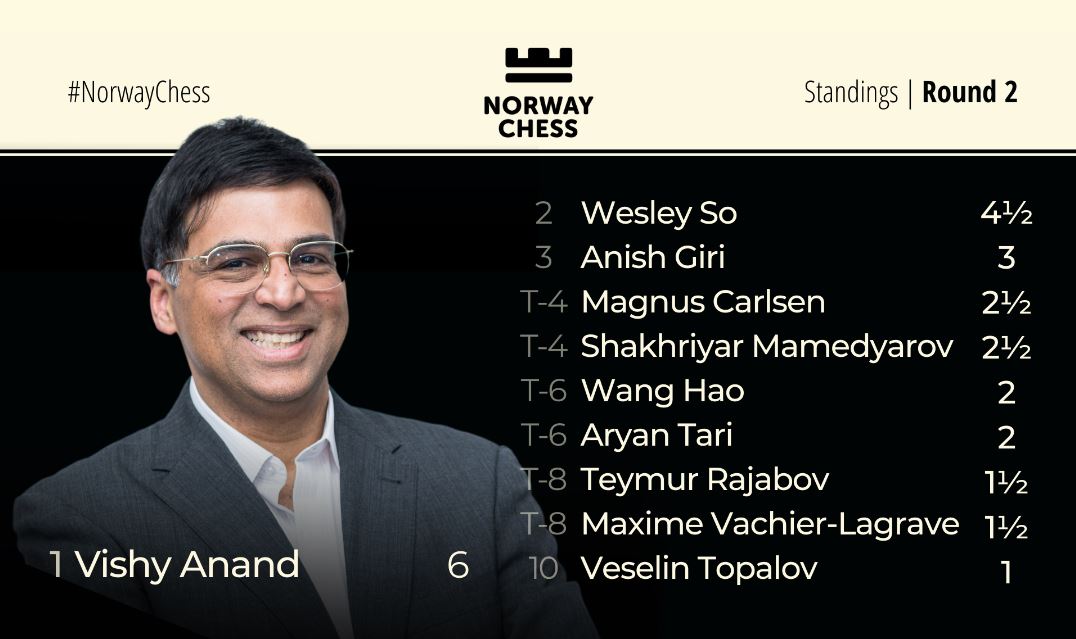 Wesley So again defeated Carlsen in their first meeting in the main tournament during Round 2 which went to armageddon, giving the American GM 1.5 points on June 1. The 4.5 points placed So in 2nd spot as the Indian GM stayed on solo first with a full 6 points scorecard.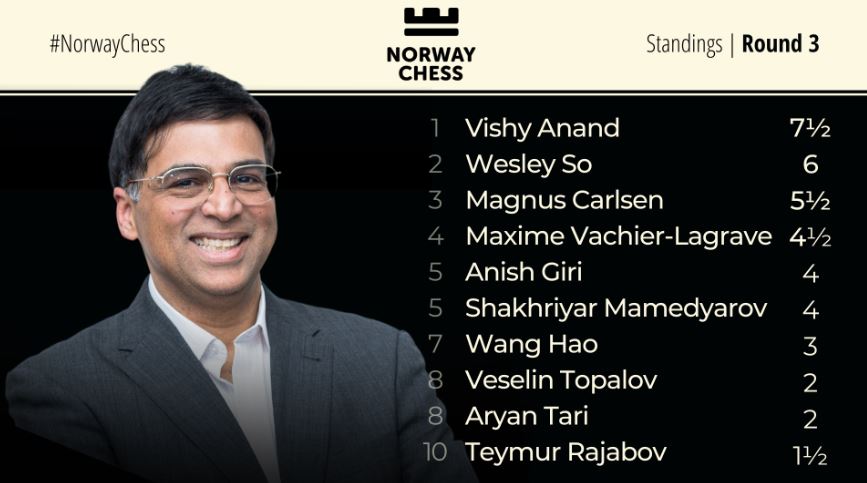 The FilAm champion won his Round 3 game against Dutch GM Giri at armageddon, giving him another 1.5 points for a total of 6 points to stay in solo second on the leaderboard.
Wesley So is aiming to win his first Norway Chess Tournament with a prize pot of 750,000 Norwegian kroner (approximately $80,000). The nine-round tourney is played using a format that gives three points for an outright win in the standard play and 1.5 for the winner via armageddon tiebreak.
In the next games, he will be up against elite GMs Shakhriyar Mamedyravov (Azerbaijan), Viswanathan Anand (India), Maxime Vachier-Lagrave (France), Veselin Topalov (Bulgaria), Wang Hao (China), and Aryan Tari (Norway).
The Cavite-born former Philippine chess champion has been victorious in international competitions while representing the United States including delivering an upset win against Carlsen in the inaugural Fischer Random Chess held in Norway as well as the Champions Chess Tour legs at the Skilling Open and the Opera Euro Rapid.
SEND WELL WISHES to Wesley So as he aims to win the Norway Chess tournament!
Good News Pilipinas is a Lasallian Scholarum Awardee. TELL US your good news story tips by messaging GoodNewsPilipinas.com on Facebook, Twitter, Instagram, or e-mail editor@goodnewspilipinas.com and WATCH Good News Pilipinas TV YouTube & Good News Pilipinas TikTok for more Filipino Pride stories!
Facebook Comments