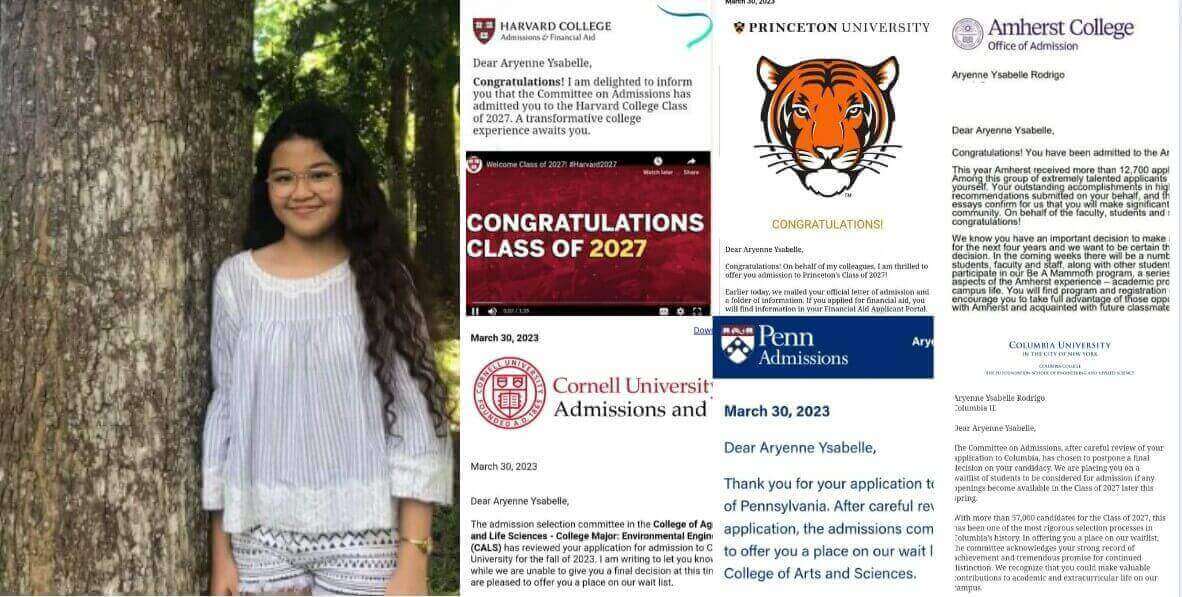 Aryenne Ysabelle Rodrigo, an 18-year-old farmer's daughter from the Philippines, once thought pursuing her education abroad was an unattainable dream. Today, she has defied the odds and earned full-ride scholarships to three of America's top universities: Harvard, Princeton, and Amherst, and five others. Read on to learn how Aryenne's intelligence, grit, and determination have opened the doors to a world of opportunity.
From Farm Life to Scholarships:
Aryenne Ysabell Rodrigo grew up in Mindanao's Compostela Valley with a modest family of farmers where her father also worked as a tricycle driver. To support her family, she sold "pastil" and chili peppers at her school, the Compostela National High School. Despite these financial challenges, she was determined to pursue her dream of studying abroad and making a difference in the lives of Filipinos.
Through hard work, she earned the highly-competitive full-ride scholarship to Harvard University, Princeton University, and Amherst College, and offers from Columbia, Cornell, Dartmouth, Rice, and the University of Pennsylvania – an accomplishment she calls the "perfect gift" for her hard-working family.
The full-ride scholarship will cover Rodrigo's entire cost of attending the university, a financial aid typically awarded to students based on their exceptional academic achievements, athletic skills, or other talents.
The Innovative Environmentalist:
Rodrigo's dedication to improving the environment led her to create an AI-powered app called "I AM Gina." This app helps users properly segregate waste by identifying the correct classification through a photo.
Rodrigo interned at the Municipal Environment and Natural Resources Office (MENRO) in her hometown of Compostela, Davao de Oro, where she realized the importance of solid waste management in combating climate change.
Gratitude and Future Plans:
Aryenne has yet to decide which university she will attend, but she is eager to make a difference in her hometown. She sees the potential for geothermal energy in Davao de Oro and wants to help the province transition from fossil fuels to renewable resources.
The Filipina teenager credits her success to her supportive parents, teachers, mentors, local government officials, and her entire community.
Inspiring Others to Reach for the Stars:
Aryenne hopes her story will inspire other students to embrace their ambitions and aim high. She encourages others to believe in themselves, work hard, and never give up, no matter the challenges they face. As Aryenne embarks on her journey, she proves that there is no limit to what one can achieve with determination and a strong support system.
Aryenne Ysabelle Rodrigo's story of perseverance, innovation, and ambition is a testament to the power of believing in oneself and striving for greatness. As she prepares to take her place among America's brightest scholars, her inspiring journey serves as a reminder that no dream is too big, and no obstacle is insurmountable with dedication, hard work, and a supportive community.
Aryenne Ysabelle Rodrigo is one of the successful Filipino applicants to U.S. Ivy League universities assisted by CAUSE Philippines, a group that also helped UP Rural High's Carl Audric Guia and Negros student leader Enzo Miguel Kho.
SEND CONGRATULATIONS in the comments below to farmer's daughter Aryenne Ysabelle Rodrigo for achieving her dream of studying in America and SHARE THIS STORY to inspire others to keep reaching for their own dreams!
Good News Pilipinas is a Lasallian Scholarum Awardee. TELL US your good news story tips by messaging GoodNewsPilipinas.com on Facebook, Twitter, Instagram, or e-mail editor@goodnewspilipinas.com and WATCH Good News Pilipinas TV YouTube & Good News Pilipinas TikTok for more Filipino Pride stories!
Facebook Comments