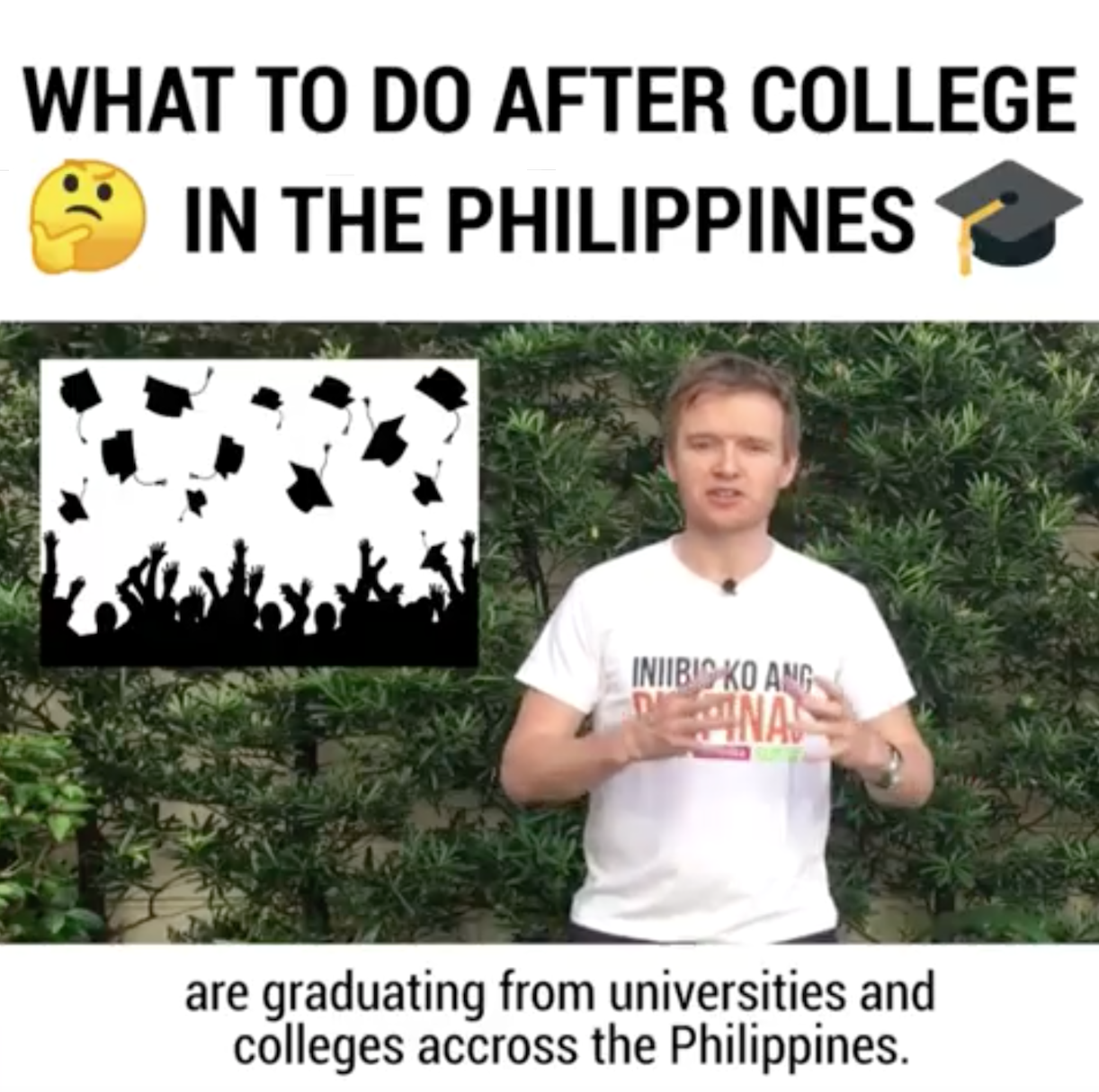 Graduating ka ba this year? This video is for you! It is so easy for graduating students to feel so much pressure! Pressure from themselves, from their parents, and from their friends! This is the life-changing advice for young Filipinos who are about to say goodbye to student life!
So it's that time of year again. Hundreds of thousands of young Filipinos are graduating from universities and colleges across the Philippines.
I am so excited for these young Filipinos. But at the same time I'm very nervous for them. Because right now they're gonna get some terrible, terrible advice from people they love who think they should do certain things.
And I want to give some examples of a terrible advice these young Filipinos will receive:
Number 1, "Walang oportunidad dito sa Pilipinas." Kailangan mong makahanap ng trabaho sa ibang bansa.
This is a maling akala! This is not true anymore! The Philippines was just voted as the number 1 location sa buong mundo for opportunity. Yes so many Filipinos still have the maling akalang wlaang oportunidad dito. It's all perspective, sa utak.
Number 2, false belief that these young Filipinos are going to receive is:
Hindi praktikal pagkakitaan ang passion mo. That it's not possible. Walang pera diyan. There's no money in that. Kailangan mong makahanap ng security. Work in a malaking kumpanya.
This may be the advice that was given to their parents many years ago. But this is the digital era!
The Internet has changed everything. Never has been a greater time in history for young Filipinos to leverage the Internet to learn new skills and to become their own captain of their destiny.
They don't have to work in jobs they hate. They can make a living from their passion! And I see this everyday.
Follow your passion, young Filipinos.
You can make this the greatest generation of young Filipinos that decided to choose their country, choose themselves, invest in themselves and become the generation that changes this country forever.
And I really believe that if they just choose themselves and protect themselves from all these false advice they're getting they really can have the abundant life that they deserve.
Mabuhay ang mga Filipino.
This advice is lifted from Mike Grogan's series of advice. For comments, suggestions and reactions, contact Mike @mikegrogan.ph.
(Mike Grogan is an international speaker and best-selling author who believes in the Genius of the Pinoy. As a leadership coach, Irish native Mike has traveled to 39 countries around the world but he believes that there is something very special about the Filipino. Today he works as a consultant for People Dynamics, where he travels across the Philippines inspiring, empowering and motivating Pinoys every week to become World-Class and believe in the Filipino Dream.)
Facebook Comments