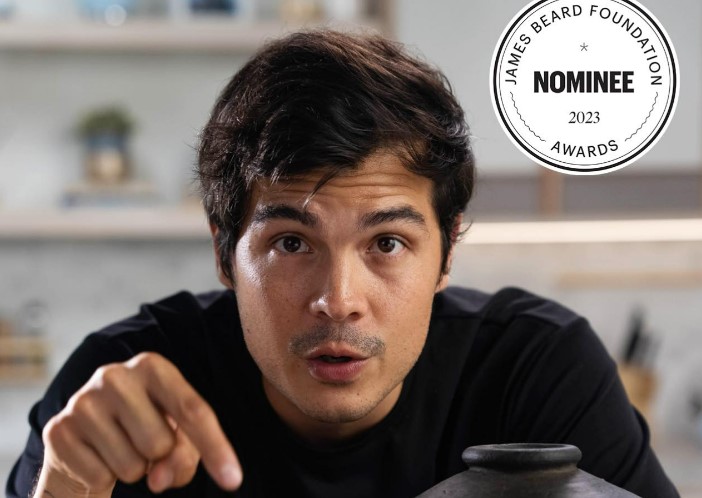 The prestigious James Beard Media Awards have turned their gaze to the East, specifically to the Philippines, and one content creator is cooking up a storm. Erwan Heussaff, an influential Filipino celebrity chef, and content creator has been nominated for the 2023 James Beard Media Awards in the "Social Media Account" category. This acknowledgment of his tireless efforts in promoting Filipino cuisine and culture has sent waves of excitement across the globe.
The James Beard Media Awards announced: "This award recognizes excellence in a single food-related post, or compilation of up to three posts, that clearly represents the intention of the… Instagram feed, or other social media format." Erwan Heussaff was listed among the notable nominees for the category, marking a significant milestone in his journey as a culinary advocate.
Erwan's passion for Filipino cuisine and culture is prominently displayed on his Instagram account. The beautifully curated feed with 4.4 million followers shares an intimate look at the diversity and richness of Filipino cuisine – from the traditional kinilaw to the vibrant purple ube, and even a spotlight on seaweed harvesting in Ilocos Norte. The robust flavors of the Philippines are always at the heart of his posts.
Heussaff, overjoyed by the news, took to Instagram to share his excitement. He said, "Woke up to the exciting news yesterday and it just makes me more determined to keep going. To be recognized internationally by such an amazing platform is so motivating. It all started as a food blog to help people eat healthy. After 12 years, 3 studio builds, countless cooking videos and short documentaries later, it finally feels like we are hitting our stride. Whether I make it or not, it doesn't really matter!"
Heussaff's FEATR media, a proudly Filipino, digital video-focused food media outlet, showcases stories and voices from the picturesque islands of the Philippines through high-quality content. He added, "I hope we can enter a bunch of our videos in next year's awards. We're just getting started!"
In the competition, Heussaff is up against Andrew Huang, Ewa Huang, and Jeromy Ko of Nom Life, and Kalamatas Kitchen. Regardless of the outcome, Erwan Heussaff's nomination has already shone a spotlight on Filipino cuisine and culture on a global stage.
This nomination isn't just a victory for Heussaff but for Filipino cuisine as a whole. Filipino chefs like Vince Bugtong of Abaca, Margarita Manzke of Republique, and Aaron Verzosa of Archipelago have also been nominated for the prestigious 2023 James Beard Awards, indicating the world's growing appetite for Filipino cuisine.
Heussaff concluded his Instagram post on a hopeful note, "In my "mature" age of 36, I now always focus on the positive… Yes, we still do branded work and that's what helps fund everything else we do!" As the global culinary community awaits the results of the James Beard Media Awards, one thing is clear: Erwan Heussaff and his fellow Filipino chefs are just getting started.
The James Beard Awards for Media are scheduled to be given out on June 3.
Filipino chefs Vince Bugtong of Abaca, Margarita Manzke of Republique, and Aaron Verzosa of Archipelago have been nominated for the prestigious 2023 James Beard Awards for Restaurants and Chefs to be given out on June 5.
Congratulations! Filipino-French content creator Erwan Heussaff is nominated for the James Beard Media Awards to be given this June @erwanheussaff @beardfoundation #FilipinoPride https://t.co/5JnfjTEf1X

— GoodNewsPilipinas.com (@GoodNewsPinas_) May 23, 2023
In 2022, New York-based Filipino-American sommelier Miguel de Leon won the James Beard Award for Journalism. In 2019, Artisan Books' "I Am a Filipino: And This is How We Cook" writer-restaurateur Nicole Ponseca and Chef Miguel Trinidad of Maharlika New York City and of Jeepney NYC were finalists in the James Beard Media Awards.
WATCH his Instagram Video here and SEND CONGRATULATIONS AND WELL WISHES in the comments below to Erwan Heussaff for his earning a nomination from the James Beard Media Awards!
Good News Pilipinas is a Lasallian Scholarum Awardee. TELL US your good news story tips by messaging GoodNewsPilipinas.com on Facebook, Twitter, Instagram, or e-mail editor@goodnewspilipinas.com and WATCH Good News Pilipinas TV YouTube & Good News Pilipinas TikTok for more Filipino Pride stories!
Facebook Comments