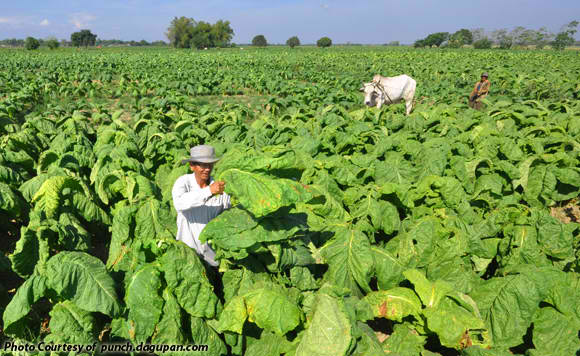 Saturnino "Turning" Distor, who started helping his parents plant crops at the tender age of five, is a witness to how Universal Leaf Philippines, Inc. (ULPI) has transformed farmers' lives by revolutionizing the tobacco trade system.
Gone are the days when farmers are left cash-strapped because of loan sharks and deals with "cowboys" who get a chunk of the pay by serving as financiers and middlemen to companies, Distor said.
With the tobacco firm's inclusive business strategy, farmers now directly sell their harvest and grow tobacco at a lower cost as ULPI provides funding, training, technical assistance, tools and technology to ensure export-quality yields.
At the heart of the business is the mission to "empower small farmers," said Winston Uy, president of ULPI that currently deals with as many as 20,000 farmers in 145 municipalities across the Philippines.
Distor, who has been ULPI's partner for 30 years, said that because of the increased income guaranteed by the ULPI system, he was able to support his daughter's dream of becoming a dentist.
Danilo Saquing, the ULPI farmer leader in Cagayan, shares the same story of success.
"Malaking tulong ang Universal Leaf kasi yun ang aking ikinabuhay at napagtapos ko ang limang anak ko. Meron na po akong policeman, lawyer, engineer, nurse, at teacher," Saquing said. (Universal Leaf was a big help in sustaining our livelihood and in nancing my ve children's education. Now I have a policeman, lawyer, engineer, nurse, and teacher.)
None of his children ventured into farming. But he attests that farming can be a pro table business.
Before inclusive growth and sustainability became buzzwords, Uy had already begun developing a structure that focused on harnessing the farmer's entrepreneurial skills.
"Every farmer is a small entrepreneur. Whether a half-hectare famer or a haciendero who owns thousands of hectares, they will not become successful if they do not integrate all entrepreneurial aspects, [which include] finance side, some basic managerial skills, and technology," he explained.
Anchored at an inclusive business strategy, Universal Leaf Philippines's contract-growing practice encourages famers to keep learning and improving
When Uy took over as president in 1995, ULPI dealt with middlemen who ensured supply by financing farmers. But he soon realized that the traditional way of doing business just won't do.
"The old structure, wherein only financing is brought out, is not enough to make the farmers successful," he explained.
Uy overhauled the old system by building a new structure that puts farmers at the center.
"We built every single structure to support the farmers so they can be empowered to do the proper decisions themselves," he said.
"It is not just a matter of putting the money out, but also about mentoring every individual and empowering them to execute at a higher level," Uy added.
The traditional crop industry is marred with challenges because most farmers have very little in life. Uy said that 80 percent of the company's 20,000 partner-farmers do not even have their own land. Most of them do not have access to financing, and have little knowledge of new farming techniques.
Clearly, radical changes had to be introduced. But despite the promise of higher incomes and improvement in farming practices, altering entrenched ways proved to be difficult.
"Every farmer is a small entrepreneur. Whether a half-hectare famer or a haciendero who owns thousands of hectares, they will not become successful if they do not integrate all entrepreneurial aspects.."
The first five years of implementing the new system was filled with failures and frustrations as farmers and other stakeholders were initially resistant to learning and doing something new. But despite the roadblocks, Uy pushed through with his vision and made the structure work, one where farmers deal directly with ULPI, getting rid of the middleman.
"They don't have anything and that's exactly why we have to support them," he added.
For Uy, empathy is the key to understanding the farmers' needs and addressing the underlying problems that hamper crop production growth.
"When we understand how they think, then we create processes and structures that work. The results will show that they are better off and we are better off after that," he said.
By empowering farmers, the company's pro t has grown "exponentially." With the new system, the company was able to secure a stable supply of high quality yields and reduce production costs. Regardless of boom-and-bust cycles, the product and quality remained under control, thus resulting in higher profitability for both the company and the farmers.
As Uy puts it, "we are only as good as our farmers."
ULPI's contract-growing practice encourages famers to keep learning and improving. Uy has created a rewards system that acknowledges the work that farmers put and the risks they take.
"When you have a system that rewards accordingly, that's meritocracy. It's a beautiful way of empowering and improving one's life," Uy said.
Distor said that for every kilo, the farmers earn around P85, plus an additional P1 to P1.50 as an incentive for producing high quality tobacco. The respective cooperative of each farmer also gets an incentive of 50 centavos a kilo for helping its members supply crops to ULPI.
Apart from company staff, Saquing said representatives of the National Tobacco Administration (NTA) are present during "grading" to ensure that a farmer's produce is properly assessed, he added. A higher grade means a higher income per kilo.
Because ULPI's business structure offers a guaranteed pro t to farmers, Distor said they can already start cultivating tobacco without asking loan sharks or middlemen to lend them money.
"Noon wala kaming net income pagkatapos ng anihan kasi lahat halos ng income ibinabayad sa interes ng 5-6 tapos pag nag-umpisa ka ulit magtanim, uutang ka ulit sa kanila so wala kang nase-save (Before we couldn't get a net income after harvest because most of our income went to money lenders who charge a high interest like 5-6. We are not able to save because when we start planting, we have to borrow money from them again)," he said.
"Ngayon pagkatapos ng anihan, at least may na-sesave at naglalaan lang ng pera para sa pagsasaka. (Today, after harvest, at least we can save and put aside money for our farming needs," he added.
Before the planting season, ULPI provides a one-day refresher course that aligns farmers' knowledge and skill sets with the expectations of the international market, Distor said.
Through technical support, the company makes sure that farmers' yields pass global standards.
"ULPI technicians visit farmers every other day to check crops. When problems arise, an agronomist goes to the field to assist them," Distor said.
Issues on crop production are resolved through open communication lines between farmers and the company. ULPI equipped each farmer with a mobile phone for faster information dissemination and daily weather updates, considering that extreme weather is
a perennial source of concern for farmers.
When typhoon Lawin struck his hometown in Solana, Cagayan, Saquing said it destroyed the crops on his two-hectare land, translating to a significant loss of P400,000.
To help farmers in affected areas, ULPI offers to restructure debts and gives rice donations.
ULPI has realized through the years that the more it gives, the more it gets back in return, as seen in the solid relationship with the farmers and the quality and quantity of tobacco that it gets to serve its buyers.
And the structure that the company has developed can be applied not just to tobacco but also to other traditional crops such as rice and corn.
Distor believes it only takes a system change to make agriculture a pro table industry, saying: "Pangarap namin na ma-replicate yung tie-up namin sa Universal Leaf sa ibang produkto kagaya ng palay at vegetables na bago pa man kami magtanim, heto na ang presyo at heto na yung market (Our dream is to be able to replicate our tie- up with Universal Leaf for our other products such as rice and vegetables wherein the price is set and the market is identified even before we start planting)."
This story is part of a series of articles written by GO NEGOSYO writers being published by GoodNewsPilipinas.com every Tuesday as part of our support to Philippine businesses.
Facebook Comments