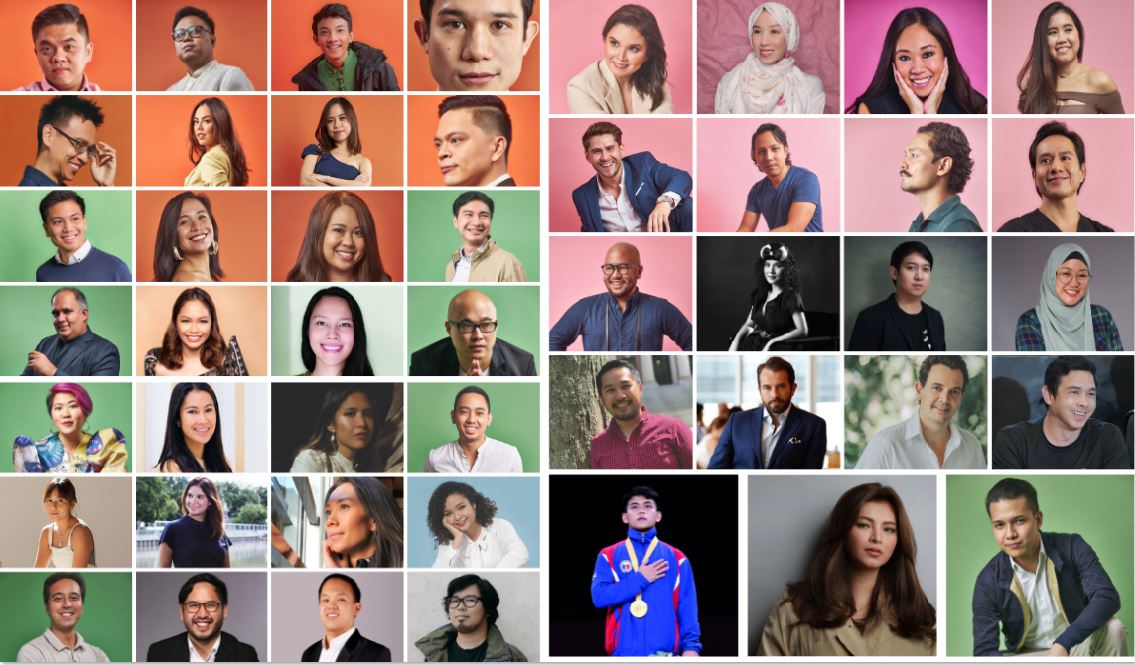 Actress Angel Locsin and athlete Carlos Yulo are leading the 47 young Filipinos who are recognized as the "Leaders of Tomorrow" in the Generation T (Gen.T) List 2020.
Gen.T, a content and community platform for young leaders shaping Asia's future recently revealed its complete list of 400 honorees across the region in simultaneous virtual events held on October 15, 2020.
The definitive list of young leaders has driven positive impact and excellence in various industries such as entrepreneurship, arts, food, public service, sports, charity, education among others.
The Tatler Asia-powered media platform, which is the region's leading luxury media brand, selected the honorees from the Philippines, Hong Kong, Singapore, Malaysia, Mainland China, Taiwan, Thailand, and Indonesia.
Forbes Asia's Hero of Philanthropy Angel Locsin expressed her gratitude in a Facebook post on October 17:
"Grateful for this honor to be included in @generationt_asia list of 2020 as Leaders of Tomorrow 🙏🏻 Humbled, inspired, and amazed 🙏🏻 Thank you from the Philippines @tatlerphilippines @tatlerasia for making me part of the awesome list 👌🏻 Mabuhay!"
Here are the 47 young leaders from the Philippines named in Gen.T:
Philanthropy & Charity:
Angel Locsin
ACTOR AND PHILANTHROPIST
For tireless philanthropic work in education, domestic violence, and health
Mich Dulce
CO-FOUNDER, MANILA PROTECTIVE GEAR SEWING CLUB
For using fashion to save lives by providing thousands of workers with PPE
Miguel Bermundo
FOUNDER AND DIRECTOR, DREAM BIG PILIPINAS FA
For using sports to provide underprivileged children with educational opportunities
Rosario Juan
CO-FOUNDER, FRONTLINE FEEDERS
For shifting her food and beverage business to helping key medical workers
Bai Rohaniza Sumndad-Usman
COMMUNITY BUILDER AND PEACEMAKER
For helping to build a culture of peace
Sports:
Carlos Yulo
GYMNAST
For vaulting Philippine gymnastics onto the world stage
Government, Public Services & Law:
Brian Poe Llamanzares
CHIEF OF STAFF, SENATOR GRACE POE
For striving to make the Philippines a better place
Elijah Dumama-Alba
ATTORNEY GENERAL, THE BANGSAMORO AUTONOMOUS REGION
For helping to ensure justice in a new region
Education:
Nicole CuUnjieng Aboitiz
HISTORIAN AND AUTHOR
For her contribution to the study of Filipino history
Zhihan Lee
CO-FOUNDER AND CEO, BAGOSPHERE
For empowering marginalized youth to take ownership of their education and careers
Jaton Zulueta
FOUNDER AND EXECUTIVE DIRECTOR, AHA LEARNING
For providing the most vulnerable students with long-term education and support
Media, Marketing & Advertising:
Ezra Acayan
PHOTOGRAPHER, GETTY
For shining a much-needed light on human rights abuses
Kenn Costales
FOUNDER AND MANAGING DIRECTOR, MONOLITH GROWTH CONSULTING
For enabling digital-first companies to reach new heights
Janina Manipol
FILMMAKER, MALDAVAR FILMS PRODUCTIONS AND VICE PRESIDENT, MYSMILE
For changing the lives of children in need
Gab Mejia
PHOTOGRAPHER, WWF NATIONAL YOUTH COUNCIL AND CO-FOUNDER, YOUTH ENGAGED IN WETLANDS
For dedicating his career to saving global wetlands
Healthcare & Sciences:
Jason Alacapa
CO-FOUNDER AND CEO, INNOVATIONS FOR COMMUNITY HEALTH
For leading the fight against diseases of all shapes and sizes
Renzo Guinto
FOUNDER AND CHIEF PLANETARY DOCTOR, PH LABS
For his dedication to turning the Philippines into a healthcare hub
Alfonso Regala
SUPERVISING HEALTH PROGRAMME OFFICER, DEPARTMENT OF HEALTH
For helping Filipinos get healthier
Social Entrepreneurship:
Carmina Bayombong
FOUNDER AND CEO, INVESTED
For opening up education financially to a greater range of people
Daniel Layug
CO-FOUNDER, PEOPLEPODS
For reminding us that the world is best when built from the ground up
Louise Mabulo
FOUNDER, THE CACAO PROJECT
For training farmers in agroforestry techniques and protecting against deforestation
Francis Simisim
CO-FOUNDER AND COO, SOCIAL LIGHT
For making the provision of free internet access work for everyone
Real Estate & Hospitality:
Mario Berta
FOUNDER AND CEO, FLYSPACES
For reinventing the concept of the mobile office
Carmen Booth
CO-FOUNDER AND CEO, BOOTH & PARTNERS AND ARCH OFFICES
For making it easy for overseas businesses to set up in the Philippines
Gabriel Perez
FOUNDER AND PRESIDENT, PRIVATO HOTEL GROUP
For establishing a growing business-hotel chain imbued with Filipino spirit
Hannah Yulo-Luccini
CHIEF INVESTMENT OFFICER, DOUBLE DRAGON PROPERTIES AND CHIEF FINANCIAL OFFICER, MERRYMART
For being a leader in fields as diverse as property, retail, and philanthropy
Finance & Venture Capital:
John Christian Bisnar
CO-FOUNDER AND CEO, INVESTAGRAMS
For launching one of the Philippines' fastest-growing financial platforms
Maureen Nova Ledesma
CO-FOUNDER AND CMO, VESL
For launching one of Southeast Asia's most important financial services platforms
Rajan Uttamchandani
CEO, ESQUIRE FINANCING
For providing the Philippines' small businesses with much-needed financing
Technology:
Jaime De Los Angeles
CO-FOUNDER AND CEO, ADVANCE
For making financial freedom accessible for everyone
Stefano Fazzini
CO-FOUNDER AND CEO, METROMART
For establishing the Philippines' number one online grocery delivery service
Audrey Pe
FOUNDER AND EXECUTIVE DIRECTOR, WITECH
For empowering underprivileged people with technology.
Roland Ros
FOUNDER AND CEO, KUMU
For launching the Philippines' fastest-growing social video app
George Royeca
CO-FOUNDER AND CHIEF TRANSPORT ADVOCATE, ANGKAS
For providing a way out of poverty for low-income families
Sustainability:
Ann Dumaliang
CO-FOUNDER AND MANAGING TRUSTEE, MASUNGI GEORESERVE FOUNDATION
For her dedication to conservation, reforestation, and geotourism
Billie Dumaliang
CO-FOUNDER AND MANAGING TRUSTEE, MASUNGI GEORESERVE FOUNDATION
For turning an area of degraded land into an ecological treasure
Bryan McClelland
PRESIDENT AND CEO, BAMB ECOLOGICAL TECHNOLOGY AND FOUNDER, BAMBOO INNOVATION GROUP FOUNDATION
For using bamboo to improve lives and build a more sustainable future
Yzabell Palma
INVENTOR, AIRDISC
For inventing a sustainable refrigerant while still at school
Jochen Bernhard Staudter
MANAGING PARTNER, PHILERGY
For encouraging solar energy use
Food & Beverage:
Mathieu Guillarme
CO-FOUNDER, CEO AND PRESIDENT, VIENOVO
For improving the lives of farmers and the livestock they raise
Francis Reyes
FOUNDER AND CEO, CARAVAN FOOD GROUP
For serving good food while doing good
Kei Tiu Laurel-de Jesus
MANAGING DIRECTOR, FRABELLE GROUP
For bringing sustainability to the forefront of a growing family business
Zark Varona
PRESIDENT AND CEO, ZARK'S BURGERS
For proving that expanding rapidly and retaining quality can go hand in hand
Kimberly Yao
CO-FOUNDER AND CEO, CLOUDEATS
For propelling the food and beverage industry into the future
Fashion & Beauty:
Cara Sumabat Limjap
FOUNDER AND CREATIVE DIRECTOR, HALO HALO
For using Filipino aesthetics to create a beloved modern brand
Architecture & Design:
Dan Matutina
CO-FOUNDER, PLUS63 DESIGN AND HYDRA DESIGN GROUP
For putting Filipino graphic design and illustration on the map
Julia Nebrija
CHIEF OPERATING OFFICER, PHILIPPINE JAPAN INITIATIVE FOR CLARK
For urban planning that's transforming the way Manila works
More international recognitions have been recently awarded to excellent Filipinos including 11 UP, DLSU, UST, USM scientists named in the Asian Scientist Top 100 and Bohol's coast guard hero Ralph Barajan who received an international maritime award for sea bravery.
SEND CONGRATULATIONS in the comments below to Angel Locsin, Carlos Yulo, and other young Filipinos regarded as the "Leaders of Tomorrow" in the Generation T List 2020.
Want to know how to be a Proud Pinoy? Like, Follow, Subscribe to GoodNewsPilipinas.com and our socials Facebook, Twitter, Instagram, Good News Pilipinas! TV on YouTube, for new good story notifications and e-mail newsletters for updates on more Filipino Pride stories
Facebook Comments