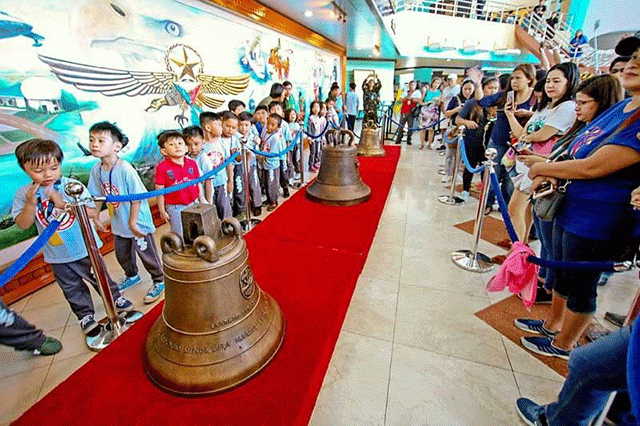 The Balangiga Bells of Samar have finally been returned after more than a hundred years and are now again ringing in its hometown.
The three church bells which were taken by the American army in 1901 as war trophy were finally returned to the Philippines on December 15 and have actually been rung at dawn to signal the Misa de Gallo in Balangiga town, Eastern Samar.
The last time the bells were heard ringing was 117 years ago to signal the midnight mass and the uprising of Samareños against the American forces which was marked as the biggest defeat of the foreign troop during the Philippines-US war.
The Catholic Church of Balangiga had constructed a place to display the bells called the Balangiga Bells Garden at the site where Balangiga residents who died during the attack are buried.
The Balangiga Bells were flown from Kadena Air Base in Okinawa, Japan on board a US Air Force C-130. The bells were turned over by US Defense officials to Philippine government officials in ceremonies held at the Villamor Air Base in Manila.
Department of Tourism Secretary Bernadette Romulo-Puyat said the homecoming of the Balangiga Bells is welcomed not only in its hometown but by the whole of Eastern Visayas for its historical value.
"In time for the Christmas season, this is one of the best gifts the region could ask for," the Tourism chief said according to the PNA release.
DOT-Eastern Visayas Regional Director Karina Rosa Tiopes said the agency had been assisting the local government unit of Balangiga in the area's tourism development projects.
"Foremost of these is the improvement of the Balangiga Incident Marker, funded under DOT-Yolanda Comprehensive Rehabilitation and Recovery Project worth PHP9.7 million, which was downloaded to the LGU," disclosed Tiopes.
The improvement includes landscaping and beautification of the park and the small museum located at the back of the marker to make it more presentable to tourists and pilgrims who will be visiting the town.
The Balangiga Incident Marker is the work of National Artist Napoleon Abueva, inaugurated on the 102nd commemoration on September 28, 2003.
Facebook Comments