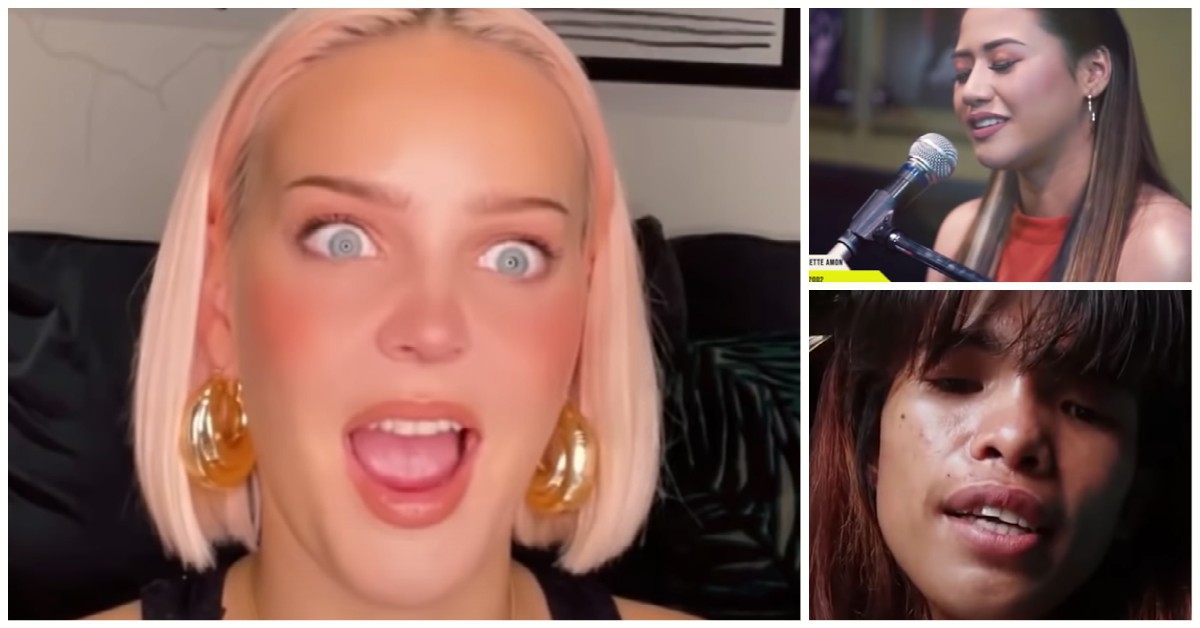 British pop singer Anne-Marie treated Pinoy fans to her reaction video of Filipino artists covering her songs which include the likes of "Asia's Phoenix" Morissette Amon and internet star, Miss Everything.
In a video released by Warner Music Philippines on February 25, 2021, singer-songwriter Anne-Marie offers Filipino fans great advice and kind words after hearing their take on her hit song "2002."
"I just think that it's so cool that people are singing this song all the way around the other side of the world," Anne-Marie said.
The English pop star was visibly stunned by chart-topper Pinay singer Morissette Amon's performance of "2002" on radio station Monster RX 93.1.
"Whoa! Her voice is so good. I loved her tone, just so lovely. I could listen to her singing forever," Anne-Marie said about Amon. "So yeah, she's better than me."
The international pop sensation also reacted to Filipina online singing sensation Aiana Juarez's cover who performed the hit song live with her brother, Anton.
"I love that one! I wanted to hear more of him singing, but it was really cute that they were doing it together," the singer said.
"Her voice reminds me…I feel like she would sound really good singing Avril Lavigne songs. I would love to hear that."
The singer watched performances by the female contestants from an episode of Idol Philippines, a reality singing television competition on ABS-CBN.
"I like that there was loads of harmonies and stuff in there. Obviously singing it on my own, I never hear it sung with loads of other people at the same time. So it's really cool to hear it like that," Anne-Marie remarked. "I love how they were so sassy!"
Anne-Marie also took notice of Stereotype, a four-piece acoustic cover band from Cebu.
"That was so cute! Wow…I love that cover," the singer said while nodding along to the song's chorus. "I love the guitar, the drums, the bass that he was creating from the guitar, and she has a lovely voice."
Anne-Marie was impressed with all of the song covers by her fans from the Philippines but the viral TikTok video from Ericka Camata, more popularly known online as "Miss Everything," stood out to her the most.
The clip features "Miss Everything" leaving out the correct lyrics in the song and substituting them for her own funny, made-up words which entertained Anne-Marie.
"I've seen this one before, and it's one of my favorite things I have ever seen," the pop star said, referring to the 'personalized' song cover by the 20-year-old TikTok user from Samar.
Camata's viral TikTok video was first shown to Anne-Marie in her exclusive interview with MYX Philippines last year.
"That might be my favorite cover of 2002 I've ever heard. So, yeah, I won't ever get bored of watching that. Just saying, forever. I'll watch that every week for the rest of my life," Anne-Marie adds.
In the clip that followed, Miss Everything is seen belting Anne-Marie's song in karaoke with the proper lyrics until she resumed her schtick.
"Is this the same person…I'm so confused," Anne-Marie said at first.
"So she can actually sing. It was all perfect. She got all the lyrics perfect. And then it comes to the chorus. I feel like she's made it her own now. Like we almost should do a duet, a collaboration…but use her lyrics."
The British singer-songwriter Anne-Marie is the latest singer to join the judging panel on The Voice UK.
International singers who praised Filipino talent include Britain's Sam Smith who welcomes singing with the Philippines' blind balladeer Carl Malone Montecido while Filipino singer Iñigo Pascual's rendition of the pop classic hit "All Out Of Love" by Air Supply has received approval from the legendary rock duo, Graham Russell and Russell Hitchcock.
SEND CHEERS in the comments below to British pop sensation Anne-Marie for showing appreciation to her Pinoy fans and recognizing Filipino artists like "Asia's Phoenix" Morissette Amon and internet star Miss Everything and WATCH her reaction video to the Pinoy '2002' song covers below!
Good News Pilipinas is celebrating its 15th Anniversary in 2021 by giving away prizes! Subscribe to our Good News Pilipinas! TV YouTube channel and enter the raffle by sending us an email to editor@goodnewspilipinas.com
Facebook Comments