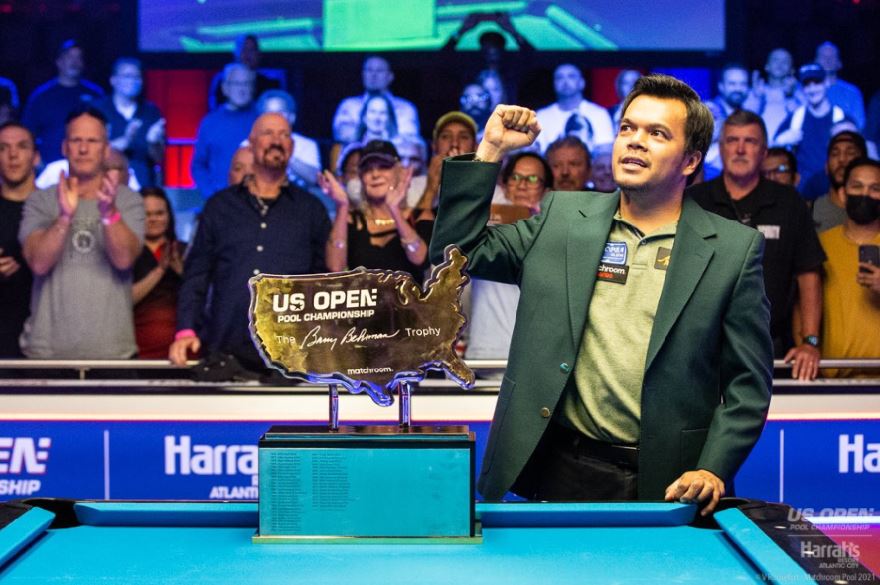 The Philippines' Carlo Biado has won the US Open Pool Championship, the first time a Filipino took the title in 27 years since world sports legend Efren "Bata" "Reyes" won the same event.
The champion from La Union delivered a comeback win at the 9-Ball tournament played in Atlantic City on September 18 (September 19 PST) after being down by 5 racks in the final match before exploding in 10 successive wins to finally take home the US Open Pool Championship trophy.
The 37-year-old Biado delivered a stunning 13-8 defeat to 25-year-old Aloysius Yapp, the junior 9-ball champion of Singapore, and made Filipinos around the world proud.
Biado's historic victory also allowed the Filipino to take revenge on behalf of compatriot Dennis Orcollo who was earlier ousted by Yapp in the semifinals stage which had both Filipinos gunning for an all-Filipino final.
Biado's run in the US Open displayed his determination after struggling in the preliminaries among 256 players as he was pushed to the losers' bracket. He had to execute a win over fellow Filipino Jeff De Luna and Jayson Shaw of Scotland to secure his spot as one of the four Filipinos to get into the final 16 knockout matches.

Carlo Biado, the 2019 WPA Players Championship Runner-up placer and 2017 WPA World 9-ball Champion afterward defeated two-time World Pool Masters winner David Alcaide Bermudez of Spain in the Round of 16 to earn his spot in the quarterfinals where the four Filipinos comprised half of the field of 8 players – a fact that made the world praise the talent pool of the Philippines.

In the quarterfinals, Biado was again pitted and won against another Filipino player, Johann Gonzales Chua, to secure his semifinals eat.

In the semifinals, Biado beat Japan's Naoyuki Oi, the 2012 WPA World 9-Ball semifinalist.
https://twitter.com/MatchroomPool/status/1439357600043347975?s=20
Carlo Biado kept the country's flag flying proudly in the prestigious US Open as he delivered his speech after being awarded the US Open trophy while wearing the traditional green jacket of the champion.
"I am very happy because this event is one of my dreams. I dedicate this to my family and to my baby. Thank you to all of you even during the pandemic you're still here watching around the world. Thank you to Matchroom, my sponsors, and all of the Filipinos who support me always everywhere," said Biado haltingly as he delivered his emotional speech.
Carlo Biado also won the US Open professional pool tournament prize pot of $50,000.
Legendary pool master Efren "Bata" Reyes was acknowledged during the tournament as the last Filipino to win the US Open 9-ball Championship in 1994.
WATCH the awarding speech here and SEND CONGRATULATIONS to Carlo Biado for winning the US Open 9-Ball Pool Championship!
https://twitter.com/MatchroomPool/status/1439351577127575556?s=20
Good News Pilipinas is celebrating its 15th Anniversary in 2021 by giving away prizes! Subscribe to this website and  Good News Pilipinas! TV YouTube channel and enter the raffle by telling us what you like about our stories in an email to editor@goodnewspilipinas.com
Facebook Comments