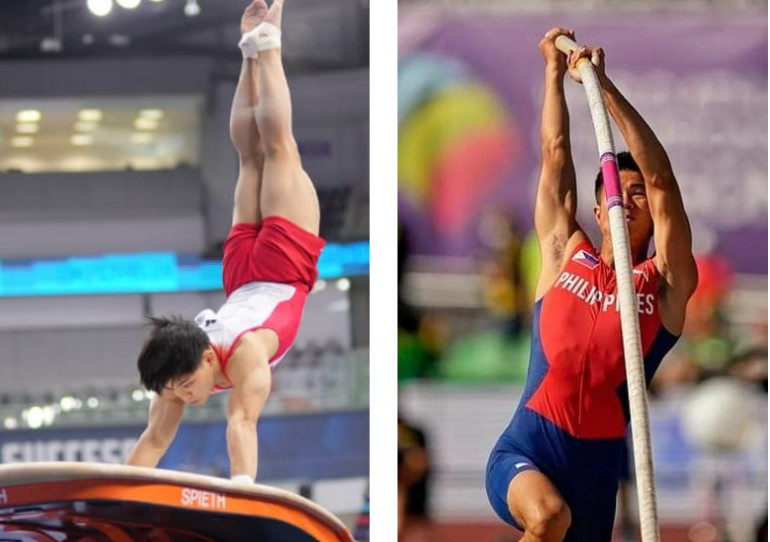 Team Philippines is on a mission to better its ranking in the 31st edition of the Southeast Asian (SEA) Games with Filipino world champions Carlos Yulo and Ernest John Obiena set to compete today. The country's athletes aim to add to the 14 gold medals already in hand midway through the competition – making a strong statement in Cambodia's capital.
The two Tokyo Olympians for artistic gymnastics and pole vault are expected to be the highlights of the Philippines' campaign on May 8, the 3rd day of the Cambodia SEA Games biennial regional competition at Phnom Penh which started on May 5th and will conclude on May 17th with over 6,000 athletes from 11 participating nations competing in 584 events across 36 sports.
Carlos Yulo, artistic gymnastics
Three-time world cup champion Carlos Yulo competes in the morning in men's artistic gymnastics at the Olympic National Stadium at 10 AM (11 AM Philippine Standard Time).
Yulo is competing in the qualifiers of the men's individual and team all-around with Juancho Miguel Besana, Ace De Leon, Jhon Santillan, and Jan Timbang.
Yulo is vying to make the individual finals in two apparatuses, following the Cambodia Games restriction to an athlete winning a maximum of four gold medals.
EJ Obiena, pole vault
World No. 3 men's pole vaulter EJ Obiena is scheduled to compete in the pole vault at the Morodok Techo National Stadium at 4:20 PM (5:20 PM PST)
Asia's record holder is seeking to better the SEA Games record of 5.46 meters which Obiena himself established in the 2021 SEA Games.
Kristina Knott, track and field
Track star Kristina Knott is also set to see action today, aiming to regain the 200-meter gold medal after missing last year's SEA Games due to an injury.
The Philippines, overall champions in the 2019 SEA Games with a record 387 medals including 149 gold, is seeking to rise in the ranks after finishing fourth in Vietnam last year, amassing 52 golds, 70 silvers, and 104 bronzes. As of this writing, the Philippines is ranked 5th with 54 medals: 14 gold, 19 silver, and 21 bronze.
Here is the medal tally as of May 7, 2023:
Here are the Filipino athletes who have struck gold so far in the 2023 SEA Games:
Kaila Napolis – Jiu-jitsu, women's ne-waza GI -52kg
Angel Gwen Derla – Kun bokator, women's bamboo shield form
Precious Cabuya – Women's obstacle course racing
Mark Julius Rodelas – Men's obstacle course racing
Sakura Alforte – Karate, women's individual kata
Annie Ramirez – Jiu-jitsu, women's ne-waza NOGI -57kg
Matthew Hermosa, Inaki Lorbes, Kira Ellis, Erica Burgos – Aquathlon, mixed relay
Milky Mae Tejares, Mecca Cortizano, Sandi Menchi Abahan, Marites Nocyao – Obstacle course racing, women's team relay
Ahgie Radan, Elias Tabac, Mervin Guarte, Jose Mari de Castro – Obstacle course racing, men's team relay
Kim Mangrobang – Duathlon, women's division
Jamie Lim – Karate, women's kumite 61kg
Bien Zoleta-Mañalac, Princess Catindig – Soft tennis, women's doubles
Marc Lim – Jiu-jitsu, men's ne-waza NOGI -69kg
Sibol: Golden Hart Dajao, Aaron Mark Bingay, Reniel Angara, Gerard Gelacio, Chammy Paul Nazarrea, Justine Ritchie Tan – Esports, League of Legends: Wild Rift
The 2019 edition of the SEA Games was the Philippines' most successful venture with 1,115 Filipino athletes securing the overall championship for the host nation, repeating its top standing in 2005.
The country has appeared at the SEA Games at every edition since 1977 and hosted four times.
Filipino athletes rank 5th in the all-time medal table with 3,968 medals including 1,122 gold.
With these remarkable achievements, Team Philippines has the potential to finish strong in the 2023 SEA Games. Their resilience and determination could be the recipe for an outstanding comeback, proving that the Filipino spirit remains unbreakable. Stay tuned for more updates on the country's journey towards SEA Games glory.
Here's how to follow the Team Philippines' schedule and live games at the Cambodia SEA Games:
Here's the 32nd SEA Games schedule and how to watch live games to support Team Philippines https://t.co/3VfaFCeSuS

— GoodNewsPilipinas.com (@GoodNewsPinas_) May 8, 2023
Good News Pilipinas is a Lasallian Scholarum Awardee. TELL US your good news story tips by messaging GoodNewsPilipinas.com on Facebook, Twitter, Instagram, or e-mail editor@goodnewspilipinas.com and WATCH Good News Pilipinas TV YouTube & Good News Pilipinas TikTok for more Filipino Pride stories!
Facebook Comments