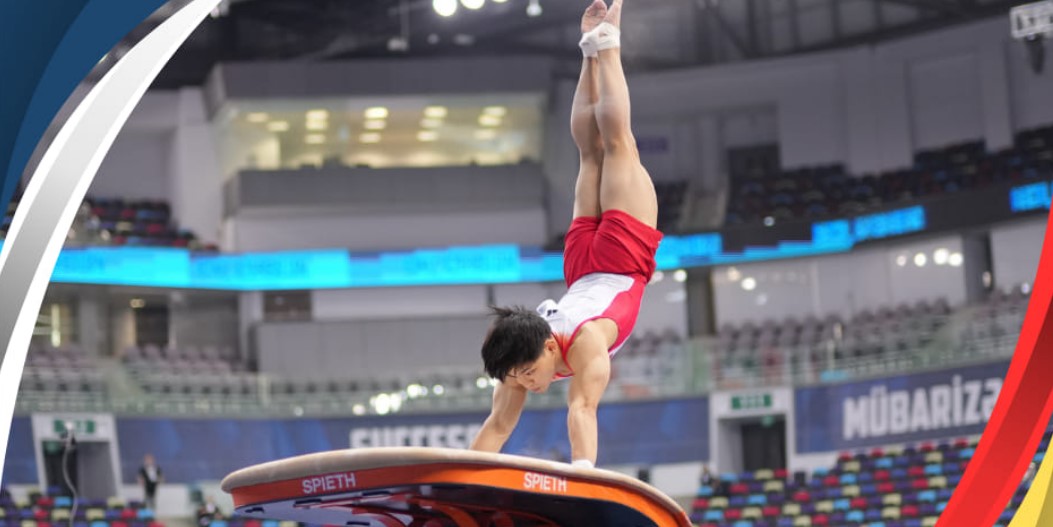 The Philippines' Carlos Yulo is now a 3-time Artistic Gymnastics World Cup champion after winning two gold medals in Baku, Azerbaijan over the weekend, adding to his Doha gold in Floor Exercise.
The crowd favorite executed masterful performances at the 2023 International Gymnastics Federation (FIG) World Cup in Baku to reign supreme in the Men's Vault final on Sunday, March 12, and Men's Parallel Bars final earlier on Saturday, March 11.
PARALLEL BARS GOLD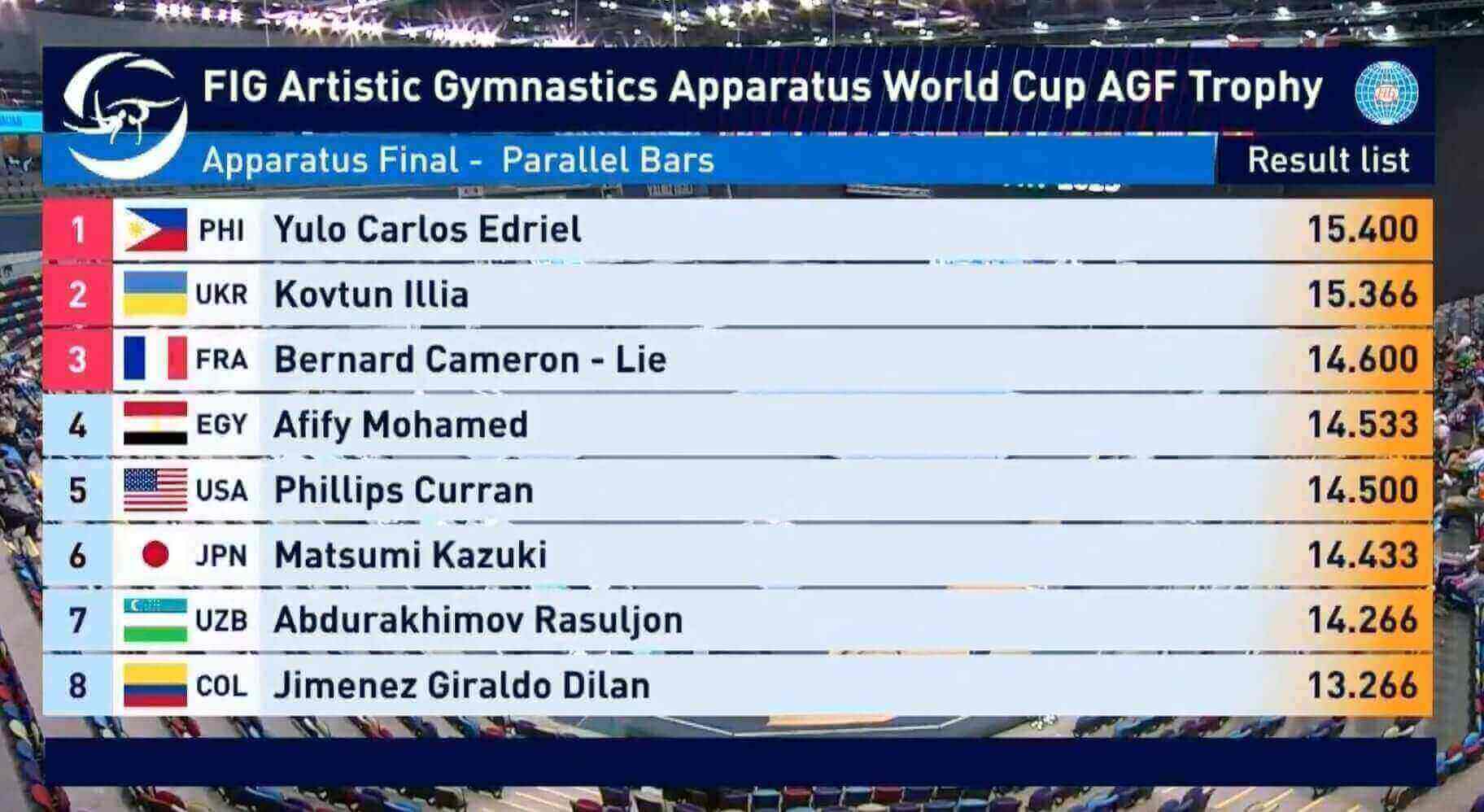 On March 11, Carlos Yulo won the Parallel Bars final of the World Cup in Baku, scoring 15.400 to topple 6-consecutive World Cup champion Illia Kovtun of Ukraine (15.366, silver) – reversing their positions in the same apparatus where the FIG Worlds champion won the World Cup Doha silver, and the World Cup Cottbus bronze in Parallel Bars. Cameron Lie-Bernard of France took 3rd place (14.600, bronze).
FIG social media describes the Filipino's winning routine on parallel bars, hailing Yulo as the one likely to beat the then-reigning Ukrainian champion:
"Carlos Yulo 🇵🇭 on Parallel Bars: Clear hip to one rail handstand, Healy out. Stutz. Healy. Front flip. Front straddle somie to his hands. Bhavsar. Tippelt. Diamidov. Double front tuck half out, stuck! Virtuosity from Yulo! If anyone can beat Kovtun, it's him! 15.4 — leader!"
WATCH Carlos Yulo execute his gold-winning Parallel Bars routine here:
WATCH Carlos Yulo @c_edrielzxs of the Philippines deliver his gold-winning form on Men's Parallel Bars which ended the win streak of World Cup champion Illia Kovtun @gymnastics #FIGWorldCup Baku 2023 FULL STORY on @GoodNewsPinas_ https://t.co/LqIL6Riz4f

— Angie Quadra-Balibay (@AngieQBalibay) March 13, 2023
VAULT GOLD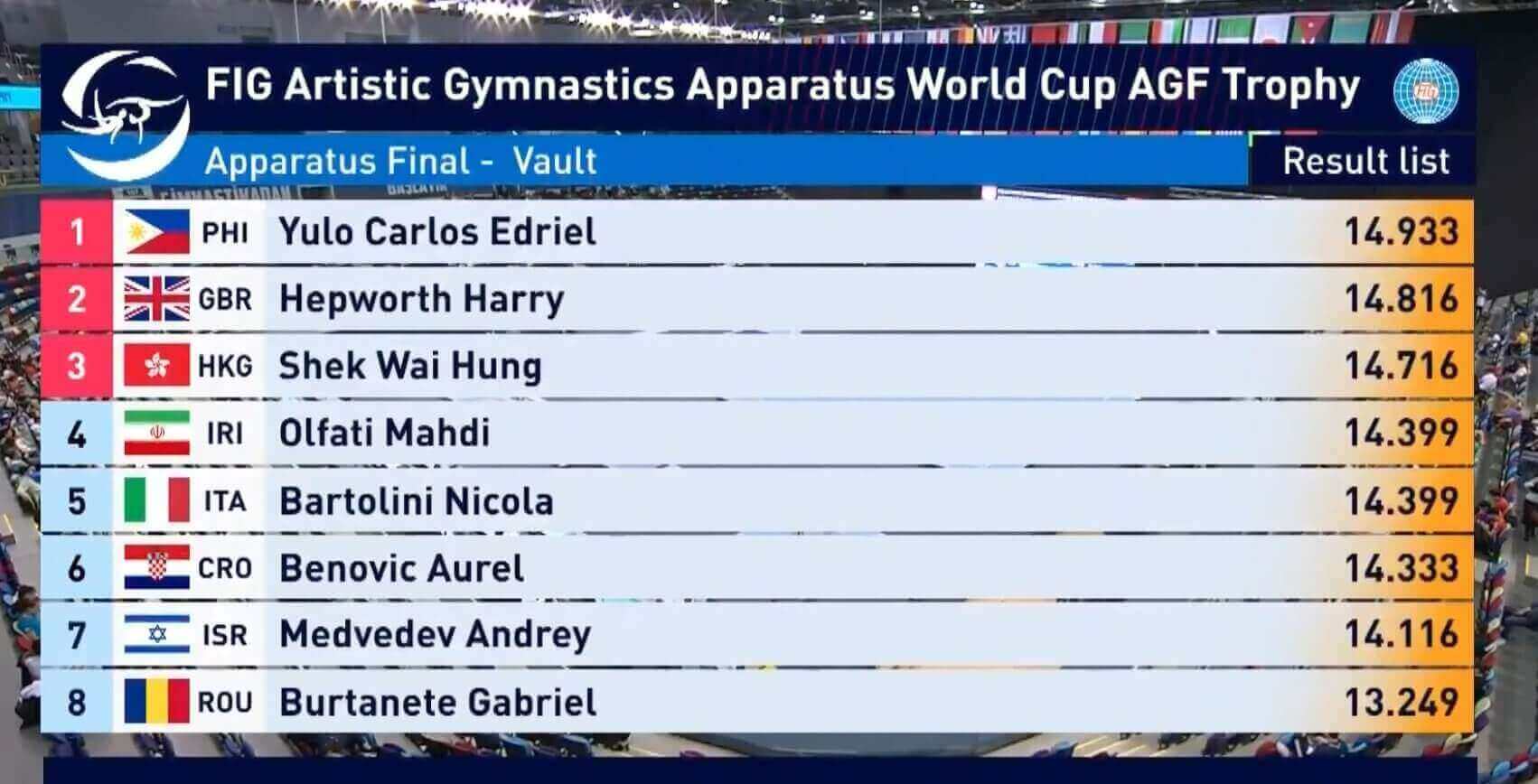 On March 12, the first Filipino Gymnastics World Champion picked up his 2nd gold in Baku and 3rd in the ongoing FIG World Cup series after earning the top score of 14.933 points in the Men's Vault Apparatus where he won bronze in Doha.
The World Champion in Vault won over Harry Hepworth of Great Britain (14.816, silver) and Shek Wai-Hung of Hong Kong (14.716, bronze) in the 8-man field of finalists.
FIG social media describes the Philippines' star athlete's gold routine here:
"Carlos Yulo 🇵🇭 vaults a masterful Blanik (handspring double front pike). His legs and feet never come apart, his pike position is sublime, his landing extremely well controlled. He controls his Lopez well too, just a step back. 14.933 average gives Yulo the lead! #FIGWorldCup"
WATCH Carlos Yulo deliver his thrilling performance in Vault at World Cup Baku:
WATCH Filipino gymnast Carlos Yulo @c_edrielzxs execute his gold-winning vault at @gymnastics #FIGWorldCup Baku 2023 FULL STORY on @GoodNewsPinas_ https://t.co/c3uub6g0Gw

— Angie Quadra-Balibay (@AngieQBalibay) March 13, 2023
Carlos Yulo's two gold medals at the World Cup in Baku city of Azerbaijan come after picking up the gold, a silver, and two bronzes in the first two meetings of the ongoing FIG series.
Yulo qualified for the World Cup Baku finals in the Still Rings and Parallel Bars events on the first day and made the cut in Vault on the second day of the 3rd leg of the FIG series which ran from March 9 to 12, 2023, held inside Baku's National Gymnastics Arena where more than 150 gymnasts from 48 nations participated.
READ MORE about Carlos Yulo's medal haul at the 2023 World Cup series here.
The 23-year-old athlete's next stop is the 4th and final leg of the World Cup series to be held in Cairo, Egypt, scheduled from April 27 to 30.
Carlos Yulo of the Philippines is working his way toward the Paris 2024 Olympics, aiming to get the second gold medal for the country.
After the FIG World Cup Series, Yulo is expected to compete in the 31st Cambodia SEA Games from May 5-17 and the 52nd FIG Artistic Gymnastics World Championships in Antwerp, Belgium starting September 30.
SEND CONGRATULATIONS & GOOD WISHES in the comments below for the Philippines' Carlos Yulo, now a 3-time World Cup gymnastics champion with his Baku double golds!
Good News Pilipinas is a Lasallian Scholarum Awardee. TELL US your good news story tips by messaging GoodNewsPilipinas.com on Facebook, Twitter, Instagram, or e-mail editor@goodnewspilipinas.com and WATCH Good News Pilipinas TV YouTube & Good News Pilipinas TikTok for more Filipino Pride stories!
Facebook Comments