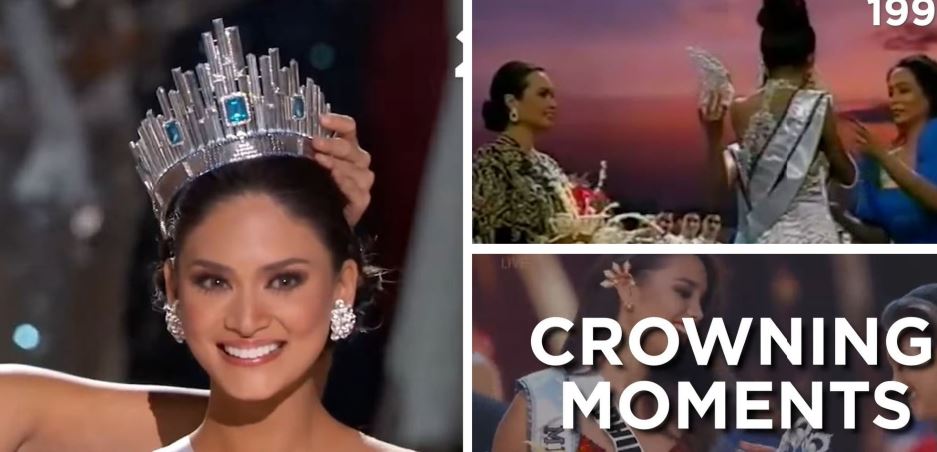 Filipina Miss Universe Pia Alonzo Wurtzbach has topped the fan-favorite crowning moments at the most popular international beauty pageant, while Catriona Gray, Gloria Diaz, and Margie Moran all make an appearance on the fan-favorite video.
The Miss Universe organization released the results of the fan selection of the five best moments when a beauty queen was announced from among its 68 coronation events.
The Top 5 Fan Fav Crowning Moments video released on Miss Universe social media on April 15, 2021, actually shows footage of all four Filipina Miss Universe titleholders: Gloria Diaz, Margie Moran, Pia Alonzo Wurtzbach, and Catriona Magnayon Gray.
2015 Miss Universe Pia Alonzo Wurtzbach
The 2015 Miss Universe Pia Alonzo Wurtzbach took the #1 spot with her historic crowning that ended the Philippines' 42-year wait for the third Filipina to bring home the Miss Universe crown with a dramatic twist that sealed the moment as one for the history books.
The Miss Universe crown was mistakenly given to another contestant and host Steve Harvey corrected himself and announced the Miss Philippines bet as the rightful owner of the title. Pia Wurtzbach of Cagayan de Oro eventually took her rightful place as the Miss Universe winner and displayed grace and poise amidst the controversial crowning moment in Las Vegas, Nevada, USA.
1969 Miss Universe Gloria Diaz, 1973 Miss Universe Margie Moran
The first Filipina Miss Universe, Gloria Diaz, and her successor, Margarita Moran, were seen in the #5 top crowning moment of Sushmita Sen of India in 1994 when the Philippines hosted the pageant. Sen was the first Indian national to win the pageant.
Gloria Diaz of Manila was crowned Miss Universe 1969 in Miami, Florida, USA.
Margie Moran, also of Manila, was crowned Miss Universe 1973 in Athens, Greece.
2018 Miss Universe Catriona Magnayon Gray
The fourth Filipina Miss Universe, Catriona Gray, heralded the list with her own crowning moment shown in the video introduction. The Filipina-Australian beauty from Albay made her mark on the pageant with her unique slow-motion ramp walk nicknamed the "lava walk" which was praised by judges and went viral on social media with people from all over the world imitating Gray's walk.
The other fan-favorite crowning moments were of Mpule Kwelagobe of Botswana in 1999 at #2, Gabriela Isler of Venezuela in 2013 at #3, Riyo Mori of Japan in 2007 at #4.
Rabiya Mateo of Iloilo City is currently campaigning to win the Philippines' 5th Miss Universe title in May 2021.
WATCH Filipina Miss Universe winners Pia Wurtzbach, Catriona Gray, Gloria Diaz, Margie Moran in top crowning moments chosen by fans!
Good News Pilipinas is celebrating its 15th Anniversary in 2021 by giving away prizes! Subscribe to our Good News Pilipinas! TV YouTube channel and enter the raffle by sending us an email to editor@goodnewspilipinas.com
Facebook Comments