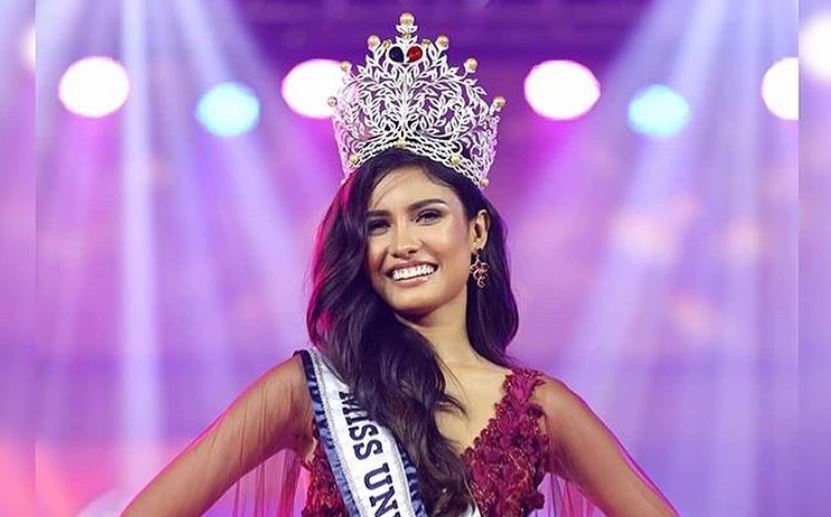 Here's how to vote for Miss Universe Philippines Rabiya Mateo to be part of the top 21 candidates when the annual beauty pageant goes on stage in May 2021.
The Miss Universe Organization posted a social media shoutout to Filipinos to join the voting on the eCommerce platform, Lazada.
Reigning Miss Universe Zozibini Tunzi is seen on the announcement inviting everyone to vote on the Miss Universe app. The post makes a specific invitation for voters from the Philippines to use the Lazada app.
The delegate who receives the most votes through the Fan Vote system on Lazada and Miss Universe's Voting page, Choicely, will automatically earn a spot in the pageant's Top 21 when the Miss Universe pageant goes live on May 16, 2021.
Filipino fans can vote for Rabiya Mateo until May 15 through the Fan Vote function, available exclusively on Lazada. The first vote is free and succeeding votes can be secured for a fee.
Instructions to access the voting page are as follows:
In the Lazada Home Page, click on 'Feed' located at the bottom bar
In the 'Feed'page, click on the 'Miss Universe' tab at the top bar
Click the 'Go to vote' button and claim the one (1) Free Vote
Click on 'Vote' below the delegate and wait for a voting confirmation pop-up
Fans can choose to purchase more votes via the Voting Packages offered on the voting page:
On the 'Miss Universe'main page, click the 'Get more votes' button
Users then click 'Buy Votes' and are able to select among the Voting Packages offered
If the user has already used his/her one (1)Free Vote, he/she can click the 'Get more votes' button shown whenever a user clicks on any delegate on the page
"Now more than ever, we could all use more social and shared experiences, so we are very excited to not only be part of one of the most sought-after events, but to be able to provide Filipinos a way to vote for our very own representative and Lazada PH ambassador Rabiya Mateo," shares Neil Trinidad, Chief Marketing Officer of Lazada Philippines.
Rabiya Mateo of Iloilo City is campaigning to win the Philippines' 5th Miss Universe title Rabiya Mateo aims to continue the line of Filipino Miss Universe titleholders, following the reign of Gloria Diaz (1969), Margie Moran-Floirendo (1973), Pia Alonzo Wurtzbach (2015), and Catriona Magnayon Gray (2018).
Mateo's bid is receiving massive support with over 100 Filipino fashion designers collaborating to create her wardrobe. Philippine-made footwear by Jojo Bragais will also be showcased by all the 2021 Miss Universe candidates.
SHARE THIS STORY on How to Vote for Miss Universe Philippines Rabiya Mateo to show support to her campaign to win the crown!
Good News Pilipinas is celebrating its 15th Anniversary in 2021 by giving away prizes! Subscribe to our Good News Pilipinas! TV YouTube channel and enter the raffle by sending us an email to editor@goodnewspilipinas.com
Facebook Comments