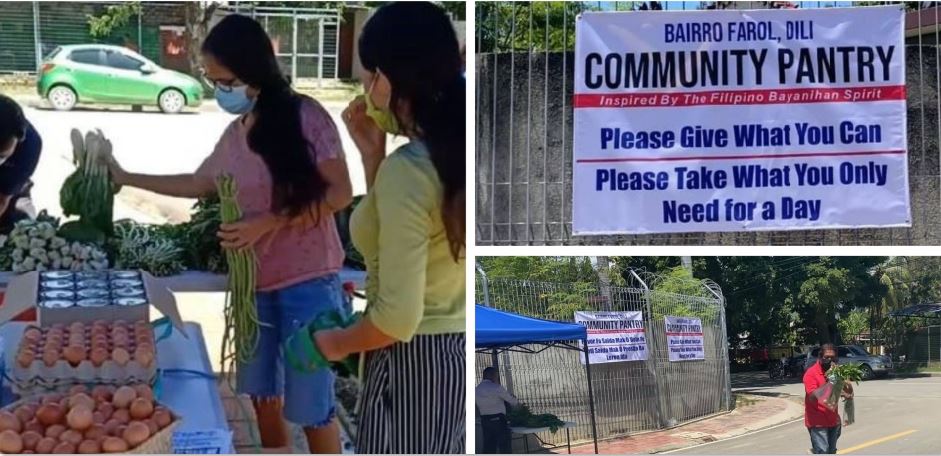 The Filipino community pantry movement which has resulted in numerous local initiatives of neighbors helping each other with food supplies during the coronavirus pandemic quarantine has gone beyond the country's borders and is now present in Timor Leste.
Timor-Leste's first Timorese Community Pantry, inspired by its Philippine counterparts, started on April 21, 2021, and carries the slogan: "Please give what you can. Please take what you only need for a day".
The Bairro Farol's Community Pantry in the capital city of Dili is organized by Rozilia Esperança Dos Reis who "hopes that other Timorese communities would follow suit, and that compassion and honesty would prevail".
The Philippine Embassy's Vice-Consul Laser Sumagaysay posted on social media about the adopted concept that seeks to help Timorese affected by the recent Dili flooding and the year-long COVID-19 lockdown.
The University of the Philippines and Ateneo de Manila University alumnus shared how he privately discussed the community pantry's "Bayanihan" concept of neighbors helping each other with Timorese friends and diplomats which led to the establishment of the first Timorese Community Pantry. Sumagaysay says he and his colleagues are supporting the pantry in their private capacities.
"In my perspective as both private individual and diplomat, being in TL provides the opportunity to live and serve in a nation that is quite less developed but whose people are not in any way less spirited or determined than us Filipinos. While official Ph aid operations in TL are primarily focused on our FilCom, we can still contribute to the overall humanitarian effort of our host country.
"And, it could simply be by introducing beneficial Ph practices, values, or concepts in the hopes that it could be replicated, adopted, or improved by the local community," Sumagaysay wrote.
Atty. Sumagaysay reported that the locals took what they only need for the day so that more products will be available for others in need. He also offered to help others set up their own community pantries and called on everyone to "make compassion universal".
The Philippines' community pantries started with Ana Patricia Non who set up the first food cart located on Maginhawa Street in Quezon City. The Maginhawa Community Pantry carries the slogan "Magbigay ayon sa kakayahan, Kumuha batay sa pangangailangan (Give what you can, take what you need). The side street set up offered any of the goods for free and welcomed donations from others who want to help.
More than 300 community pantries have been set up across the Philippines since the Maginhawa Community Pantry started on April 14.
SEND CHEERS to the people of Timor-Leste for setting up the first Timorese Community Pantry inspired Timor-Leste
Good News Pilipinas is celebrating its 15th Anniversary in 2021 by giving away prizes! Subscribe to our Good News Pilipinas! TV YouTube channel and enter the raffle by sending us an email to editor@goodnewspilipinas.com
Facebook Comments