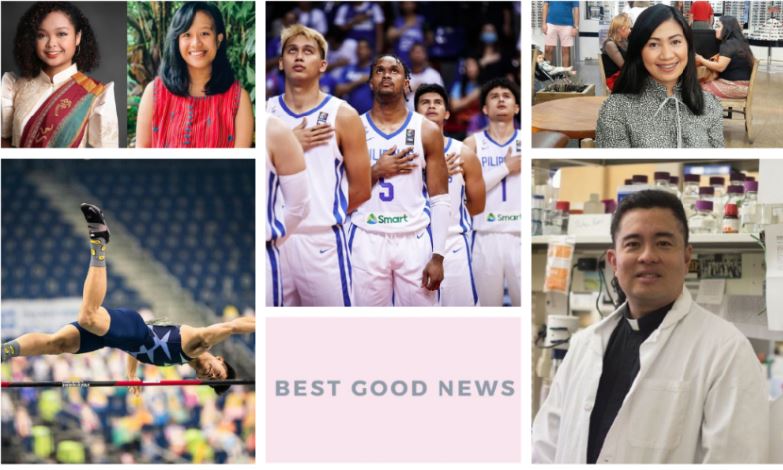 Good news stories about Filipinos and the Philippines continued to give the people hope in February, with headlines about sports, exemplary youth leaders, Covid-19 vaccine, and the University of the Philippines topping our headlines.
The Gilas Pilipinas Men's Basketball Team's campaign at the FIBA Asia Cup Qualifiers, pole vault champion EJ Obiena winning more gold medals, youth leaders Louie Mabulo and Josefa Tauli winning the NatGeo Young Explorers awards, a cheaper Covid-19 vaccine being developed by a Filipino priest-scientist, and a University of the Philippines historian making her mark in Spain – these good news stories claimed the most attention from our readers.
These top 5 Filipino Pride stories on the GoodNewsPilipinas.com pages in February especially resonated with Filipinos looking to find something to cheer about and inspire them with hope amid the pandemic:
5. UP historian receives Spain's highest academic honors
University of the Philippines (UP) historian Dr. Ros Costelo received the mark of sobresaliente cum laude, the highest possible recognition that can be bestowed by the Spanish educational system when she graduated with a doctorate degree in Contemporary History from the Universidad Complutense de Madrid, Spain's most prestigious academic institution which counts Jose Rizal and Antonio Luna among its distinguished alumni.
Costelo contracted COVID-19 in October 2020 but did not let the illness stop her from finishing her thesis and earn her doctorate degree.
Ros Costelo hails from Tunga, Leyte. She has a bachelor's and master's degree in History from the University of the Philippines and is currently an assistant professor at the Department of History in UP Diliman.
READ MORE about UP's pride, historian Dr. Ros Costelo here.
4. Cheaper yeast-based COVID-19 vaccine
Filipino-American molecular biologist and priest Nicanor Austriaco has confirmed that he is currently working on a cheaper yeast-based oral COVID-19 vaccine that will be made more accessible to Filipinos.
Father Nicanor Austriaco is a University of the Philippines (UP) – OCTA Research Fellow involved in pandemic management for the Philippines and is a Visiting Professor of Biological Sciences at the University of Santo Tomas (UST).
The Filipino-American molecular biologist shared that he and his team would use the probiotic yeast available in the market and genetically modify it to induce the immune system response against the deadly novel coronavirus. His laboratory, funded by Providence College in Rhode Island, U.S.A., has been working on building the genetically-engineered yeast.
Fr. Austriaco said he hopes to use bioengineer yeast to develop a shelf-stable vaccine that will be easier to transport in developing nations, in contrast to the earlier COVID-19 vaccines, which require storage at very low temperatures.
LEARN MORE about Fr. Austriaco's cheaper yeast-based Covid-19 vaccine here.
3. Filipina youth leaders win NatGeo Young Explorers
Filipina youth leaders Louise Mabulo and Josefa Tauli, both from the University of the Philippines, have been named 2020 Young Explorer recipients of the National Geographic Society which awards funding to young people engaged in impact-driven efforts to address global issues.
Josefa Isabel Tauli, 25, is an Ibaloi-Kankanaey Igorot indigenous youth from the Cordillera Region in the Philippines. She currently represents Indigenous and local youth on the Steering Committee of the Global Youth Biodiversity Network (GYBN), the official youth constituency to the UN Convention on Biological Diversity (CBD). Tauli is a graduate student of Wildlife Studies at the University of the Philippines Los Baños.
Louise Emmanuelle Mabulo is the 22-year-old founder of The Cacao Project which she established to help farmers in the Philippines' Bicol region, whose livelihoods were destroyed by Typhoon Nina in 2016, to get back on their feet. Louise finished Economic Development and Social Entrepreneurship at Brown University, U.S.A. and the Watson Institute Philippines. She graduated from the University of the Philippines Open University (UPOU) in December.
GET TO KNOW the Filipina NatGeo Young Explorers Awards here.
2. Filipino pole vaulter wins gold in Germany
Filipino pole vault champion Ernest John "EJ" Obiena claimed his second straight gold medal of the year during the men's pole vault event of the PSD Bank Indoor Meeting in Dortmund, Germany in February.
The Philippines' top pole vaulter defeated six other athletes in his third indoor tournament this year, posting a 5.68-meter jump this time over rivals Zernikel and Blech who took second and third place, respectively.
The Tokyo Olympics-bound Obiena bagged his first gold medal of the season in the ISTAF (Internationales Stadionfest) Indoor athletics meet in Berlin, defeating host country bets Torben Blech and Oleg Zernikel during the tournament held in the Mercedes-Benz Arena also in February.
Obiena cleared a height of 5.80 meters in the men's pole vault final in Berlin to claim a new Philippine national indoor mark that he himself set at 5.62 meters in the Karlsruhe indoor meet in January.
FOLLOW EJ Obiena's pole vaulting journey here.
1. Gilas Pilipinas at the FIBA Asia Cup qualifiers
The Gilas Pilipinas Men's National Basketball Team is set to see action in Clark, Pampanga as the Philippines gets back its hosting duty for the third and final window of the 2021 International Basketball Federation (FIBA) Asia Cup Qualifiers.
The February window of the FIBA Asia Cup Qualifiers had been originally planned to take place in Clark, Pampanga before it was called off due to the travel restrictions amid the spread of the new coronavirus disease 2019 (Covid-19) variant.
The Philippines' team will play two games against the South Koreans and one game against Indonesia.
FIND OUT about Gilas Pilipinas at the FIBA Asia Cup Qualifiers here.
CHECK OUT these top good news stories that welcomed Filipinos in the new year.
TELL US in the comments below, which of these top good news stories from Filipino sports, youth leaders, Covid vaccine, and UP give you inspiration?
Good News Pilipinas is celebrating its 15th Anniversary in 2021 by giving away prizes! Subscribe to our Good News Pilipinas! TV YouTube channel and enter the raffle by sending us an email to editor@goodnewspilipinas.com
Facebook Comments