Joel Alejandro and Andrea Relucio's 'Sali' save-a-life app which aims to universalize CPR education and training captured the Sandoz HACk Healthcare Access Challenge in London, United Kingdom.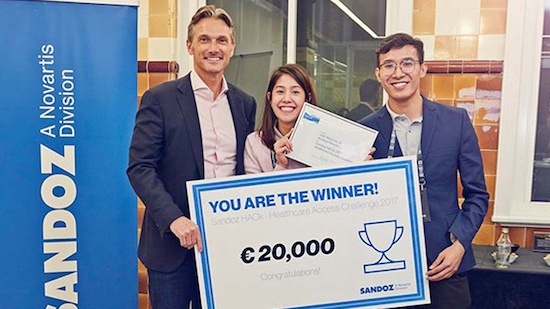 Alejandro invented 'Sali' save-a-life app to create a population capable of administering, and motivated to do CPR anywhere and anytime. The app also connects users to a network of fellow life-savers who can provide auxiliary support.
Alejandro and Relucio represented the Philippines as one of the 6 finalist teams that spent 2 days getting feedback from experts to help them refine their pitches. On the last day of the event, they presented their final works to 5 panelists, including Sandoz CEO Richard Francis.
They will receive seed funding worth EU 20,000 *(P1.066 million) and mentorship from all of the experts in the event to help bring their ideas into life.
"The immediate plan is to build the team who shares the same vision as we do. With that being said, it will be more on recruiting the right people who can contribute a little bit of themselves for the greater good of the project and the industry," said Alejandro.
"The Philippines has poor emergency medical response. The gap in that situation is education and access to information and infrastructure. We want to provide that through equipping the people who are there first hand when the emergency happens. 'Sali' is our invitation for you to be part of something greater," Relucio stressed.
The 6 finalists from Ghana, South Africa, Pakistan, the Maldives and the Philippines were chosen out of 110 entries from 30 countries after a tough judging process.
Sandoz Global, the generics division of the multinational pharmaceutical company Novartis International AG based in Switzerland was the main sponsor of the competition.
Facebook Comments