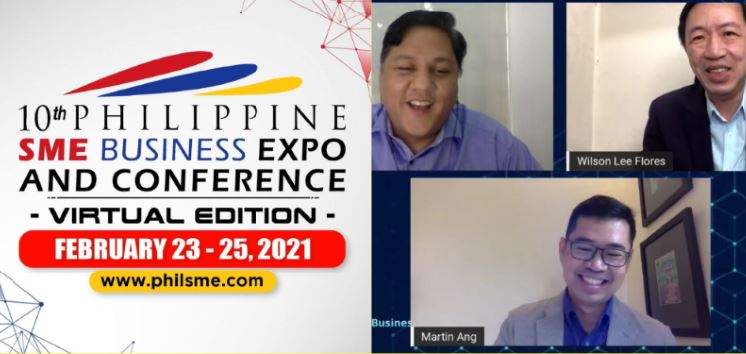 Digitalization serves as the great equalizer for small and medium enterprises (SMEs) to compete with big businesses – this insight was shared by Filipino author-entrepreneur Wilson Lee Flores in his live-streamed talk on Day 1 of the 10th Philippine SMEs Business Expo.
The Carlos Palanca awardee with multi-interests in businesses, including the artisanal Kamuning Bakery in Quezon City where he hosts the non-partisan Pandesal Forum, joined the first-day program of the largest annual Business-2-Business Expo, Conference & Networking Event for Small & Medium Enterprises (SMEs) in the Philippines which went virtual in the 2021 edition amid the coronavirus pandemic restrictions for live events.
Flores joined the live-streamed program on February 23, 2021, together with fellow speaker Martin Ang of the top-selling brand TeamLoyalty in a panel discussion about "How to Build Business Resilience in the New Normal" facilitated by event organizer David Abrenilla, CEO of Mediacom Solutions Inc.
Flores talked about how the public health crisis gave more opportunities to smaller businesses and shared how his Kamuning bakery thrived during the lockdown.
The GoodNewsPilipinas.com columnist shared how he was pleasantly surprised when his bakers got creative by creating cakes and more types of bread as orders escalated while people stayed at home and ordered for deliveries during the community quarantine.
"There are more entrepreneurs now because of the lockdown as more people are cooking, baking, making more now at home. There are more bakeries now at home," Flores observed.
"All of us should go online," Flores encouraged entrepreneurs, saying how people should seek opportunities during crises.
"Digitalization, social media, IT – I think is the great equalizer. Being a small business but very profitable can compete with big company businesses," Flores stated.
The Filipino-Chinese businessman then noted the types of businesses that thrive during the crises – health and wellness products, spas, IT services, furniture.
Flores also shared his hopes that the Philippines can become a nation of exporters of products and services using social media and IT to export to other countries like other Asian countries are doing.
"We should think of ways to export our products and services even if we are SMEs," the Kamuning Bakery owner challenged exhibitors at the SMEs business expo.
Filipino enterprises are indeed learning how to do business online as their participation at the 2021 Philippine SME Business Expo is done through virtual exhibitor booths, remote presentations, and connecting to virtual visitors on the Whova platform.
The event program goes on live streaming.
February 23, Day 1 topics included influencer marketing, stock investing, future-proofing businesses, winning customers, display and video advertising, customer experience, new normal conditions for business.
February 24, Day 2 programs include property investing, smart solutions, technology companies, food business, workspace trends and solutions.
February 25, Day 3 talks include digitalization, e-commerce, sales and marketing, legal tips for SMEs, and franchising.
The first virtual edition of the largest Business-2-Business Expo, Conference & Networking Event for Small & Medium Enterprises (SMEs) in the Philippines is live and free on Whova for three days, from February 23-25, 2021.
Are you interested to visit the show? Register for FREE at https://10thphilsme2021-virtual.eventbrite.com
Virtual visitors only need to use the registered email to sign up for a Whova account for free by clicking the link below to join the expo or download the Whova app on Google and Apple Stores for free.
Web App Link https://whova.com/portal/webapp/asaam_202010/
Good News Pilipinas is a Media Partner Exhibitor at the 10th Philippine SME Business Expo. Visit our virtual booth for raffle prizes and to know more about our media services.
Are you a Proud Filipino? Get more good news stories on Filipino Pride! Subscribe to GoodNewsPilipinas.com and our YouTube channel: Good News Pilipinas! TV
Facebook Comments