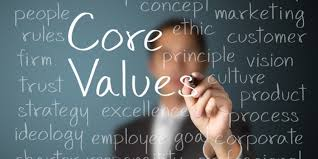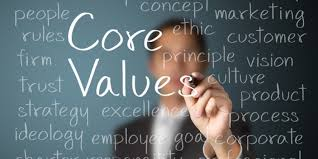 Building a business entails a lot of things. Apart from the responsibility of ensuring that your business grows, it is also important to take time and check the people that are working for you. A company's success depends not on a single person. Success happens when people work as a team with the desire to help each other grow as well.
Core Values
To have a clear goal of what you want in your business, a company needs to create corporate values which act as guidelines for their internal conduct, which also includes the company's relationship with its customers, partners, and shareholders.
Some of the core values which we often see on the Mission Statements of companies are: accuracy, accountability, competence, dependability, discipline, efficiency, innovation, leadership, persistence, strength, sustainability and so much more.
All these are positive indicators that are associated with the kind of business that a company offers. And by following these core values, the whole company will enjoy great benefits since people would have a better perception of the company.
One thing that some companies often overlook is maintaining the reputation that people are expecting from them. This can have a negative impact on the company as a whole.
The core values should be a means to direct media and investor attention. Companies should do more than simply display these value statements.
They engage in values-driven improvement efforts such as appraising executives and staff on their adherence to values, training staff in values and hiring organization experts that can help address how these values can affect corporate performance.
Developing Corporate Values
It is almost ineffective if you draft the values statement all by yourself. Getting your team in a room and including everyone in the process and tapping their ideas would be. It will also avoid meaningless values that some leaders have often imposed on a certain organization in the hopes of re-sculpting culture. Take note that with everyone's participation you are likely to come up with a set of values that are unique to your company, which can result in better performance.
Building a Competent Team
It is essential to develop your corporate values early so you can have a lasting and positive effect on your organization. While your team is still manageable, instill these values so that it would be easier to build a team that you can rely on. As years pass, and as your team grows, it will be a challenge.
Give everyone the opportunity to contribute their thoughts by reflecting individually on your existing corporate values. Ask them what they value, the common characteristics they have seen among the successful employees, how they should interact with each other and with customers.
To make it simpler, let your team write down all the values that they have written on a whiteboard. Let them choose ten among all the values listed and rank them according to its importance.
Compare all the lists that the team has written and assign points for each value. From there, you will be able to identify the values that truly matter to your team which can help you in strengthening your company.
Now that you have made the list, it is important that you let the team understand what each value means and how they can apply it in their work. Keep in mind that not every employee may have the same understanding of the values and may misapply it. Therefore, take time to explain what each one truly means.
Focus on the following questions:
What does this value mean to us employees, our company?
How can we adhere to it?
In what ways can it be misinterpreted?
How will it change our relationships in the company and with others?
Once you have identified and have made your team understand the values that you have agreed with, find ways on how you can integrate the values into the hiring process, orientation, onboarding, and promotion opportunities.
Highlight employees that truly adhere to the company's values and reinterpret these values for different situations.
Get The Business Mentor's latest book "35 Tips On Business" available on E-book and paperback at www.amazon.com
(Armando Bartolome is known as the Philippines' Franchise Guru, a mentor to numerous micro entrepreneurs who are now themselves big names in the industry. This article is reposted with the author's permission and was previously published on The Business Mentor column posted by ABSCBN News. For questions and more information, you may contact Armando "Butz" Bartolome by email: philfranchiseguru@gmail.com or on Twitter @philfranguru. His website is https://www.gmbmsglobal.com/ )
Facebook Comments