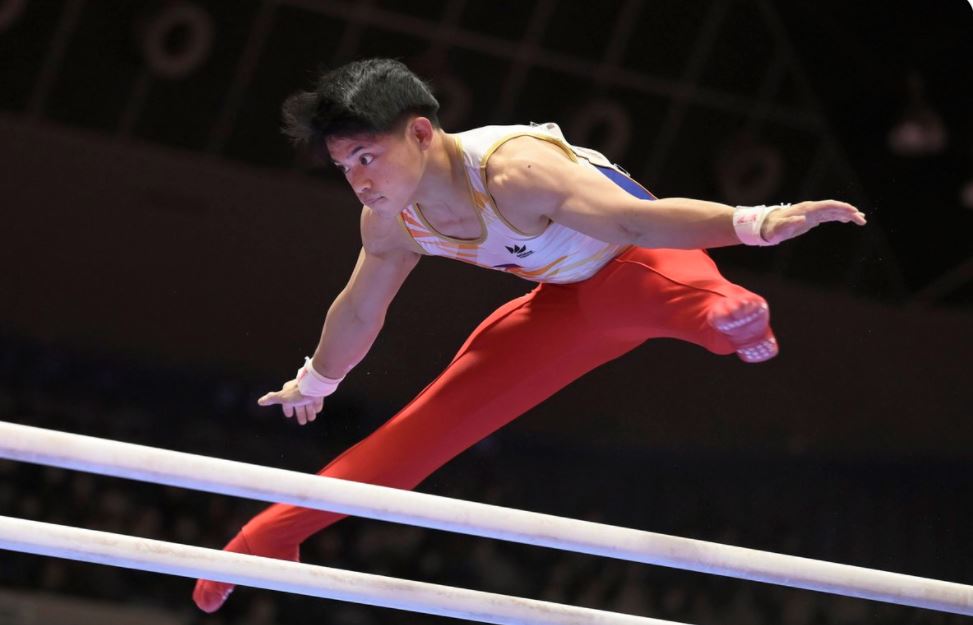 The Philippines' champion gymnast Carlos Edriel Yulo is off to a great start qualifying for the finals to defend his World Championship title at the 50th FIG Artistic Gymnastics in Japan.
The reigning FIG Floor Exercise World Champion kicked off his defense bid with topnotch performances in the Floor Exercise, Parallel Bars, and on Vault in the Men's Qualifiers on October 20, 2021, sending Yulo to the finals of the three events.
The 21-year-old Filipino athlete received a score of 15.166 in the Floor Exercise to finish in the No. 1 spot ahead of athletes from Japan and Kazakhstan.

Yulo scored 15.566 in the Parallel Bars to also place first, overtaking two Chinese competitors.

In the Vault event, The Philippine champion scored 14.808 to come in 3rd following the Ukrainian and Japanese athletes.

"Jaw-dropping performances by Carlos Yulo 🇵🇭 on Floor Exercise and Parallel Bars moves him into the top spot on both apparatus mid-subdivision 7️⃣ of 8️⃣ of men's qualifying at #Kitakyushu2021! 🤩 Additionally, Yulo is currently third on Vault," reported the FIG social media on Wednesday evening.
https://twitter.com/gymnastics/status/1450785235898097668?s=20
Yulo delivered a historic first for the Philippines and Southeast Asia when he won the gold in the Floor Exercise of the FIG Artistic Gymnastics World Championships held in Germany in 2019.
The Filipino athlete who surprisingly reached the finals of the vault event while dropping his favorite floor exercise event in the Tokyo Summer Olympics is competing against Olympics champions and the best gymnasts from 54 countries in his Worlds title defense in Kitakyushu, Japan.
"Olympic disappointment fuels @c_edrielzxs, who flew through his qualification at #Kitakyushu2021, posting the best marks on Floor Exercise and Parallel Bars, and the third best on Vault. 'I wanted to step up my game,' Yulo said. 'I didn't want to make the same mistakes.'
https://twitter.com/gymnastics/status/1450791892665389056?s=20
Before the 2021 FIG Worlds, Carlos Yulo bagged the gold medal in Floor Exercise and the bronze medal in Vault in the All Japan Senior and Masters Gymnastics Championships, his first competition since the Tokyo Olympics.
Carlos Yulo will defend his Floor Exercise Championship title in the event's finals scheduled for Saturday, October 23, at 4:10 PM Japanese Standard Time (3:10 PM Philippine Standard Time).
The Vault final is scheduled at 4:25 PM (3:25 PST) and Parallel Bars finals at 6:00 PM (5:00 PM PST) on Sunday, October 24.
The FIG Worlds finals will be streamed live on the FIG YouTube channel here.
SEND CONGRATULATIONS AND WELL WISHES in the comments below to Carlos Yulo for qualifying for the finals in his title defense at the FIG Artistic Gymnastics World Championships n Japan and WATCH his topnotch floor exercise performance here!
https://twitter.com/gymnastics/status/1450830068729720838?s=20
Good News Pilipinas is celebrating its 15th Anniversary in 2021 by giving away prizes! Subscribe to this website and  Good News Pilipinas! TV YouTube channel and enter the raffle by telling us what you like about our stories in an email to editor@goodnewspilipinas.com
Facebook Comments