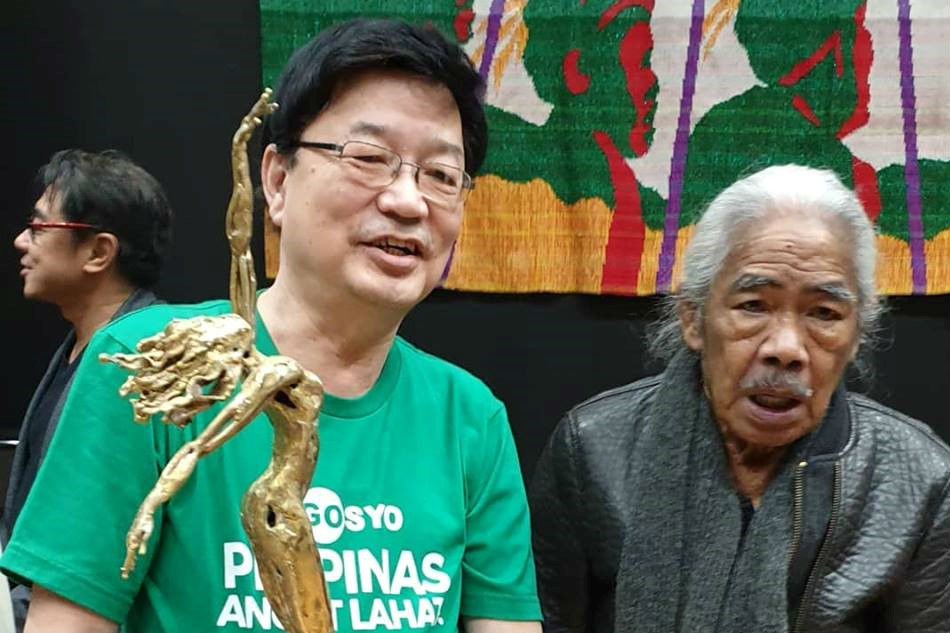 Last November, I had the great honor to meet Ben Hur Villanueva, the proud creator of the "Ang Supremo", a 3-meter statue made from brass and bronze in the heart of Bonifacio Global City in Taguig.
It was a very memorable day as I finally came to know the great artist behind many outstanding pieces that have made the Philippines proud.
Along with Ben Hur, I met his wife, Lolit. They are blessed with 8 children, including twins. Three of his sons followed his footsteps.
One wonders how an artist was able to raise so many children as Art is not really seen as a lucrative field.
But Ben Hur, because of his creativity, was hired by Ateneo de Manila University where he served as an art professor for three decades. When he retired, he went to Baguio and lived with his family.
Who would have thought that using scraps of metal and basic tinting colors found in a paint shop was the start of a wonderful career for him?
Ben Hur is known as the Sculptor with a Heart. He is a master of bronze sculptures.
What is amazing is that his artworks are all made from memory. He does not make drafts when he creates art. He just lets his mind and hands work creatively. The love that he puts in his every work can be felt upon seeing the final work.
Ben Hur is a simple man, but he has depth. From just a brief encounter I had with him, I was able to learn several things.
HAVING A STRATEGIC MIND
In Filipino, this is "diskarte." Raising 8 children is not easy, but Ben Hur was able to support all their needs including education. He did whatever it took to provide for the family.
LESS IS MORE
The less one has, the more he gets. You don't need to do so many things all at once. Focus on the details and the quality of your work.
THE GREATEST REWARD IS HELPING OTHERS
He taught so many people from all walks of life—teachers, politicians and priests. Ben Hur believes that each person has a unique ability that needs to be nurtured. He has even helped visually impaired people by teaching them with his eyes closed. It was his way of reaching out to them.
Though the Baguio Climate was getting chilly at 15C, listening to this man made me warm. And how I wish there were other artists with the same advocacy towards sharing their talents with others.
I believe that he is worth nominating as a National Artist for Visual Arts. Each sculpture he does tells an inspiring story. I was in awe seeing the bronze ballerina sculpture.
Cultural dances have always been his favorite subject. He made illustrations and paintings, which he later transformed into three-dimensional pieces.
Ben Hur is now 80 years old, but he still looks very strong and capable of creating new masterpieces. For every artwork, he says AMDG or "Ad majorem Dei gloriam". It is the mantra of the Jesuits, which means "For the greater glory of God."
We can all be inspired by all his works and his dedication to his craft to be the best that we can be.
Armando Bartolome's writings appear on GoodNewsPilipinas.com every Thursday.
(Armando Bartolome is known as the Philippines' Franchise Guru, a mentor to numerous micro entrepreneurs who are now themselves big names in the industry. This article is reposted with the author's permission and was previously published on The Business Mentor column posted by ABSCBN News. For questions and more information, you may contact Armando "Butz" Bartolome by email: philfranchiseguru@gmail.com or on Twitter @philfranguru. His website is https://www.gmbmsglobal.com/ )
Facebook Comments