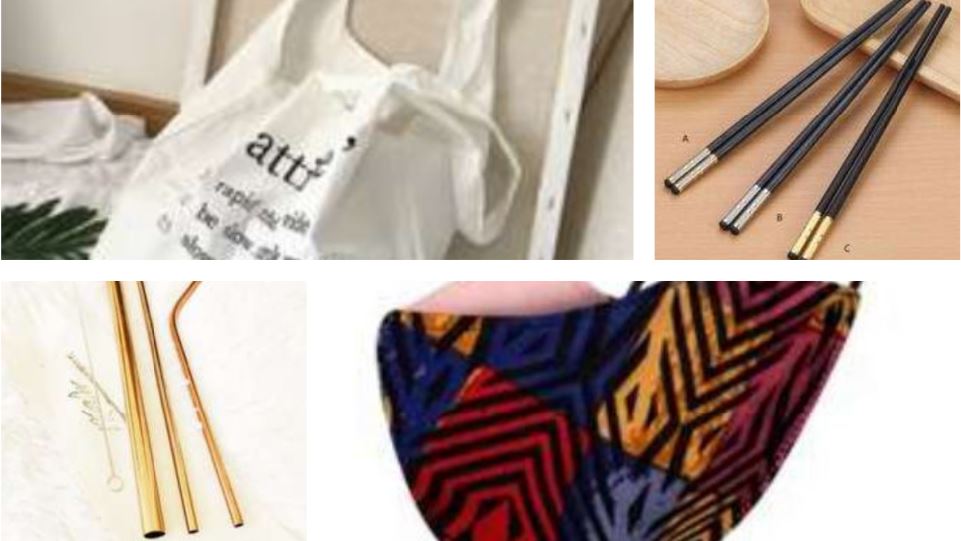 This list of 5 eco-friendly products can help you save the planet and even help you enjoy an expensive 5-star buffet meal in the Philippines.
Investing in items that replace plastic waste and disposables may seem like such a commitment, but it could cost the world a whole lot less (while reducing waste) if you do the math.
Using plastic and disposable items used to be a guilt-free thing. It simply just the way things were, and it's difficult to suddenly break the practice. This probably led Southeast Asian countries, such as the Philippines, to be reported to waste 2.5 to 5 million tons of plastic a year.
Luckily, with the age of the Internet, people are becoming more environmentally aware. There are now eco-friendly alternatives available.
Given the perceived inconvenience in investing in eco-friendly products, some are unaware of the benefits that can be personally gained aside from reducing waste. Hence, iPrice Group recently conducted a study that shows how much money can be saved from using eco-friendly products and how much waste can be reduced in a year. Using their price-comparison platform, they collated the average price of each product (both disposable and eco-friendly) in 2020.
Taking the average price of each product from iPrice's platform, an average woman can save up to Php 4,603 a year, while an average man can save up to Php 2,542 a year if they completely invest in eco-friendly alternatives. This amount is enough to afford an expensive buffet dinner in the Philippines.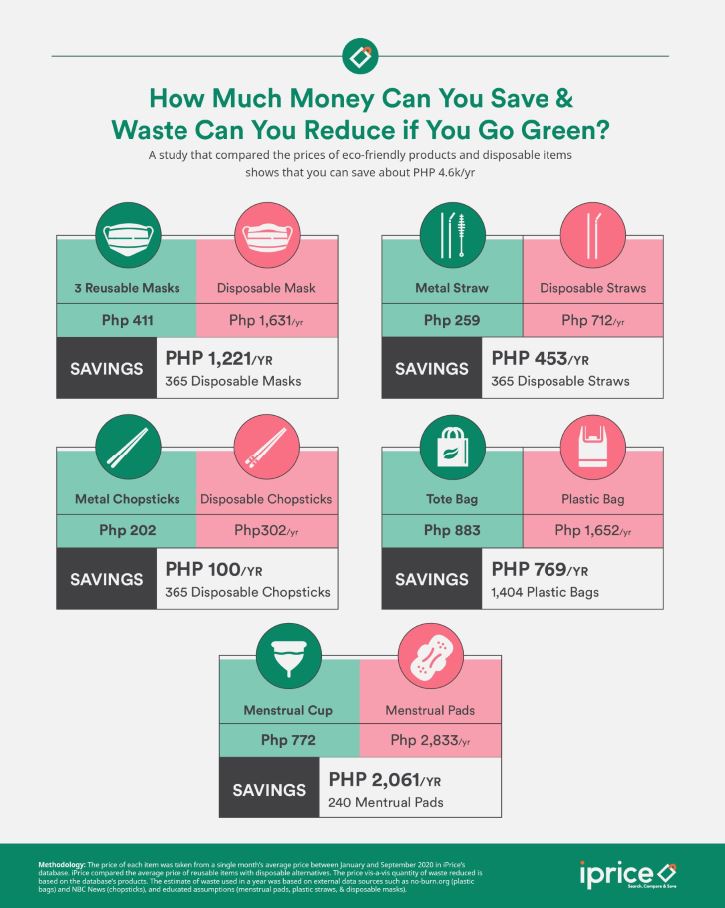 Here are 5 eco-friendly items that can help you save money while saving the planet:
Item: Reusable Masks
Savings: PHP 1,221/year
Waste reduced: 365 disposable masks/year
COVID-19 has given us an additional essential cost for face masks. Disposable masks don't come in cheap, especially the good-quality 3-plies. Based on iPrice's platform, the average price of 365 disposable masks (assuming we use one mask a day) would cost about PHP 1,631, while investing in a pack of washable, reusable masks would only cost PHP 411. An average person can spare PHP 1,221 a year with the eco-friendly choice.
Item: Menstrual Cup
Savings: PHP 2,061/year
Waste reduced: 240 menstrual pads/year
The average price of a menstrual cup is about PHP 772, and these are said to last years or even up to a decade. On the other hand, if a woman uses 20 menstrual pads per cycle, she would waste about 240 pads a year. The average price of a year's worth of disposable menstrual pads on iPrice's platform is Php 2,833. A woman could save up Php 2,061/year if she just gets herself a diva cup.
Item: Tote Bag
Savings: PHP 769/year
Waste reduced: 1,404 plastic bags/year
The Philippines has been known to be a contributor to Asia's growing plastic waste in recent years. According to a report, a single person in Navotas City is estimated to use 27 plastic labo bags a week. Using this estimate, a single person would waste about 1,404 plastic bags a year. Given this glaring amount of waste, some stores charge extra for the use of plastic to discourage customers. A year's worth of plastic bags would cost about PHP 1,652, while investing in a tote bag would only cost about PHP 883. Consumers may even find a cheaper, more practical tote bag than the average one on iPrice's platform, as stylish tote bags were also part of the platform's database.
Items: Metal Straw
Savings: PHP 453/year
Waste reduced: 365 disposable straws/year
If a person uses one plastic straw a day, a year's worth would cost about PHP 712. Investing in a reusable metal straw would cost PHP 259, PHP 453 less than 365 plastic straws. Understanding that an average person wouldn't really pay for plastic straws in restaurants or boba stalls, this could also be a cost and waste-reducer for restaurant owners.
Item: Metal Chopsticks
Savings: PHP 100/year
Waste reduced: 100 disposable chopsticks/year
Say if an average Filipino uses 100 pcs of chopsticks a year (half of how much a Chinese uses, according to a study), it would cost them about PHP 302, while investing in metal chopsticks would only cost PHP 202. As mentioned, not everyone necessarily purchases their own disposable chopsticks. Thus, this figure could also an indicator for restaurant owners to go greener as well.
CHECK OUT these lists of eco-friendly products made in the Philippines:
Reusable face masks that champion Philippine heritage and textiles and bamboo-framed face shields.
Bamboo-based antimicrobial soaps, hand mists developed by Filipino scientists to fight coronavirus
Toothy tabs all-natural solid toothpaste
Green charcoal for the grill
TELL US in the comments below, which eco-friendly products are you using to give savings while also saving the planet?
Want to know how to be a Proud Pinoy? Like, Follow, Subscribe to GoodNewsPilipinas.com, and our socials on Facebook, Twitter, Instagram, Good News Pilipinas! TV on YouTube, for new story notifications, and e-mail newsletters for updates on more Filipino Pride stories.
Facebook Comments