LolaBasyang.com, a modern retelling through television and an online blog of the stories from the Pinoy classic "Mga Kuwento ni Lola Basyang" by Severino Reyes, will compete in the Prix Jeunesse International which runs from May 20 to 25 in Munich, Germany.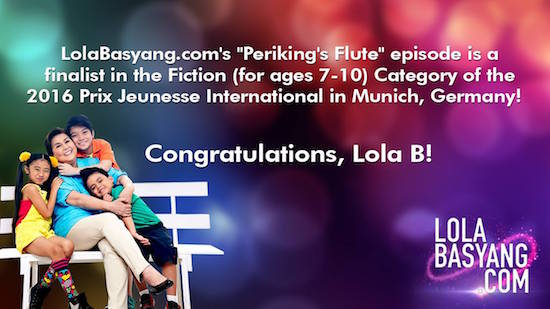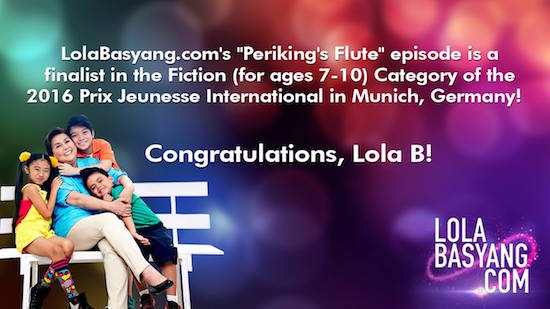 The TV5 children's series has been included in the TV festival's catalogue under the Quality in Children's TV Worldwide category. LolaBasyang.com qualified in the Fiction (for ages 7-10) Category for its episode "Ang Plawtin ni Periking (Periking's Flute)" starring Valeen Montenegro and Vin Abrenica. In the episode, Periking, portrayed by Vin Abrenica, tries to win the heart of his loved one by playing on a magic flute.
The TV show is led by multi-awarded veteran actress Boots Anson Roa-Rodrigo, who plays the role of techie blogger Lola B, who tells value-laden stories to her grandchildren overseas and in the country with the use of gadgets and digital media. In the TV release, series director Perci Intalan says, "The irony is that, as we move forward with advances in technology, there is a bigger need to look back and be reminded of our traditions and our values."
Celebrated bi-annually and considered as the "Oscars of children's television", Prix Jeunesse aims to promote quality television for young audiences, specifically for 2 to 15 year olds, worldwide. LolaBasyang.com competes among 400 entries from 60 countries. A pre-selection committee, which consists of jurors across the globe, chose the finalists by using similar criteria used in the final competition.
Facebook Comments