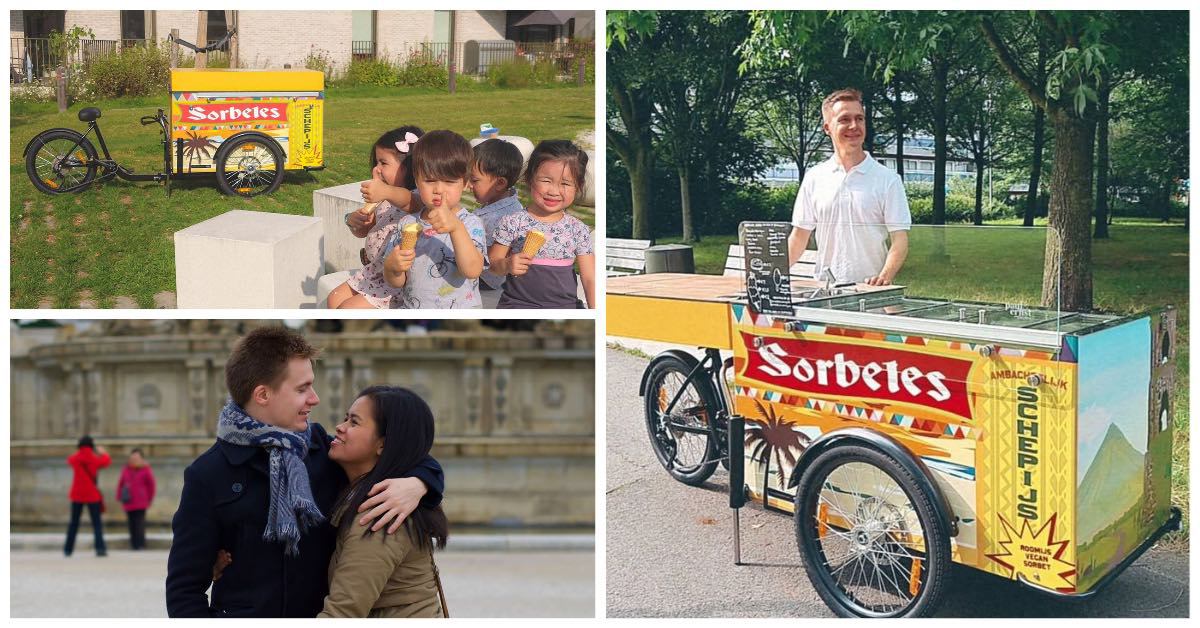 Pinoy sorbetes-style ice cream from the Philippines has found its way to Belgium through Filipino nurse Kamille Rodriguez Bories and her Flemish husband's micro creamery business, Sorbetes ni Manong Jelle.
Filipino-Belgian couple, Kamille and Jelle Bories, has been serving the traditional frozen treat locally known as the Pinoy classic "dirty ice cream" peddled by the "Manong Sorbetero" in the streets to fellow Filipinos and locals of Sint Niklaas, Belgium since their small business started in July 2020.
In an interview with CNN Philippines' Rico Hizon on January 17, 2022, co-founder Kamille Rodriguez Bories of Sorbetes ni Manong Jelle shared that the business started from their humble abode in Sint Niklaas.
Kamille and her pastry chef husband Jelle started making sorbetes in their kitchen when she asked for some traditional ice cream flavors from home. The couple decided to turn their ice cream-making hobby into a small business to make Pinoy flavors more accessible to a wider audience and other Filipinos like Kamille who are craving a taste of home abroad.
Familiar Filipino sorbetes flavors like mango, durian, and purple yam, also known as ube, and many more take center stage in Kamille and Jelle's thriving ice cream business.
Sorbetes ni Manong Jelle also sells a variety of Belgian and Filipino fusion flavors from a colorful Kariton-inspired ice cream bike run by the couple. The business is also selling ice cream through door-to-door deliveries amid the Covid-19 pandemic.
From a small business that started selling to three clients, Kamille also shared that they now sell at least 80 tubs of ice cream to customers every week.
Those interested may place orders through the Sorbetes ni Manong Jelle website or Facebook page.
More versions of Filipino ice cream have also been introduced and found followings in the Netherlands and London.
SEND CHEERS in the comments below to Filipino-Belgian couple, Kamille and Jelle Bories, for their thriving micro creamery business, Sorbetes ni Manong Jelle.
TELL US your good news story tips by messaging GoodNewsPilipinas.com on Facebook, Twitter, Instagram, or e-mail editor@goodnewspilipinas.com and WATCH Good News Pilipinas TV YouTube for more Filipino Pride stories!
Facebook Comments