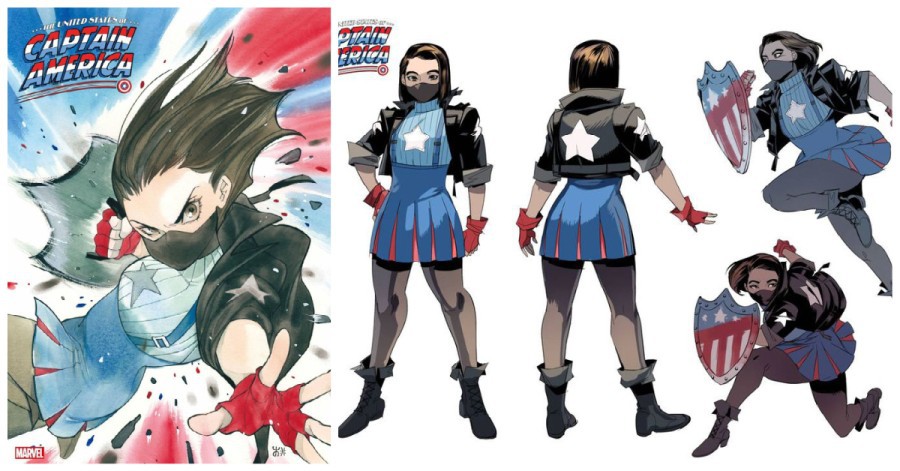 Marvel Comics' newest Captain America is a Filipino-American college superheroine named Arielle "Ari" Agbayani.
The local Captain America-inspired hero is a college student who seeks justice on campus and is "not afraid to fight dirty," announced Marvel on June 4, 2021.
The campus Star-Spangled Avenger is created by Filipino-American Alyssa Wong and "Teenage Mutant Ninja Turtles" artist Jodi Nishijima.
Ari will make her debut in the fourth issue of "The United States of Captain America" which will be released in June to celebrate Captain America's 80th anniversary.
The limited series written by Christopher Cantwell and Dale Eaglesham shows Steve Rogers teaming up with the Captain Americas of the past, including Bucky Barnes, Sam Wilson, and John Walker.
The groundbreaking series will introduce a diverse cast of new heroes and spotlight the communities they are part of and the unique challenges they face.
Creator Alyssa Wong says the decision to make the new Captain America Filipino was a no-brainer, being Filipino-American herself.
"When editor Alanna Smith approached me about creating a new, local Captain America for this series, I immediately knew I wanted to write a Filipino-American girl. There just aren't very many of us in comics! I grew up without a Filipino-American community for the most part, so every time I see a Filipino character, I get excited. And getting to create one—a Captain America, even!—feels incredibly special," Wong told Marvel.
Alyssa Wong earlier co-wrote with Greg Pak the origin story of Wave, Marvel's first Filipina superheroine designed by Cebu-based Filipino superstar comic book artist, Leinil Yu. Wave debuted as the defender of the Philippine Sea on Marvel Comics' series "War of the Realms: New Agents of Atlas."
"Ari Agbayani is a scholarship student at a small, private university. When she finds out her best friend is being victimized by a wealthy legacy student, Ari is determined to make things right.
"Like the other Caps, Ari has a strong sense of justice and admires the ideals Captain America embodies. But the Captain America she's inspired by isn't Steve Rogers–it's Bucky Barnes. Someone who hates bullies as much as Steve does, but is willing to use sneakier, shadier tactics to deal with them," Wong said.
"Ari's a vigilante, and she knows that you can't always win by playing by the rules. Bucky's influence is reflected in her costume, designed by the incredible Jodi Nishijima," Wong explains.
"Ari's design was inspired by all the girls I've known in my life who in their day to day appear very sweet and empathetic, but when challenged can be terribly fierce. Her style is very much what I and my friends would feel comfortable and confident in wearing as well! I hope that her youthful design is well communicated and relatable, but no matter what I'm so glad that I could help bring her to life!" Jodi Nishijima adds.
Ari Agbayani, Marvel's new Filipino American superhero, will debut in "The United States of Captain America #4" when it hits stands on September 22.
SEND CHEERS in the comments below to Alyssa Wong for making Marvel Comics' new Captain America a Filipino-American hero Arielle "Ari" Agbayani!
Good News Pilipinas is celebrating its 15th Anniversary in 2021 by giving away prizes! Subscribe to our Good News Pilipinas! TV YouTube channel and enter the raffle by sending us an email to editor@goodnewspilipinas.com
Facebook Comments