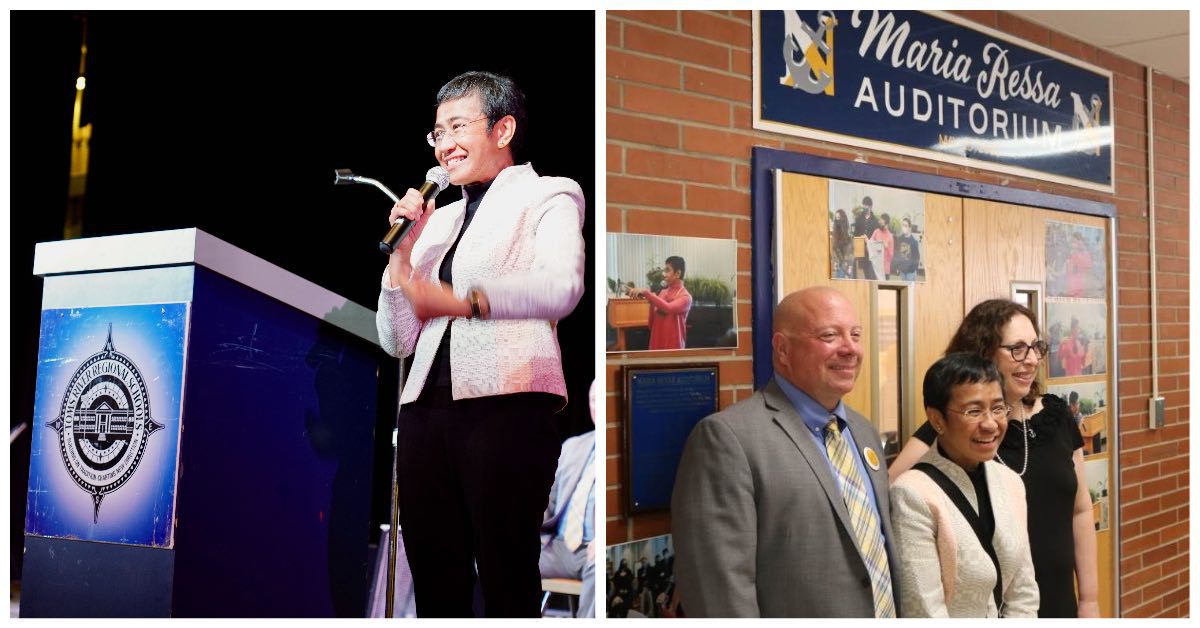 New Jersey's Toms River High School North has named its newly-renovated auditorium after the first Filipino Nobel Peace Prize winner, Maria Ressa.
The school recently held a dedication ceremony unveiling its auditorium, which now honors the renowned Filipino journalist who was a part of Toms River North's class of 1982.
Ressa, the CEO and co-founder of the Rappler news network, attended the ceremony celebrating her contributions and achievements as an award-winning journalist and press freedom world champion, as well as her time as a student at the public high school in Toms River, New Jersey.
Ressa served as "class president for three years at High School North, where she also played in the orchestra, acted in theatrical shows, and participated in basketball and softball," according to a report published on the Toms River Regional Schools website. She also learned to play eight instruments under the instruction of Donald Spaulding, a music instructor at the school.
In her speech at the ceremony, Ressa told students and the audience in the school auditorium to "think for yourself, and be skeptical of what you read on social media because it is meant to manipulate you."
Ressa, who was named the co-winner of the prestigious Nobel Peace Prize along with Russian journalist Dmitry Muratov last year, warned against the dangers of disinformation on social media and its threat to democracy.
"Be careful of social media…What gets your attention is what will give your life meaning. We now live in an attention economy. Where you spend your time determines what you accomplish, what you become good at, what you learn," Maria Ressa said in her speech at the ceremony on May 23, 2022.
"The battle for our minds – and this is a battle for your minds – is waged and won, not by helping you think. It's won by manipulating your emotions," Ressa adds.
"The anger and hate is literally shaping who we will become as a people. It's pumping toxic sludge for us. So, if you feel angry, or you feel like you hate another group, step back, take a deep breath, this thing literally rewires your brain," Ressa continued.
Ressa also told students to dream while reminding them to always be honest with themselves.
"Aim as high as you can, because if you aim for the moon, you're gonna get the sky, that's a great trick; always aim higher than you think you can do, but always be honest with yourself," Ressa said.
The Toms River Board of Education earlier voted unanimously to have the school auditorium named after Ressa after she was named co-winner of the Nobel Peace Prize in October 2021 along with Russian journalist Dmitry Muratov.
Ressa and the Russian journalist were honored by the prize-awarding body "for their efforts to safeguard freedom of expression, which is a precondition for democracy and lasting peace."
Maria Ressa has received various recognitions for her work in the Philippines, including the UNESCO World Press Freedom Prize, among many others.
Ressa has also been named the TIME Person of the Year representing press freedom fighters in the world.
SEND CHEERS in the comments below to the Toms River High School North in New Jersey, United States, for naming its newly-renovated auditorium after its alumna and the first Filipino Nobel Peace Prize winner Maria Ressa and WATCH Maria Ressa's inspiring speech at the dedication ceremony here!
Good News Pilipinas is a Lasallian Scholarum Awardee. TELL US your good news story tips by messaging GoodNewsPilipinas.com on Facebook, Twitter, Instagram, or e-mail editor@goodnewspilipinas.com and WATCH Good News Pilipinas TV YouTube & Good News Pilipinas TikTok for more Filipino Pride stories!
Facebook Comments